Gary Cherone Sighting! Extreme Re-Forms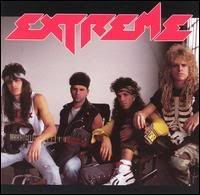 By Bob Grossweiner and Jane Cohen
Heavy rock band Extreme have re-formed and will release a new album, their fist of all new material in 13 years. The album is due next spring with a world tour to follow, dates to be announced. Original members guitarist Nuno Bettencourt, vocalist Gary Cherone and bassist Pat Badger will be joined by new drummer Kevin Figueiredo.
The untiled album is being produced by Bettencourt. "It will have all the ingredients of an Extreme record," he said in a statement. "The music is always Funkier than most rock bands—and born a Bipolar Bastard child of Mr. Zeppelin and Mrs. Beatles."
The Grammy-nominated Extreme released four albums, plus two greatest hits sets—selling over 10 million records worldwide—and completed multiple world tours. They also achieved a #1 hit single on the Billboard Hot 100 with "More Than Words, from their 1990 multi-platinum album "Extreme II: Pornograffitti." Although the acoustic hit brought the band great mainstream success, it overshadowed the band's trademark sound: a mix of hard rock funk in the spirit and style of their predecessors Led Zeppelin, Aerosmith, Queen and Van Halen—fueled by Bettencourt's signature guitar flights and Cherone's resonant vocals—and matched with a social consciousness in their lyrics. A career highlight came when Queen's Brian May asked them to perform at the Freddie Mercury Tribute concert in 1992, which gave the band considerable credibility beyond the hard rock fraternity.
Outside of Extreme, Cherone briefly joined Van Halen as lead singer in 1998, replacing Sammy Hager and co-writing the "Van Halen III" album and touring with the band. Bettencourt and Figuieredo joined Jane's Addiction front man Perry Farrell in the band Satellite Party, and Bettencourt co-produce their album "Ultra Payloaded."