Concert conditions were so bad at an Ed Sheeran concert in Australia last week that a number of fans fainted, and concertgoers took to social media, slamming the venue for not resolving the issue. Numerous individuals were taken to local hospitals and treated for dehydration, while one woman was taken to the hospital with a leg injury, according to coverage of the concert in local media.
The decision by the venue, Etihad Stadium, not to open the roof on March 10th was blamed for causing stifling conditions throughout the stadium, reaching 35 degrees celsius in the Australian summer. Some fans were wheeled out even before Sheeran took the stage, and others continued to faint throughout the show.
"Open the roof – people are fainting," wrote one fan. Another said she spent the "entire evening" fanning her children and bathing them down with water, resulting in them leaving the show early. Others tweeted throughout the show asking the venue to open the stadium's roof.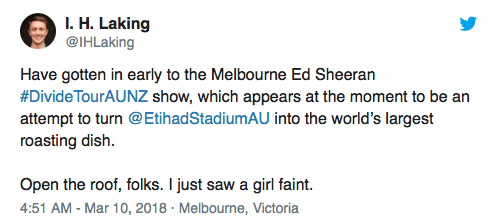 However, Etihad stadium told Yahoo7 that they kept the roof closed as per a request from the touring management.
"Patrons health and safety is always our number one priority and we were continually monitoring the situation," they said. "The temperatures inside the stadium was not at a level that put Ed's fans at risk."
Additionally, the venue noted that "free water stations were available throughout the venue for fans to continually hydrate throughout the concert."
Fans begged to differ, saying that bottled water was sold for AU$5.


The pop-star's tour broke record sales in Australia, selling over one million tickets in the country. Sheeran's tour continues through Sydney and Brisbane before moving on to New Zealand. He'll also be touring the United States later this year – also in late summer, with dates beginning in August.
Last Updated on March 14, 2018 by Sean Burns