Tim Wang, CC BY-SA 2.0 via Wikimedia Commons
According to a report issued Tuesday by the Sports Fans Coalition, consumers pay less than the "face value" of tickets more than one out of every three purchases, citing data analysis of resold tickets dating back to 2017. The report found that major sports tickets (MLB, NHL, NBA, and NFL) on resale marketplaces have helped consumers save $260 million over that five year period, with NHL fans saving the most at $68 million.
"While high demand events where available ticket inventory is scarce tend to drive headlines focused on high ticket prices in the secondary market, clearly the secondary market for tickets also offers fans lower priced tickets, too," the report states. "Sports fans should always comparison shop for tickets, so that they can potentially save."
Analysis covered data regarding more than 25 million tickets sold on resale marketplaces between 2017 and 2022. It shows that pre-pandemic, consumers were paying between 30-50% below face prices (after fees) for tickets to the four major sports from 2017-2019. Those savings dipped significantly in 2020, presumably due to the enormous drop in sales and available ticket inventory when massive numbers of events were cancelled or held with minimal fans in attendance due to the pandemic. But 2021 showed the percentages surge back up, with both the NHL and NBA above 40% again.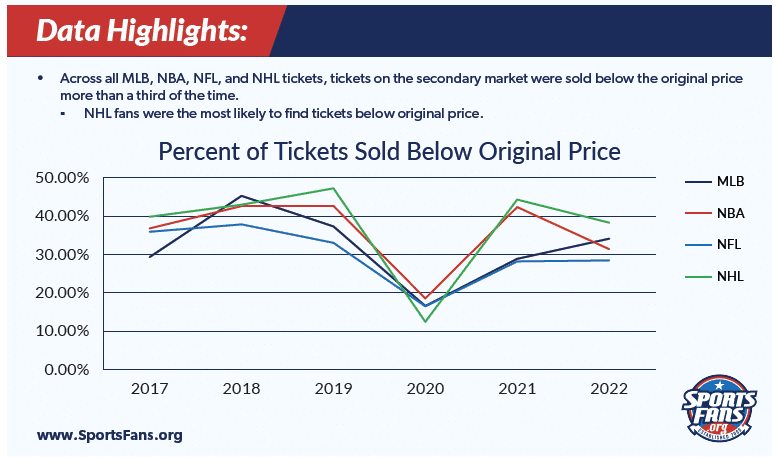 Notably, the data shows that consumers are able to pay below face value for tickets on resale marketplaces even more often in states where there are laws on the book protecting consumer ticket transfer rights. During the five years surveyed, consumers in New York, Colorado, Illinois, and Utah saved just above $56 million vs. face value on resale tickets. States with professional sports franchises that do not have these legal protections in place saved $203 million – breaking it out, that means fans in resale-protected states saved an average of $14 million vs. $7.8 million.
The differences have become increasingly stark in the post-COVID reopening, with a huge gap in savings in 2021 and 2022 as event operators have increasingly turned to mobile-only ticketing systems to shut down competition from resale in states where it isn't explicitly banned by law.
Sports Fans Coalition is one of several consumer advocacy groups that has been active in the current furious debate over the future of ticketing. They, along with other consumer groups that include the National Consumers League, Consumer Federation of America, and National Association of Consumer Advocates, have been pushing for the inclusion of a Ticket Buyers Bill of Rights at the federal level. Its primary goals are for increased transparency on both primary and resale ticket transactions, and protection of consumer ownership rights over tickets they have bought.
These goals stand in contrast to those pushed by industry insiders like Live Nation Entertainment's "FAIR" ticketing and the National Independent Venue Association's "FIX THE TIX" plans, which would effectively strip consumers ticket transfer or resale rights nationally if passed.
Based on the data from their study, Sports Fans Coalition argues that this would be an egregious error by lawmakers, given the need for flexibility that consumers need for live event tickets, and the savings that ticket resale marketplaces typically bring – particularly when handled on independent marketplaces vs. ones where "price floors" can be put into effect by the teams hoping to move more of their unsold box office ticket inventory without competition from already sold tickets that their fans can't use and are listing for resale.
"Fans often have to buy a ticket to an event months in advance, and sometimes life has other plans," the report says. "This is especially true of fans who invest in season tickets… If a fan can't attend the event, they should be able to resell their ticket to make up any losses they may face."
The full report from Sports Fans Coalition is available here (PDF opens in new window)
Last Updated on July 11, 2023