Major League Baseball was established way back in 1876 and has long been referred to as "America's Past Time". As of 2008, MLB consists of 30 franchises across the U.S. and Canada. Over the past several years, the game has continued to grow in popularity as attendance numbers increase almost on a yearly basis. Major markets teams like New York Yankees and Boston Red Sox have become billion dollar enterprises, whose ticket have shown to be in high demand. On the secondary ticket market these teams, along with others including the Chicago Cubs, tickets have been most popular.
Currently, the Boston Red Sox carry the highest average ticket price in Major League Baseball, with the Yankees trying to close in. The Yankees are offering tickets that go as high as $2,500 apiece for their new stadium that opens in 2009. With the economy in flux, most teams now have to make adjustments to their ticket prices, many freezing or reducing the overall cost per ticket.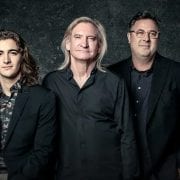 The Eagles, fresh off their Classic East and Classic West performances, are red hot as they tour with Glen Frey's son Deacon in place of his late father, landing three shows in the Top 5 of today's Market Heat index, as well as their piece of the Classic Northwest...
Read more