The Chicago Cubs are often referred to as the "Lovable Losers", due to their long World Series drought, but that doesn't stop their loyal fan base from filling their home-park, Wrigley Field. The team has origins that date back to 1876, and are one of only two remaining charter members of the National League. Despite the championship drought, the Cubbies have two World Series titles in their history, 1907 and 1908. Since then the franchise has wallowed in mediocrity.
Year after year, tickets to Cubs games are among the most sought after on the secondary market. Throughout the MLB season, the Cubs will appear among the top ten sport events in TicketNews's Top Event Rankings. The team can credit their success in ticket sales to loyal fans as well as many people want to experience a baseball game at the historic Wrigley Field.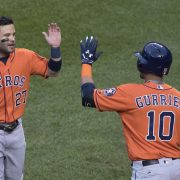 Today's Top 5 is dominated by the American League and National League Championship Series games in the coming days between the New York Yankees vs. Houston Astros and Los Angeles Dodgers vs. Chicago Cubs. On Sunday, catch the Steelers vs. Chiefs at Arrowhead Stadium or Packers vs. Vikings at...
Read more