Pink (whose real name is Alecia Beth Moore) is an American pop/rock singer and songwriter. She rose to stardom with her very first album, "Can't Take Me Home," which was released in 2000 and reached double platinum in the U.S. Despite the album's success (or perhaps because of it), Pink felt that she was being marketed and perceived as just another pop singer. She took over more control of her second album and released "Missundaztood" at the end of 2001, which went quintuple platinum.
Pink has continued to be successful throughout her career. Since 2001, Pink has released three more albums, all of which were certified as platinum. The most recent of these was 2008's "Funhouse," which included several hit singles—among them "Please Don't Leave Me," "Bad Influence" and "Funhouse." She launched her latest tour (the first U.S. tour since 2006) in September 2009 in Seattle and had to upgrade to a larger venue due to the high demand from her American fans.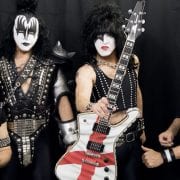 Although the NBA Finals again claimed yesterday's top spot on the best-sellers, the music industry also saw a surge in sales with tours by legends like Kiss and Elton John set for later this year, according to Ticket Club sales data. Longtime Kiss fans showed their loyalty to the...
Read more