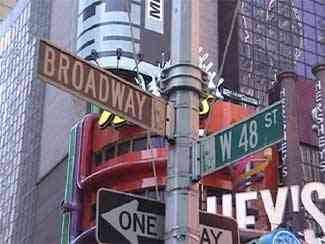 By Carol-Ann Rudy
TicketNews.com
Week ending June 3rd, 2007
Pirates come and pirates go, and "The Pirate Queen" will close June 17th. Weekly grosses fell far short of expectations, dropping to only $442,065 at 54% capacity this past week. The production did not garner a single Tony nomination in spite of much tweaking by the Alain Boublil and Claude-Michel Schonberg team that brought "Les Miserables" and "Miss Saigon" to the stage. Now the question remains what production will take the stage at the Hilton Theatre. Rumor has it that the producers of Mel Brooks' "Young Frankenstein," due to open at the St. James this fall, are eyeing the Hilton. The larger capacity of the Hilton, 1,821 seats as opposed to the capacity of the St. James at 1,644, is the big draw. . .
Not only pirates jumped ship this past week: ticket sales sank as well to $18,685,895, a $2,237,000 drop from the previous reporting period. Enjoying top ticket sales this past week were: "Wicked" $1,388,636 at 100% capacity; "The Lion King" $1,172,793 at 98%; "Jersey Boys" $1,162,590 at 100%; and "Mary Poppins" $1,044,584 at 91% capacity. "The Color Purple" slid from its favored place in the million-dollar sales producers to $882,883 with just 80% capacity.
The upcoming Tony awards this Sunday, June 10th may boost attendance among theatre patrons. Named for the recently deceased actress, director, and producer Antoinette Perry, this year marks the 60th anniversary of the awards.
"Journey's End," after garnering six Tony Award nominations and a New York Drama Critics' Circle special citation, sees the end of its Broadway presence this Sunday, June 10th. It finally saw an increase in audience attendance this past week, 44% capacity, with ticket sales of $159,817.
"Xanadu," a musical based on the 1980 film starring Olivia Newton-John, is in previews at the Helen Hayes Theatre and will open on June 26th.
"Old Acquaintance," a play by John Van Druten, is in previews at the American Airlines Theatre and opens June 28th.
Broadway Gross Reports, week ending June 3rd, 2007
All data provided by The League of American Theatres and Producers
Production
(Theatre)

Weekly Gross

Total Atten.

Prev.

Perf.

Total Capacity

Avg. Ticket Price

Atten. %

110 in the Shade
(Studio 54)

$344,604

7,016

0

8

996

$49.12

88.1%

A Chorus Line
(Schoenfeld)

$490,513

6,030

0

8

1,069

$81.35

70.5%

A Moon…Misbegotten
(Atkinson)

$483,420

6,878

0

8

1,034

$70.28

83.1%

Avenue Q
(Golden)

$284,504

4,177

0

8

796

$68.11

65.6%

Beauty and Beast
(Lunt-Fontanne)

$784,708

11,241

0

8

1,509

$69.81

93.1%

Chicago
(Ambassador)

$395,936

5,716

0

8

1,080

$69.27

66.2%

Company
(Barrymore)

$226,729

3,628

0

8

1,046

$62.49

43.4%

Curtains
(Hirschfeld)

$693,905

8,677

0

8

1,422

$79.97

76.3%

Deuce
(Music Box)

$306,259

4,761

0

8

1,009

$64.33

59.0%

Frost/Nixon
(Jacobs)

$468,104

6,893

0

8

1,070

$67.91

80.5%

Grey Gardens
(Kerr)

$328,292

4,769

0

8

922

$68.84

64.7%

Hairspray
(Neil Simon)

$567,139

9,145

0

8

1,428

$62.02

80.1%

Inherit the Wind
(Lyceum)

$394,963

5,784

0

8

931

$68.29

77.7%

Jersey Boys
(August Wilson)

$1,162,590

9,853

0

8

1,222

$117.99

100.8%

Journey's End
(Belasco)

$159,817

3,616

0

8

1,017

$44.20

44.4%

Legally Blonde
(Palace)

$803,312

10,941

0

8

1,691

$73.42

80.9%

Les Miserables
(Broadhurst)

$487,856

6,965

0

8

1,122

$70.04

77.6%

LoveMusik
(Biltmore)

$251,855

4,245

0

8

619

$59.33

85.7%

Mamma Mia!
(Cadillac Winter Garden)

$848,429

11,622

0

8

1,498

$73.00

97.0%

Mary Poppins
(New Amsterdam)

$1,044,584

13,075

0

8

1,791

$79.89

91.3%

Old Acquaintance
(American Airlines)

$81,531

1,857

4

0

740

$43.90

62.7%

Radio Golf
(Cort)

$172,862

4,406

0

8

1,082

$39.23

50.9%

Rent
(Nederlander)

$241,916

4,560

0

8

1,181

$53.05

48.3%

Spamalot
(Shubert)

$677,274

8,907

0

8

1,441

$76.04

77.3%

Spring Awakening
(O'Neill)

$586,367

7,694

0

8

1,090

$76.21

88.2%

Talk Radio
(Longacre)

$193,260

4,001

0

8

1,095

$48.30

45.7%

Tarzan
(Rodgers)

$475,065

7,192

0

8

1,319

$66.05

68.2%

The 25th…Bee
(Circle in Square)

$214,772

4,107

0

8

684

$52.29

75.1%

The Color Purple
(Broadway)

$882,883

11,130

0

8

1,718

$79.32

81.0%

The Drowsy Chaperone
(Marquis)

$494,336

6,781

0

8

1,611

$72.90

52.6%

The Lion King
(Minskoff)

$1,172,793

13,004

0

8

1,654

$90.19

98.3%

The Phantom of the Opera
(Majestic)

$690,781

11,093

0

8

1,607

$62.27

86.3%

The Pirate Queen
(Hilton)

$442,065

7,848

0

8

1,799

$56.33

54.5%

The Year…Thinking
(Booth)

$304,777

3,985

0

7

782

$76.48

72.8%

Wicked
(Gershwin)

$1,388,636

14,472

0

8

1,809

$95.95

100.0%

Xanadu
(Hayes)

$139,059

3,112

7

0

594

$44.68

74.8%
Last Updated on March 17, 2009