Broadway Gross Ticket Sales Week Ending December 2, 2007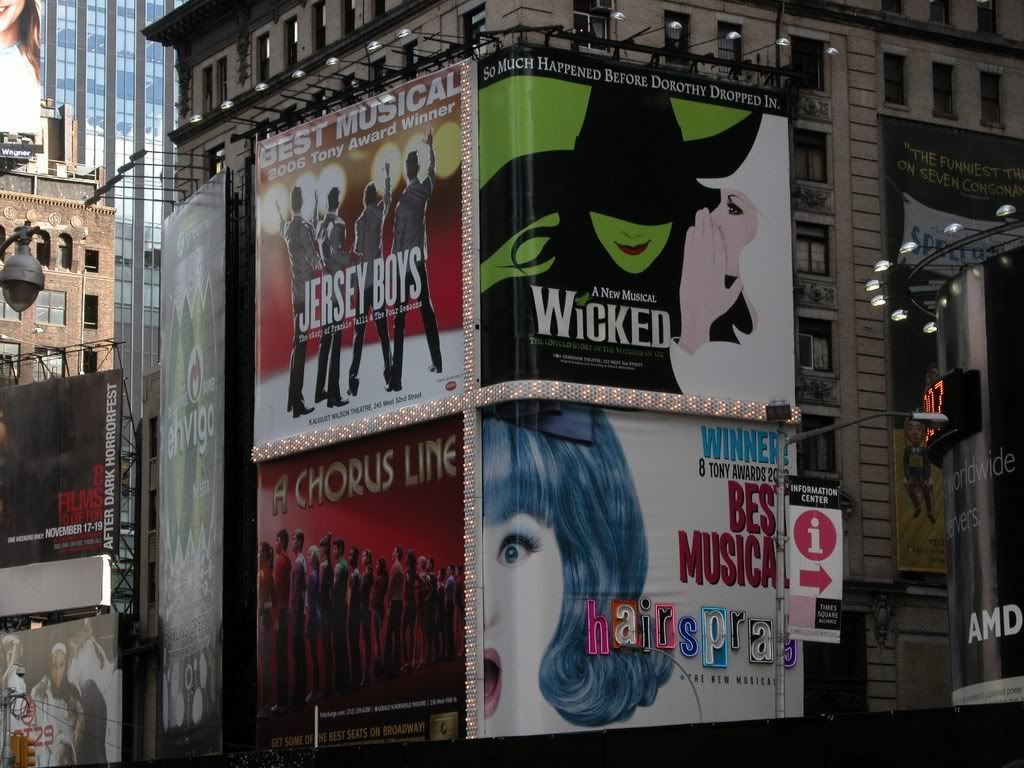 By Carol-Ann Rudy
After 19 days of darkness due to the stagehands' strike, the lights on Broadway are bright again – financially too, at least for the musical productions. The musicals were singing all the way to the bank, led by the "Grinch" with $1,218,880 in revenues, followed by Mary Poppins with $1,109,074. Overall, this week's box office returns tallied $14,626,123, a nice bounce back from the previous week's dismal figure of $4,297,988, even without a full schedule of performances. Comparing last season's gross of $458,605,618 to this season's of $432,150,844, there's a difference of -5.8%, or $26,454,774. While musicals flourished plays are coming back a little slower, as this past week saw attendance drop well below 50% in some cases.

Opening nights this week for the plays The Farnsworth Invention this past Monday night, August: Osage County last night, The Seafarer tomorrow, and Is He Dead? this Sunday, should boost attendance.
The brightest spot among plays was Cyrano de Bergerac. With just five performances, it racked up a 97% attendance and a $629,223 return.
The Little Mermaid, the musical, played before near-capacity crowds with just four performances this past week. It was scheduled to open officially tomorrow night, but was pushed back to Jan. 10 because of the stagehand strike.
Enjoying full houses were: Wicked with $941,588 and Jersey Boys with $887,472.
Young Frankenstein continues its policy of not reporting figures, but according to Variety, its revenues were in the neighborhood of $1.6 million.
For bargain shoppers, there are some great ticket prices to be had, looking at the average paid admissions for these productions: August: Osage County $49.76; Cymbeline $43.80; Rent $39.83; and The Ritz $47.14. Of those four productions, all are plays with the exception of Rent.
Broadway Gross Ticket Sales
All data provided by The League of American Theatres and Producers
Production
(Theatre)
Weekly Gross
Total Atten.
Prev.
Perf.
Total Capacity
Avg. Ticket Price
Atten. %
A Bronx Tale
(Walter Kerr)
$216,363
3,065
0
5
947
$70.59
64.6%
A Chorus Line
(Schoenfeld)
$263,435
3,219
0
5
1,069
$81.84
60.2%
August: Osage County
(Imperial)
$129,137
2,595
5
0
1,439
$49.76
36.1%
Avenue Q
(Golden)
$191,343
2,606
0
6
796
$73.42
54.6%
Chicago
(Ambassador)
$330,421
5,148
0
6
1,080
$64.18
79.4%
Curtains
(Hirschfeld)
$480,700
5,252
0
5
1,422
$91.53
73.9%
Cymbeline
(Beaumont)
$203,155
4,638
7
1
1,047
$43.80
55.4%
Cyrano de Bergerac
(Rogers)
$629,223
6,528
0
5
1,347
$96.39
96.9%
Dr. Seuss'…Christmas
(St. James)
$1,218,880
17,802
0
13
1,706
$68.47
80.3%
Grease
(Atkinson)
$516,701
5,109
0
5
1,072
$101.14
95.3%
Hairspray
(Neil Simon)
$511,694
6,359
0
5
1,428
$80.47
89.1%
Is He Dead?
(Lyceum)
$52,353
1,041
4
0
922
$50.29
28.2%
Jersey Boys
(August Wilson)
$887,472
6,160
0
5
1,222
$144.07
100.8%
Legally Blonde
(Palace)
$616,161
7,648
0
6
1,691
$80.56
75.4%
Les Miserables
(Broadhurst)
$269,472
3,476
0
5
1,122
$77.52
62.0%
Mamma Mia!
(Cadillac Winter Garden)
$726,789
8,027
0
6
1,498
$90.54
89.3%
Mary Poppins
(New Amsterdam)
$1,109,074
13,424
0
8
1,791
$82.62
93.7%
Pygmalion
(American Airlines)
$283,259
5,501
0
8
740
$51.49
92.9%
Rent
(Nederlander)
$150,436
3,777
0
6
1,181
$39.83
53.3%
Rock 'n' Roll
(Jacobs)
$323,133
4,740
0
5
1,074
$68.17
88.3%
Spamalot
(Shubert)
$459,661
5,737
0
6
1,441
$80.12
66.4%
Spring Awakening
(O'Neill)
$457,781
5,145
0
6
1,090
$88.98
78.7%
The 25th…Bee
(Circle in Square)
$205,443
3,653
0
8
684
$56.24
66.8%
The Color Purple
(Broadway)
$549,501
7,802
0
6
1,718
$70.43
75.7%
The Drowsy Chaperone
(Marquis)
$331,158
4,713
0
6
1,611
$70.26
48.8%
The Farnsworth Invention
(Music Box)
$173,967
2,457
5
0
1,005
$70.80
48.9%
The Lion King
(Minskoff)
$918,191
9,499
0
6
1,654
$96.66
95.7%
The Little Mermaid
(Lunt-Fontanne)
$507,884
5,980
4
0
1,503
$84.93
99.5%
The Phantom of the Opera
(Majestic)
$366,788
4,512
0
4
1,607
$81.29
70.2%
The Ritz
(Studio 54)
$288,508
6,120
0
8
1,006
$47.14
76.0%
The Seafarer
(Booth)
$62,149
1,235
5
0
780
$50.32
31.7%
Wicked
(Gershwin)
$941,588
9,045
0
5
1,809
$104.10
100.0%
Xanadu
(Hayes)
$254,303
3,156
0
8
596
$80.58
66.2%
Last Updated on March 17, 2009