It's David versus Goliath as a small, Philadelphia-based concert festival, fights against
Rosenzweig is also alleging tortuous interference by Live Nation for preventing The Roots from playing a 2008 Popped! festival. Although The Roots had a deal with Popped!, Live Nation allegedly convinced The Roots to play at a Live Nation event several weeks earlier instead.
The lawsuit has no relation to complaints about Live Nation and proposed merger with Ticketmaster, but Rosenweig's claim of alleged strong-arm tactics by Live Nation cuts to the heart of many of the accusations about how the company could dominate the ticketing and concert promotions industries if it teams up with Ticketmaster.
Rosenzweig's lawsuit is the second filed this year by a local promoter against Live Nation that alleges the company has competed unfairly. Promoter Seth Hurwitz, owner of the Washington, DC-based 9:30 Club, also sued Live Nation earlier this year on similar claims.
According to the complaint filed earlier this year, Live Nation had promised to ask acts like the Beastie Boys, Wilco, and Ween to perform at the July festival. But by the end of February, Live Nation had backed out entirely.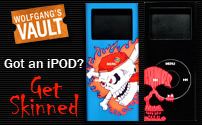 Counts three and four of civil conspiracy are directed at Live Nation executives Geoff Gordon and Jim Sutcliffe for their involvement in the breach of contract and torturous interference.
Conor Corcoran, the attorney representing Rosenzweig and Popped! told TicketNews that prior to allegedly breaking the contract, LiveNation was claiming difficulties about getting beer permits and other "absolute nonsense."
"They left us holding the bag, holding significant debts to vendors, and they did it all with a certain bravado," he said.
"We're a small time concert promotion company in Philly. That said, we're a very successful one and we're locally based. Live Nation was seeking to do a large summertime festival in Philly and they couldn't do it without Popped! We agreed to get in bed with the big gorilla in the room and now the gorilla is going batsh** crazy."
TicketNews reached Jim Sutcliffe who had no comment on the lawsuit, while calls to Live Nation spokesperson John Vlautin went unreturned at time of publication.