NEW YORK, Nov. 2, 2017 /PR Newswire/ — Live Nation Entertainment (NYSE: LYV) today released financial results for the three and nine months ended September 30,...
NEW YORK, Nov. 2, 2017 /PR Newswire/ — Live Nation Entertainment (NYSE: LYV) today released financial results for the three and nine months ended September 30, 2017.
Live Nation had its best third quarter ever and 2017 is on track to deliver another year of record results across revenue, operating income and adjusted operating income, or AOI.  For the quarter, revenue was up 12%, operating income was up 5% and AOI was up 10%.  For the nine months, revenue was up 19%, operating income was up 26% and AOI was up 16%.  All our divisions — concerts, advertising and ticketing — each delivered their strongest quarterly AOI results ever.
Our concerts business is our flywheel, attracting almost 30 million fans to shows globally in the quarter, which then drove record results in our onsite, ticketing and advertising businesses.  Through October, we have sold over 80 million tickets for concerts in 2017, up 20% year-on-year.

With our strength in concert attendance growth we are also seeing similar success in our onsite, sponsorship and ticketing businesses, giving us confidence that 2017 will be another year of record results for Live Nation overall and for each of our divisions.
Concerts Global Platform Growth
With continued strong global demand for concerts, through the third quarter we drove a 16% increase in attendance, to 65 million fans at our 20,000 shows in 40 countries.  While growing our show count, we have also increased the revenue generated by each show.  We do this first by growing attendance per show, which is up 6% overall so far this year, again led by arenas and stadiums each delivering strong increases in fans per show.  And secondly we worked with artists to better align the pricing for their best tickets with market value — this yielded an average 9% increase in front-of-house ticket prices across our US amphitheater, arena and stadium shows so far this year.
This summer we also saw the benefits from onsite initiatives at our amphitheaters, increasing our average ancillary revenue per fan by 9% to almost $24.  This is now a nearly 20% increase over the past two years, as we have driven substantial improvements across food and beverage, VIP programs and parking.
With the success of our concerts flywheel we are promoting more shows for more fans, more effectively pricing and selling tickets, and delivering a better fan experience than ever before.  As a result, we will spend over $5 billion producing concerts this year, making Live Nation far and away the largest financial partner to musicians.
With this, we expect to deliver record results in our concerts business this year.  This growth demonstrates the power of live across the globe as more fans are attending live concerts, and making it a top entertainment choice and the only non-duplicable music option.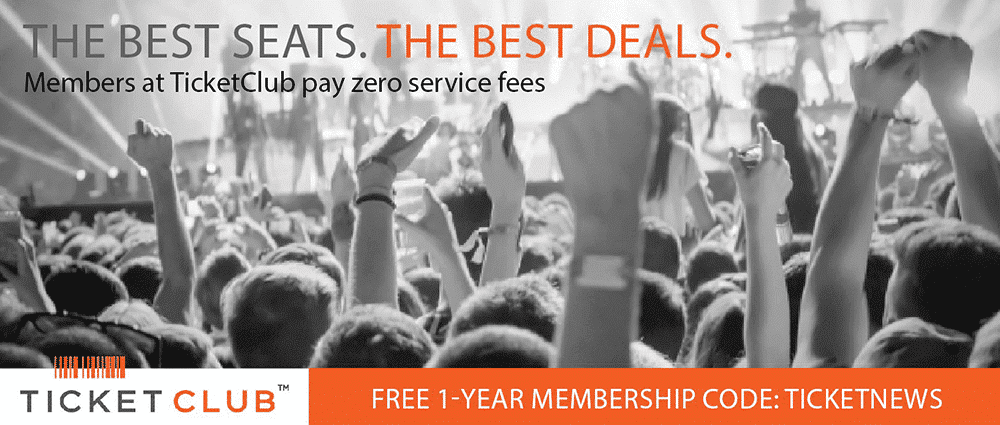 Sponsorship & Advertising Delivering Continued Growth
In our high-margin sponsorship business we have continued our double-digit growth this year, with revenue up 20%, operating income up 13% and AOI up 15% for the nine months, as we delivered our best quarterly results ever for our sponsorship business.  With over 1,000 sponsors across our onsite and online platforms, Live Nation is the global leader in music sponsorship, providing brands with opportunities to reach our core millennial audience.
Onsite sponsorship continues to be a key growth driver, and for the nine months our festival sponsorship revenue is up 20%, while our sponsorship per fan is up 8% as we continue to find innovative ways at scale to connect brands with over 8 million fans attending 95 festivals worldwide.
Our other key growth initiative continues to be deepening and broadening our strategic brand relationships, with over 50 sponsors each spending more than $1 million on our platform from onsite to fan direct engagement.  Collectively, the committed spend by this group is up 24% to over $275 million for the year, accounting for approximately 80% of our overall sponsorship and advertising.
With over 95% of our expected advertising revenue for the year now contracted, we currently expect full year operating income and AOI growth in the low teens for the business.
Ticketmaster Marketplace and Product Expansion
Ticketmaster continues building its position as the global ticket marketplace leader, with 14% growth for the nine months in global fee-bearing gross transaction value, or GTV.  Ticketmaster will deliver almost 500 million tickets worth approximately $28 billion in GTV across 29 countries this year, making it the world's largest such marketplace.  And the success of our marketplace is stronger than ever, as all three quarters in 2017 have been amongst our top 10 quarters ever.  Underlying this growth is our product innovation, and this has been an important quarter for us as we have scaled our Verified Fan product, and announced our first league-wide conversion to digital ticketing.
Ticketmaster's Verified Fan has developed a proprietary process, leveraging algorithms which separate true fans from bots and deliver the tickets to fans, to drive a 90% reduction in the number of tickets ending up on the secondary market.  During the third quarter, we substantially scaled the product and we have now worked with over 60 artists and Broadway shows, including Taylor Swift, Harry Styles, Hamilton and Bruce Springsteen on Broadway.  As a result, by the end of this year I expect we will deliver three million tickets to Verified Fans, saving them $100 million dollars relative to buying on secondary sites after bots got the tickets first.
We also announced our digital ticketing rollout with the NFL in September, and starting next season all NFL game tickets will be digital.  This will allow us to better identify the fans attending the games, understand in much greater detail the behavior of these fans, reduce fraud and frustrated fans, and work with our clients to create new profit streams in ticketing.
As importantly, these products come as we have had continued success on our core operations.  Our mobile and desktop platforms continue to provide an improved online experience, with 34% growth in mobile ticket sales this year and double-digit improvements in conversion on both mobile and desktop.  And at the same time, our open strategy continues selling more tickets for clients off-platform, up 20% for the nine months, with almost 10 million tickets sold.
Overall, Ticketmaster's results are validating our dual strategy of delivering a great marketplace for fans to buy tickets while providing the greatest value to venues, teams and artists looking to control their tickets and maximize the value of their events.  By continuing to do both effectively, I currently expect us to deliver high-single-digit growth in Ticketing operating income and AOI this year.
Summary
As we approach the end of 2017, we are confident that our strong performance will deliver another year of record top line, operating income and AOI.  All of our businesses — concerts, advertising and ticketing —have delivered growth for the nine months, and based on their key operating metrics, we currently expect each to deliver record revenue, operating income and AOI for the full year.  As we look forward, we see tremendous opportunities to continue global consolidation of our concerts and ticketing businesses, and for further growth in advertising and ticketing from the concerts flywheel.
Michael Rapino
President and Chief Executive Officer
Live Nation Entertainment, Inc.
The company will webcast a teleconference today at 5:00 p.m. Eastern Time to discuss its financial performance. Interested parties should visit the Events & Webcasts section of the company's website at investors.livenationentertainment.com to listen to the webcast. Supplemental statistical and financial information to be provided on the call, if any, will be available under the Reports section at the same link. A replay of the webcast will also be available on the Live Nation website.
Notice Regarding Financial Statements
The company has provided certain unaudited financial statements at the end of this press release for reference.  These unaudited financial statements should be read in conjunction with the full unaudited financial statements, and the notes thereto, set forth in the company's Quarterly Report on Form 10-Q filed with the Securities and Exchange Commission today and available on the SEC's website at sec.gov.
About Live Nation Entertainment
Live Nation Entertainment, Inc. (NYSE: LYV) is the world's leading live entertainment company comprised of global market leaders: Ticketmaster, Live Nation Concerts, and Live Nation Media & Sponsorship.  For additional information, visit www.livenationentertainment.com.
Last Updated on November 2, 2017 by Katie Gainer