Concerts from Madonna and Tina Turner top the onsales for the weekend ending May 12, as compiled by TicketNews. The Material Girl kicks off...
Concerts from Madonna and Tina Turner top the onsales for the weekend ending May 12, as compiled by TicketNews.
The Material Girl kicks off her national tour this summer following the release of her latest album "Hard Candy." Tickets to what is sure to be one of the hottest shows of the year will be on presale beginning Monday, May 12. Also going on sale Monday are tickets to Tina Turner's latest concert tour. The singer will have several tour stops, including concerts in Chicago, Miami, and Boston on sale. Monday's onsales also mark the return of wildly popular early '90's teen heartthrobs New Kids on the Block. The boy band, now all grown up, will re-unite for a national concert tour, with shows in Toronto, Boston, and New Jersey on sale Monday, with other dates continuing to go on sale in upcoming weeks.

The weekend also sees concert ticket sales from several other popular recording artists. Alternative rockers Nine Inch Nails have several shows on sale Saturday, including stops in Seattle, Cleveland, and Minneapolis. Music legend Stevie Wonder has a concert in Vancouver on sale Friday morning.
Two popular Disney artists, Aly and AJ and High School Musical's Corbin Bleu each have concerts on sale this weekend. Also, Elton John has an additional concert in Alaska on sale this weekend as well.

Rounding out the weekend's musical acts are concerts from former American Idol contestants Carrie Underwood and Daughtry, as well as shows at the Hollywood Bowl from Feist and Gnarls Barkley.
The weekend offers tickets to two high profile soccer matches. Tickets for the upcoming game between Brazil and Venezuela are on sale today, as are tickets for the MLS match between the New England Revolution and FC Dallas. Both matches will be played at Foxboro Stadium in Massachusetts.
Finally, this weekend offers tickets for the all-star production of Les Miserables which will be performed at the Hollywood Bowl this summer. In addition to a cast that includes several popular Broadway theater actors, controversial comedienne Rosie O'Donnell will be a part of the musical production.
"Onsales" is a ticketing industry term describing when tickets initially go on sale to the general public. Each week, tickets are released by promoters, venues and others to dozens of events, but the number of tickets available can vary significantly between locations.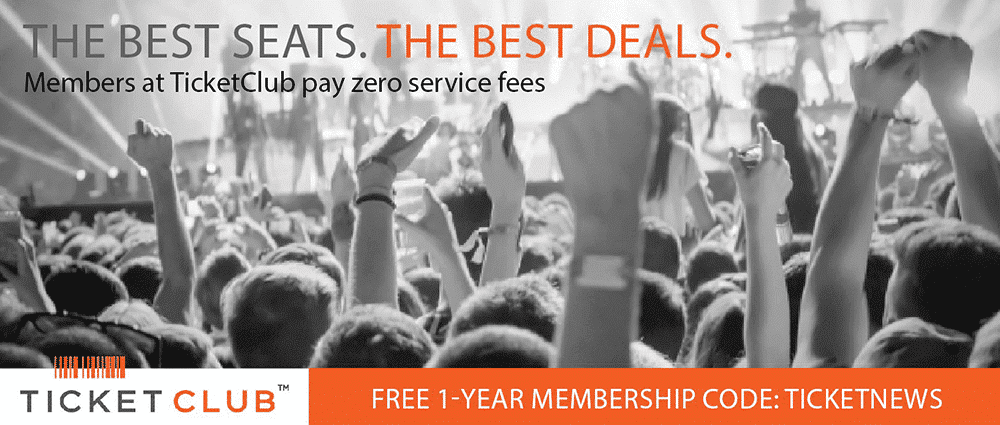 THIS WEEK'S ONSALES
| | | | | |
| --- | --- | --- | --- | --- |
| Date | Event | Venue | City | State |
| Friday | Akon | BankAtlantic Center | Sunrise | FL |
| Friday | Alkaline Trio | The Fillmore New York at Irving Plaza | New York | NY |
| Friday | Alkaline Trio | The National | Richmond | VA |
| Friday | Alkaline Trio | The Norva | Norfolk | VA |
| Friday | Andrew Dice Clay | Tampa Theatre | Tampa | FL |
| Friday | Anita Baker | nTelos Wireless Pavilion | Portsmouth | VA |
| Friday | Ashlee Simpson | House of Blues Chicago | Chicago | IL |
| Friday | Bill Maher | E.J. Thomas Hall | Akron | OH |
| Friday | Bob Dylan | The Palladium | Worcester | MA |
| Friday | Bow Wow | Dar Constitution Hall | Washington | DC |
| Friday | Bow Wow | House of Blues Chicago | Chicago | IL |
| Friday | Carrie Underwood | American Bank Center Arena | Corpus Christi | TX |
| Friday | Chris Rock | Hard Rock Live | Hollywood | FL |
| Friday | Cute Is What We Aim For | Glass House | Pomona | CA |
| Friday | Cute Is What We Aim For | House of Blues Dallas | Dallas | TX |
| Friday | Cute Is What We Aim For | Madison Theater | Covington | KY |
| Friday | Cute Is What We Aim For | Magic Stick | Detroit | MI |
| Friday | Cute Is What We Aim For | Masquerade | Atlanta | GA |
| Friday | Cute Is What We Aim For | The Fillmore at the TLA | Philadelphia | PA |
| Friday | Cute Is What We Aim For | The Norva | Norfolk | VA |
| Friday | Cute Is What We Aim For | The Social | Orlando | FL |
| Friday | Cute Is What We Aim For | Troubadour | West Hollywood | CA |
| Friday | George Lopez | Dodge Arena | Hidalgo | TX |
| Friday | Gov't Mule | Hampton Beach Casino Ballroom | Hampton Beach | NH |
| Friday | Herbie Hancock | Hampton Beach Casino Ballroom | Hampton Beach | NH |
| Friday | Hootie and the Blowfish | BI-LO Center | Greenville | SC |
| Friday | John Fogerty | Chevrolet Theatre | Wallingford | CT |
| Friday | John Hiatt | Atlanta Botanical Garden | Atlanta | GA |
| Friday | John Hiatt | Pantages Theatre | Minneapolis | MN |
| Friday | Katt Williams | Desoto County Civic Center | Southaven | MS |
| Friday | KT Tunstall | Atlanta Botanical Garden | Atlanta | GA |
| Friday | KT Tunstall | House of Blues Cleveland | Cleveland | OH |
| Friday | Lisa Lampanelli | Genesee Theatre | Waukegan | IL |
| Friday | Live, Blues Traveler, Collective Soul | Booth Amphitheatre At Regency Park | Cary | NC |
| Friday | Lucinda Williams | Atlanta Botanical Garden | Atlanta | GA |
| Friday | Lynyrd Skynyrd, Kid Rock | Tweeter Center for the Performing Arts | Mansfield | MA |
| Friday | Maze featuring Frankie Beverly | Nokia Theatre At Grand Prairie | Grand Prairie | TX |
| Friday | Modest Mouse | Bogarts | Cincinnati | OH |
| Friday | Modest Mouse | Hard Rock Live Orlando | Orlando | FL |
| Friday | Modest Mouse | House of Blues Myrtle Beach | Myrtle Beach | SC |
| Friday | Modest Mouse | Rostraver Ice Garden | Belle Vernon | PA |
| Friday | Modest Mouse | St Augustine Amphitheatre | St Augustine | FL |
| Friday | Modest Mouse | The Fillmore Miami Beach at Jackie Gleason Theater | Miami Beach | FL |
| Friday | Modest Mouse | The Pageant | St Louis | MO |
| Friday | My Bloody Valentine | Ricoh Coliseum | Toronto | ON |
| Friday | My Bloody Valentine | Roseland Ballroom | New York | NY |
| Friday | My Bloody Valentine | Santa Monica Civic | Santa Monica | CA |
| Friday | My Morning Jacket | Festival Pier | Philadelphia | PA |
| Friday | Natasha Bedingfield | Turning Stone Resort & Casino Showroom | Verona | NY |
| Friday | New England Revolution vs. FC Dallas, Brazil vs. Venezuela | Gillette Stadium | Foxborough | MA |
| Friday | New Orleans Hornets Playoffs – NBA Conference Semifinals, Game C | New Orleans Arena | New Orleans | LA |
| Friday | Nine Inch Nails | Air Canada Centre | Toronto | ON |
| Friday | Nine Inch Nails | American Airlines Center | Dallas | TX |
| Friday | Nine Inch Nails | MTS Centre | Winnipeg | MB |
| Friday | Nine Inch Nails | Pengrowth Saddledome | Calgary | AB |
| Friday | Nine Inch Nails | Rexall Place | Edmonton | AB |
| Friday | Nine Inch Nails | The Arena At Gwinnett Center | Atlanta | GA |
| Friday | Ringling Bros. and Barnum & Bailey Circus | Pensacola Civic Center | Pensacola | FL |
| Friday | Ringling Bros. and Barnum & Bailey Circus | The Arena At Gwinnett Center | Atlanta | GA |
| Friday | Sheryl Crow/James Blunt | Mohegan Sun Arena | Uncasville | CT |
| Friday | Sheryl Crow | Northrop Auditorium | Minneapolis | MN |
| Friday | Squeeze | House of Blues Dallas | Dallas | TX |
| Friday | Squeeze | The Pageant | St Louis | MO |
| Friday | Squeeze | Time Warner Cable Amphitheater at Tower City | Cleveland | OH |
| Friday | Stevie Wonder | General Motors Place | Vancouver | BC |
| Friday | Ted Nugent | House of Blues Chicago | Chicago | IL |
| Friday | Teen Choice Awards Hosted By Miley Cyrus | Gibson Amphitheatre at Universal CityWalk | Universal City | CA |
| Friday | The Backyardigans Live! Tale of The Mighty Knights | First Arena | Elmira | NY |
| Friday | The Backyardigans Live! Tale of The Mighty Knights | Warner Theatre | Washington | DC |
| Friday | The Metal Masters: Judas Priest, Heaven and Hell, Motorhead, testament | DTE Energy Music Theatre | Clarkston | MI |
| Friday | The Swell Season | Massey Hall | Toronto | ON |
| Friday | The Swell Season | Ryman Auditorium | Nashville | TN |
| Friday | The Swell Season | San Diego State Open Air Theatre | San Diego | CA |
| Friday | The Swell Season | The Palladium Ballroom | Dallas | TX |
| Friday | Vicente Fernandez | American Airlines Arena | Miami | FL |
| Friday | Vicente Fernandez | Madison Square Garden | New York | NY |
| Friday | Weird Al Yankovic | Family Arena | Saint Charles | MO |
| Friday | Weird Al Yankovic | Scranton Cultural Center | Scranton | PA |
| Friday | Wicked (Chicago) | Ford Center for the Performing Arts | Chicago | IL |
| Friday | Widespread Panic | Main Street Armory | Rochester | NY |
| Friday | Widespread Panic | San Diego Civic Theatre | San Diego | CA |
| Friday | Widespread Panic | Uptown Theater | Kansas City | MO |
| Friday | Wilco | Florida Theatre Jacksonville | Jacksonville | FL |
| Saturday | 311 | Ford Amphitheatre At the Florida State Fairgrounds | Tampa | FL |
| Saturday | 106.1 KISS FM's BFD 2008 | Concerts At Marymoor | Redmond | WA |
| Saturday | 3 Doors Down with Special Guests Staind and Hinder | Blossom Music Center | Cuyahoga Falls | OH |
| Saturday | 3 Doors Down with Special Guests Staind and Hinder | Darien Lake Performing Arts Center | Darien Center | NY |
| Saturday | 3 Doors Down with Special Guests Staind and Hinder | First Midwest Bank Amphitheatre | Tinley Park | IL |
| Saturday | 3 Doors Down with Special Guests Staind and Hinder | Hersheypark Stadium | Hershey | PA |
| Saturday | 3 Doors Down with Special Guests Staind and Hinder | New England Dodge Music Center | Hartford | CT |
| Saturday | 3 Doors Down with Special Guests Staind and Hinder | Saratoga Performing Arts Center | Saratoga Springs | NY |
| Saturday | 3 Doors Down with Special Guests Staind and Hinder | Tweeter Center for the Performing Arts | Mansfield | MA |
| Saturday | 3 Doors Down with Special Guests Staind and Hinder | Verizon Wireless Amphitheater St Louis | Maryland Heights | MO |
| Saturday | 3 Doors Down with Staind and Disturbed | Marcus Amphitheater Summerfest | Milwaukee | WI |
| Saturday | Arlo Guthrie | Lifestyle Communities Pavilion | Columbus | OH |
| Saturday | As I Lay Dying | House of Blues New Orleans | New Orleans | LA |
| Saturday | As I Lay Dying | The Joint at Hard Rock Hotel Las Vegas | Las Vegas | NV |
| Saturday | Ashlee Simpson | Cape Cod Melody Tent | Hyannis | MA |
| Saturday | Ashlee Simpson | Wildwood Convention Center | Wildwood | NJ |
| Saturday | B.B. King | Amphitheater at The Wharf | Orange Beach | AL |
| Saturday | Backstreet Boys | Concerts At Marymoor | Redmond | WA |
| Saturday | Beck/Spoon | Hollywood Bowl | Hollywood | CA |
| Saturday | Billy Idol | Paramount Theatre | Seattle | WA |
| Saturday | Billy Idol | The Joint at Hard Rock Hotel Las Vegas | Las Vegas | NV |
| Saturday | Bob Weir | WaMu Theater | Seattle | WA |
| Saturday | Boston & Styx | Pier Six Concert Pavilion | Baltimore | MD |
| Saturday | Bow Wow | House of Blues Atlantic City | Atlantic City | NJ |
| Saturday | Brad Paisley | Sprint Center | Kansas City | MO |
| Saturday | Brad Paisley with Jewel, Chuck Wicks, and Julianne Hough | Saratoga Performing Arts Center | Saratoga Springs | NY |
| Saturday | Brian Regan | Concerts At Marymoor | Redmond | WA |
| Saturday | Brooks & Dunn with Special Guest Rodney Atkins | Jacksonville Veterans Memorial Arena | Jacksonville | FL |
| Saturday | Bugs Bunny On Broadway | Hollywood Bowl | Hollywood | CA |
| Saturday | Carrie Underwood | UNO Lakefront Arena | New Orleans | LA |
| Saturday | Celine Dion | Air Canada Centre | Toronto | ON |
| Saturday | Corbin Bleu | Clark County Fairgrounds | Ridgefield | WA |
| Saturday | Cute Is What We Aim For | Warehouse Live | Houston | TX |
| Saturday | Daughtry | NY State Fair | Syracuse | NY |
| Saturday | Def Leppard | Allen County War Memorial Coliseum | Fort Wayne | IN |
| Saturday | Def Leppard | Sommet Center | Nashville | TN |
| Saturday | Def Leppard | Verizon Wireless Music Center | Birmingham | AL |
| Saturday | Diana Ross | Hollywood Bowl | Hollywood | CA |
| Saturday | Dolly Parton | WaMu Theater | Seattle | WA |
| Saturday | Dolly Parton | Rose Garden | Portland | OR |
| Saturday | Donna Summer | Hollywood Bowl | Hollywood | CA |
| Saturday | Echo and the Bunnymen | Radio City Music Hall | New York | NY |
| Saturday | Eddie Money | House of Blues Myrtle Beach | Myrtle Beach | SC |
| Saturday | Etta James and the Roots Band | Hollywood Bowl | Hollywood | CA |
| Saturday | Chris Botti and Orchestra | Hollywood Bowl | Hollywood | CA |
| Saturday | Feist | Hollywood Bowl | Hollywood | CA |
| Saturday | G. Love & Special Sauce | Concerts At Marymoor | Redmond | WA |
| Saturday | G. Love & Special Sauce | Bank of America Pavilion | Boston | MA |
| Saturday | G. Love & Special Sauce | Roseland Ballroom | New York | NY |
| Saturday | Garrison Keillor | Concerts At Marymoor | Redmond | WA |
| Saturday | George Lopez | American Bank Center Arena | Corpus Christi | TX |
| Saturday | Gnarls Barkley, Youssou N'dour, Deerhoof | Hollywood Bowl | Hollywood | CA |
| Saturday | Gov't Mule | Cape Cod Melody Tent | Hyannis | MA |
| Saturday | Gov't Mule | Pepsi Skyline Stage At Navy Pier | Chicago | IL |
| Saturday | Gov't Mule | South Shore Music Circus | Cohasset | MA |
| Saturday | Gov't Mule | Stone Pony | Asbury Park | NJ |
| Saturday | Gov't Mule / Umphrey's McGee | Red Rocks Amphitheatre | Morrison | CO |
| Saturday | Harlem Globetrotters | Madison Square Garden | New York | NY |
| Saturday | Harlem Globetrotters | Prudential Center | Newark | NJ |
| Saturday | Hippiefest | Fraze Pavilion | Kettering | OH |
| Saturday | Hippiefest | Greek Theatre | Los Angeles | CA |
| Saturday | Hot 94.1 Birthday Bomb | Rabobank Arena Theater and Convention Center | Bakersfield | CA |
| Saturday | Hot Tuna Electric | Town Hall | New York | NY |
| Saturday | JAKOB DYLAN | Blender Theater at Gramercy | New York | NY |
| Saturday | Jill Scott | Verizon Wireless Theater | Houston | TX |
| Saturday | John Mellencamp | Santa Barbara Bowl | Santa Barbara | CA |
| Saturday | Journey with Heart and Cheap Trick | Cruzan Amphitheatre | West Palm Beach | FL |
| Saturday | Journey with Heart and Cheap Trick | Ford Amphitheatre At the Florida State Fairgrounds | Tampa | FL |
| Saturday | Judas Priest | Pearl Concert Theater at Palms Casino Resort | Las Vegas | NV |
| Saturday | Judas Priest | WaMu Theater | Seattle | WA |
| Saturday | Julie Andrews: the Gift of Music | Hollywood Bowl | Hollywood | CA |
| Saturday | July 4th Spectacular with the LA Dodgers | Hollywood Bowl | Hollywood | CA |
| Saturday | Katt Williams: It's Pimpin' Pimpin' Tour | Gibson Amphitheatre at Universal CityWalk | Universal City | CA |
| Saturday | Keller Williams | Concerts At Marymoor | Redmond | WA |
| Saturday | Kenny Chesney and LeAnn Rimes: The Poets & Pirates Tour | Riverbend Music Center | Cincinnati | OH |
| Saturday | Kidz Bop | Boulder Theater | Boulder | CO |
| Saturday | Kidzapalooza | Hollywood Bowl | Hollywood | CA |
| Saturday | Kiss 106.1 FM BFD 2008 | Concerts At Marymoor | Redmond | WA |
| Saturday | Larry the Cable Guy | Cape Cod Melody Tent | Hyannis | MA |
| Saturday | Larry the Cable Guy | South Shore Music Circus | Cohasset | MA |
| Saturday | Laurie Berkner | Brookhaven Amphitheatre | Farmingville | NY |
| Saturday | Les Miserables | Hollywood Bowl | Hollywood | CA |
| Saturday | Live, Collective Soul & Blues Traveler | Concerts At Marymoor | Redmond | WA |
| Saturday | Merle Haggard | Alabama Theatre | Birmingham | AL |
| Saturday | Merle Haggard | Time Warner Cable Amphitheater at Tower City | Cleveland | OH |
| Saturday | Monster Jam | Mobile Civic Center Arena | Mobile | AL |
| Saturday | Music of Philip Glass and Edward Elgar | Hollywood Bowl | Hollywood | CA |
| Saturday | My Bloody Valentine | Aragon Ballroom | Chicago | IL |
| Saturday | New Kids On the Block | Centre Bell Centre | Montreal | QC |
| Saturday | Nick Cave and the Bad Seeds | Ogden Theatre | Denver | CO |
| Saturday | Nick Cave and the Bad Seeds | Hollywood Bowl | Hollywood | CA |
| Saturday | Night of Romance with Chris Isaak | Hollywood Bowl | Hollywood | CA |
| Saturday | Nine Inch Nails | Ford Center | Oklahoma City | OK |
| Saturday | Nine Inch Nails | IZOD CENTER (formerly Continental Arena) | East Rutherford | NJ |
| Saturday | Nine Inch Nails | KeyArena | Seattle | WA |
| Saturday | Nine Inch Nails | Palace of Auburn Hills | Auburn Hills | MI |
| Saturday | Nine Inch Nails | Quicken Loans Arena | Cleveland | OH |
| Saturday | Nine Inch Nails | Red Rocks Amphitheatre | Morrison | CO |
| Saturday | Nine Inch Nails | Target Center | Minneapolis | MN |
| Saturday | PRCA Dodge Rodeo | Colorado State Fair | Pueblo | CO |
| Saturday | Randy Travis | Emerald Queen Casino | Tacoma | WA |
| Saturday | Ringling Bros. and Barnum & Bailey Circus | US Airways Center | Phoenix | AZ |
| Saturday | Rock the Bells | Fiddler's Green Amphitheatre | Englewood | CO |
| Saturday | Rock the Bells | Glen Helen Pavilion formerly Hyundai Pavilion | Devore | CA |
| Saturday | Rusted Root | House of Blues Anaheim | Anaheim | CA |
| Saturday | Rusted Root | House of Blues Sunset Strip | Hollywood | CA |
| Saturday | Santana | MGM Grand Hotel | Las Vegas | NV |
| Saturday | Scorpions / Sammy Hagar & the Wabos | The Pacific Amphitheatre | Costa Mesa | CA |
| Saturday | Sheryl Crow | Woodlands Pavilion | Woodlands | TX |
| Saturday | Slightly Stoopid | Bank of America Pavilion | Boston | MA |
| Saturday | Slightly Stoopid | Concerts At Marymoor | Redmond | WA |
| Saturday | SMACKDOWN and ECW | Toyota Center | Houston | TX |
| Saturday | Snoop Dogg | House of Blues Myrtle Beach | Myrtle Beach | SC |
| Saturday | Squeeze | Showbox at the Market | Seattle | WA |
| Saturday | Stevie Wonder | Fiddler's Green Amphitheatre | Englewood | CO |
| Saturday | Stevie Wonder | Mohegan Sun Arena | Uncasville | CT |
| Saturday | Stevie Wonder | Reno Events Center | Reno | NV |
| Saturday | Stevie Wonder | Trump Taj Mahal | Atlantic City | NJ |
| Saturday | Stevie Wonder | Tweeter Center for the Performing Arts | Mansfield | MA |
| Saturday | Stone Temple Pilots | AT&T Center | San Antonio | TX |
| Saturday | Stone Temple Pilots | Dodge Theatre | Phoenix | AZ |
| Saturday | Summer Metal Fest 08 featuring Vince Neil | NEW UCF ARENA | ORLANDO | FL |
| Saturday | The Metal Masters: Judas Priest, Heaven and Hell, Motorhead, testament | Glen Helen Pavilion formerly Hyundai Pavilion | Devore | CA |
| Saturday | The Metal Masters: Judas Priest, Heaven and Hell, Motorhead, testament | Journal Pavilion | Albuquerque | NM |
| Saturday | The Roots Rock & Reggae Festival Feat. Zippy & Stephen Marley | Pier Six Concert Pavilion | Baltimore | MD |
| Saturday | The Swell Season | Greek Theatre | Los Angeles | CA |
| Saturday | The Swell Season | Palace Theatre Columbus | Columbus | OH |
| Saturday | Toby Keith | Darien Lake Performing Arts Center | Darien Center | NY |
| Saturday | Toby Keith | Glen Helen Pavilion formerly Hyundai Pavilion | Devore | CA |
| Saturday | Toms River Fest 2008: Carrie Underwood | Poland Spring Arena at the Ritacco Center | Toms River | NJ |
| Saturday | Toms River Fest 2008: Daughtry | Poland Spring Arena at the Ritacco Center | Toms River | NJ |
| Saturday | U. S. A. vs. Barbados | The Home Depot Center | Carson | CA |
| Saturday | Vicente Fernandez | American Airlines Center | Dallas | TX |
| Saturday | Vicente Fernandez | Toyota Center | Houston | TX |
| Saturday | Weird Al Yankovic | NATIONAL CITY PAVILION | Cincinnati | OH |
| Saturday | Widespread Panic | Orpheum Theatre | Los Angeles | CA |
| Saturday | Widespread Panic | Red Rocks Amphitheatre | Morrison | CO |
| Saturday | Willie Nelson | Concerts At Marymoor | Redmond | WA |
| Saturday | WWE Presents Raw | AT&T Center | San Antonio | TX |
| Saturday | WWE World Wrestling Entertainment | Nassau Coliseum | Uniondale | NY |
| Saturday | WWE World Wrestling Entertainment | NMSU Pan American Center | Las Cruces | NM |
| Saturday | WWE World Wrestling Entertainment | Verizon Center | Washington | DC |
| Saturday | Yes | Woodlands Pavilion | Woodlands | TX |
| Saturday | Zappa Plays Zappa | Club Cinema | Pompano Beach | FL |
| Saturday | Zappa Plays Zappa | Hard Rock Live Orlando | Orlando | FL |
| Sunday | Amy Winehouse | Greek Theatre-U.C. Berkeley | Berkeley | CA |
| Sunday | Avenue Q | Keller Auditorium | Portland | OR |
| Sunday | Billy Idol | Fillmore | San Francisco | CA |
| Sunday | JVC Jazz Festival | Sleep Train Pavilion At Concord | Concord | CA |
| Sunday | Les Miserables | Fabulous Fox Theatre Atlanta | Atlanta | GA |
| Sunday | Martha Graham Dance Company | Saratoga Performing Arts Center | Saratoga Springs | NY |
| Sunday | My Bloody Valentine | Concourse at SF Design Center | San Francisco | CA |
| Sunday | Oklahoma | Fabulous Fox Theatre Atlanta | Atlanta | GA |
| Sunday | Spoon | Fillmore | San Francisco | CA |
| Sunday | STS9 (Sound Tribe Sector 9) | Greek Theatre-U.C. Berkeley | Berkeley | CA |
| Monday | Alan Jackson | HP Pavilion At San Jose | San Jose | CA |
| Monday | Aly & Aj | NATIONAL CITY PAVILION | Cincinnati | OH |
| Monday | Celine Dion | New Orleans Arena | New Orleans | LA |
| Monday | Def Leppard | John Labatt Centre | London | ON |
| Monday | Elton John | George M Sullivan Sports Arena | Anchorage | AK |
| Monday | International Fight League | IZOD CENTER (formerly Continental Arena) | East Rutherford | NJ |
| Monday | Lyle Lovett | Orpheum Theatre | Los Angeles | CA |
| Monday | Madonna (presale) | IZOD CENTER (formerly Continental Arena) | East Rutherford | NJ |
| Monday | Madonna (presale) | Madison Square Garden | New York | NY |
| Monday | Madonna (presale) | TD Banknorth Garden | Boston | MA |
| Monday | Madonna (presale) | United Center | Chicago | IL |
| Monday | New Kids On the Block | Air Canada Centre | Toronto | ON |
| Monday | New Kids On the Block | IZOD CENTER (formerly Continental Arena) | East Rutherford | NJ |
| Monday | New Kids On the Block | Nassau Coliseum | Uniondale | NY |
| Monday | New Kids On the Block | TD Banknorth Garden | Boston | MA |
| Monday | Santana | General Motors Place | Vancouver | BC |
| Monday | Santana | Pengrowth Saddledome | Calgary | AB |
| Monday | Santana | Rexall Place | Edmonton | AB |
| Monday | Stevie Wonder | DTE Energy Music Theatre | Clarkston | MI |
| Monday | Stevie Wonder | Shoreline Amphitheatre | Mountain View | CA |
| Monday | Stevie Wonder | Sleep Train Pavilion At Concord | Concord | CA |
| Monday | Stevie Wonder | White River Amphitheatre | Auburn | WA |
| Monday | The Backyardigans Live! Tale of The Mighty Knights | Augusta Civic Center | Augusta | ME |
| Monday | Tina Turner | Allstate Arena | Rosemont | IL |
| Monday | Tina Turner | American Airlines Arena | Miami | FL |
| Monday | Tina Turner | BankAtlantic Center | Sunrise | FL |
| Monday | Tina Turner | JOBING.COM ARENA | Glendale | AZ |
| Monday | Tina Turner | Sprint Center | Kansas City | MO |
| Monday | Tina Turner | TD Banknorth Garden | Boston | MA |
| Monday | Tina Turner | United Center | Chicago | IL |
| Monday | Widespread Panic | Festival Pier | Philadelphia | PA |
Last Updated on May 10, 2008 by By Jean Henegan