FanFair Alliance, a self-proclaimed "music and creative community who wish to take a stand against industrial-scale online ticket touting", recently published research that highlights the extent to which secondary ticket sites such as StubHub, Viagogo, and Get Me In! pay to top search engine results for ticket customers.
Just a short time later, StubHub called on the United States government to research "white label" sites – resale websites which focus on a specific venue or event and act as a resale portal. The argument, per StubHub, is that these websites are easily confused with the "official" website by consumers. Despite legal requirements that all resale sites in the United States have a disclaimer indicating that they are a resale marketplace and prices may be above or below face value for any particular event, the resale giant asked its well-lobbied friends in government to push back against its competition.
Pay-per-click advertisements have been a successful marketing tactic since their inception. Between the overwhelming inventory stockpile that is the internet and in turn, the instant gratification that web-based customers have come to desire, placing your product in the customer's direct line of view – quite literally – pays off.

FanFair Alliance is a critic of the practice. In July, it published the report "Online Ticket Touting: Google, We Have a Problem…", boasting: "New FanFair Alliance research highlights the extent to which so-called secondary ticketing platforms such as Viagogo, StubHub and Get Me In! could be misleading would-be ticket buyers through their online marketing practices on Google and other search engines". Their methedology entailed googling tickets for 100 different events- Metallica, Cliff Richard, and Run The Jewels, to name a few- and seeing how many times a secondary site was the first result.
FFA found that in 77% of searches, a secondary website had placed a pay-per-click advertisement on Google, and that 94% of searches saw a secondary website in the top two results.
FanFair Alliance campaign manager Adam Webb said of the findings: "If you're looking to attend a gig or festival, you'd probably expect a search engine to act as a trusted guide and direct you to the legitimate ticket seller."
All adds served via the PPC model, however, are marked as such: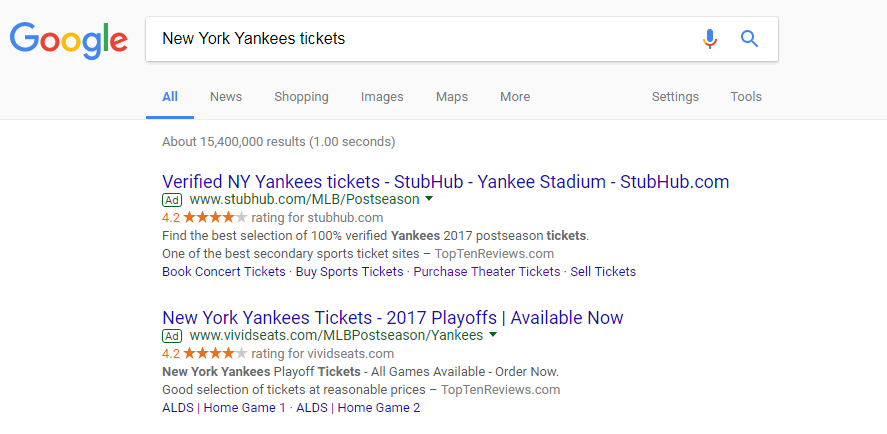 In essence, FanFair Alliance is arguing that consumers – despite being shown that they are clicking on an Ad in the search results, and then being shown a page that says it is a resale site – are being duped. And StubHub, which uses the very same practices to top search results, is hoping to handicap its competition from doing the same.
Last Updated on October 9, 2017 by Katie Gainer