Pop icon Madonna will head out on a tour in support of her 14th record Madame X later this year, hitting smaller venues across the globe for intimate shows. Due to high demand, the star has extended the tour once again.
Just last week, Madonna revealed that she would visit more dates to her previously-announced world tour, and now, even more shows have been added. Five more shows will take place at New York City's BAM Howard Gilman Opera House, along with two more shows at the Chicago Theatre and The Wiltern in Los Angeles and three more concerts at The Met Philadelphia. New gigs in other cities have also been added to the outing; she will now add Las Vegas' Colosseum at Caesars Palace, Boch Center Wang Theatre in Boston, and Fillmore Miami Beach at Jackie Gleason Theater to her itinerary.
Following the U.S. shows, Madonna will head overseas in 2020 to perform in Lisbon, Portugal and Paris, France, which now have confirmed dates. She has also added shows to her residency at The London Palladium in the UK, where she will visit in late January and early February.
Madame X is due June 14 via Interscope Records. The album is 15 tracks and will feature the empowering single "I Rise" and "Medellin," as well as 13 other tracks. She just dropped the Jamaican-infused single "Future" with Quavo last week and will present the innovative tune "Dark Ballet" ahead of the record release. The album follows 2015's Rebel Heart.
Fans can still try and snag $10 tickets to a show at Madonna.com and will be notified on the show date if they are chosen for this opportunity.
Check out Madonna's full list of upcoming tour dates.
Visit Ticket Club to find tickets to see Madonna at a show through 2020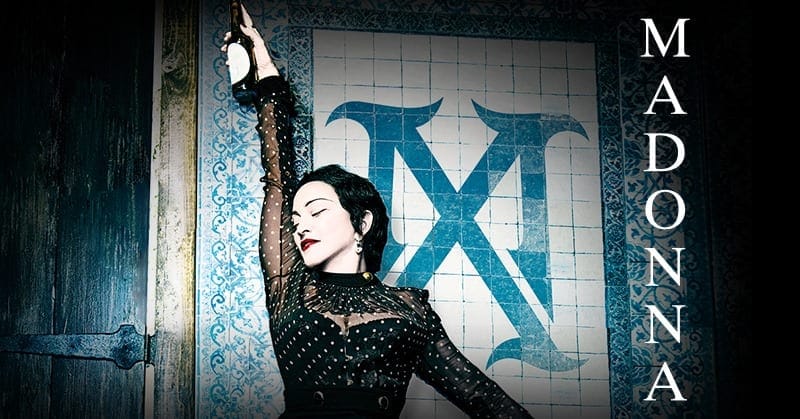 Madonna Madame X World Tour 2019 – 2020
September 12 — New York, NY @ BAM Howard Gilman Opera House
September 14 — New York, NY @ BAM Howard Gilman Opera House
September 15 — New York, NY @ BAM Howard Gilman Opera House
September 17 — New York, NY @ BAM Howard Gilman Opera House
September 19 — New York, NY @ BAM Howard Gilman Opera House
September 21 — New York, NY @ BAM Howard Gilman Opera House
September 22 — New York, NY @ BAM Howard Gilman Opera House
September 24 — New York, NY @ BAM Howard Gilman Opera House
September 25 — New York, NY @ BAM Howard Gilman Opera House
September 26 — New York, NY @ BAM Howard Gilman Opera House
September 28 — New York, NY @ BAM Howard Gilman Opera House
October 1 — New York, NY @ BAM Howard Gilman Opera House
October 2 — New York, NY @ BAM Howard Gilman Opera House
October 3— New York, NY @ BAM Howard Gilman Opera House
October 5 — New York, NY @ BAM Howard Gilman Opera House
October 6 — New York, NY @ BAM Howard Gilman Opera House
October 7 — New York, NY @ BAM Howard Gilman Opera House
October 15 — Chicago, IL @ Chicago Theatre
October 16 — Chicago, IL @ Chicago Theatre
October 17 — Chicago, IL @ Chicago Theatre
October 21 — Chicago, IL @ Chicago Theatre
October 23 — Chicago, IL @ Chicago Theatre
October 24 — Chicago, IL @ Chicago Theatre
November 7 — Las Vegas, NV @ Colosseum at Caesars Palace
November 9 — Las Vegas, NV @ Colosseum at Caesars Palace
November 10 — Las Vegas, NV @ Colosseum at Caesars Palace
November 12 — Los Angeles, CA @ The Wiltern
November 13 — Los Angeles, CA @ The Wiltern
November 14 — Los Angeles, CA @ The Wiltern
November 16 — Los Angeles, CA @ The Wiltern
November 17 — Los Angeles, CA @ The Wiltern
November 19 — Los Angeles, CA @ The Wiltern
November 20 — Los Angeles, CA @ The Wiltern
November 21 — Los Angeles, CA @ The Wiltern
November 23 — Los Angeles, CA @ The Wiltern
November 24 — Los Angeles, CA @ The Wiltern
November 25— Los Angeles, CA @ The Wiltern
November 30 — Boston,[email protected] Boch Center Wang Theatre
December 1 — Boston,MA @ Boch Center Wang Theatre
December 2 — Boston,MA @ Boch Center Wang Theatre
December 7 — Philadelphia,PA @ The Met Philadelphia
December 8— Philadelphia,PA @ The Met Philadelphia
December 11— Philadelphia,PA @ The Met Philadelphia
December 14— Miami,FL @ Fillmore Miami Beach at Jackie Gleason Theatre
December 15— Miami,FL @ Fillmore Miami Beach at Jackie Gleason Theatre
December 17— Miami,FL @ Fillmore Miami Beach at Jackie Gleason Theatre
December 18— Miami,FL @ Fillmore Miami Beach at Jackie Gleason Theatre
December 19 — Miami,FL @ Fillmore Miami Beach at Jackie Gleason Theatre
January 16, 2020 — Lisbon, Portugal @ Lisbon Coliseum
January 18 — Lisbon, Portugal @ Lisbon Coliseum
January 19 — Lisbon, Portugal @ Lisbon Coliseum
January 26 — London, UK @ The London Palladium
January 27 — London, UK @ The London Palladium
January 29 — London, UK @ The London Palladium
January 30 — London, UK @ The London Palladium
February 1 — London, UK @ The London Palladium
February 2 — London, UK @ The London Palladium
February 4 — Paris, FR @ Le Grand Rex
February 5 — Paris, FR @ Le Grand Rex
February 6 — Paris, FR @ Le Grand Rex
February 8 — Paris, FR @ Le Grand Rex
February 9 — Paris, FR @ Le Grand Rex
February 11 — Paris, FR @ Le Grand Rex
February 18 — Paris, FR @ Le Grand Rex
February 19 — Paris, FR @ Le Grand Rex
February 20 — Paris, FR @ Le Grand Rex
February 22 — Paris, FR @ Le Grand Rex
February 23 — Paris, FR @ Le Grand Rex

Last Updated on May 20, 2019 by Olivia Perreault