In 2015, tickets tickets for Adele's "25" tour sold out in record times. Her tour tickets, reported in Billboard as a "messy" pre-sale, sold out in about four hours. It was reported that despite her team's efforts to control the market, on the first day for European sales the ticket prices were already going for ten times their original prices.
Fans were unhappy. This led to public cries for relief from the disappearing tickets and rising prices. Ticketmaster/Live Nation (LNE) blamed ticket scalpers and bots for acquiring all the tickets before fans could buy them.
Does this sound familiar to anyone who has followed live entertainment and ticketing in more recent months?
Rewinding back to Adele, Live Nation's "bots and scalpers" blame was blown out of the water by the release of a report resulting from a wide-ranging investigation by the office of then-New York's Attorney General Eric T. Schneiderman. The investigation uncovered practices and abuses that prevent New York consumers from accessing tickets at affordable prices – or even accessing them at all.
The investigation, "Obstructed View: What's Blocking New Yorkers from Getting Tickets," details the middlemen and troubling industry practices that work to keep affordable tickets out of the hands of ordinary fans. "Ticketing is a fixed game," Attorney General Schneiderman said.
For the most popular concerts, the investigation found that many tickets are never made available to the general public in the first place.  Rather, a majority of tickets for major entertainment events are either put on "hold" and reserved for a variety of industry insiders including the venues, artists or promoters, or reserved for "pre-sale" events and made available to non-public groups, such as those who carry particular credit cards. On average, more than half of all tickets — 54 percent – are reserved for insiders. Those reserved tickets are split between insider holds (16%) and pre-sales (38%).
In addition, the investigation found that venues and ticket sellers like Ticketmaster regularly tacked on fees that added more than 21% to the face price of tickets, and in some extreme cases, added more than the face-value price of the ticket.
Congress decided to act. The result of their action led to the 2016 passage of the Better Online Tickets Sales Act (BOTS Act) criminalizing bots. The BOTS Act was to thwart attempts by individuals and organizations to automate the process of purchasing tickets en masse using ticket bots.
Congress failed to address all the other issues raised by the fans, industry insiders, and Schneiderman's investigation, including insider buys of more than half of the available tickets, the jacking up of fees, and Ticketmaster's own participation in the marketplace as ticket scalpers themselves.
Back to the present day.
In 2022, twin ticketing disasters struck in short order for consumers still reeling after the long pause on live events brought on by COVID-19. Long simmering consumer anger over the price surging tactics put in place with so-called "platinum" ticket prices and "dynamic" pricing came to a head. Bruce Springsteen fans felts abused by Ticketmaster's system, which sent prices into the stratosphere – $5,500 or more in some instances. Bill Werde, a former Billboard editorial director tweeted, "Hard to believe that Bruce Springsteen turned out to be the one to make music fans miss scalpers."
Then the ticket screw-up that topped all screw-ups occurred when Taylor Swift Eras tour tickets went on sale. The ticketing process became so chaotic that Ticketmaster had to issue a formal apology to Swift and her fans. But the uproar to the ticket debacle led to congress suggesting that they might act again.
The US Senate's Judiciary Committee held a hearing in early 2023 to again address the dominance of Live Nation and Ticketmaster in the industry, and the negative effect it has on the ticket buying experience. Once again, consumers have some hope that congress will pass reforms in the industry, and there are a few bills now sitting in the docket waiting to be acted on.
In the meantime, before the senate LNE rolled out the same defense of their ticketing methods, refusing to take responsibility for their outsized role in the ticketing industry and instead yet again laid blame at the foot of the bots (which they have yet provided evidence of or reported to authorities) and ticket scalpers (again without providing proof), and generally not fully answering senators' questions.
Will they or won't they pass real reform?
According to hearings Irving Azoff, the live entertainment industry guru and representative of mega acts such as Garth Brooks, as well as the former CEO of Ticketmaster and chairman of Live Nation, the answer is no.
Azoff noted at an industry event a month after the hearing that he and his wife had dinner with a sitting US Senator who, according to his words, stated "now the show is over, that was just a show."
Has LNE "too big to care," or even more, too big to fear real action from congress?
The chair of the Federal Trade Commission, Lina Khan, spoke at a Wall Street event where she said giant companies like Ticketmaster, facing criticism for problems in selling tickets to a 2023 Taylor Swift tour, can become "too big to care." Azoff's dinner with a sitting senator and being counseled that he and LNE had nothing to worry about – that it was a show for the public – may answer the question as to whether the are "too big the fear."
How can a fan get Taylor Swift tickets?
Though congress may never act to provide real substantial relief to fans, the secondary market may. Unfortunately, it is mathematically impossible for everyone to get a ticket to very popular shows; there are just too many fans and not enough tickets, no matter at what price they are sold. Trying to control the price by artificially controlling the free market, and making scapegoats of those who legally and fairly participate in that market will not solve that problem. If you want a ticket to a popular show you will have to pay the fair market price.
At MEGASeats, often the fair market price is equal to or less than face value, and certainly will match most other secondary markets. For Taylor Swift tickets, you can no longer get them from the "official" box office, Ticketmaster.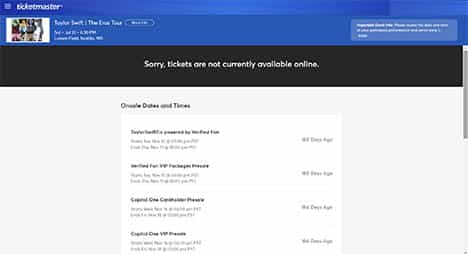 You will find Taylor Swift tickets on MEGASeats.
Taylor Swift Ticket Links
Taylor Swift tickets at MEGASeats.com | 10% Off Using Code TICKETNEWS
Taylor Swift tickets at Scorebig
Taylor Swift tickets at SeatGeek
Taylor Swift tickets at StubHub
Taylor Swift tickets at Ticket Club | Free Membership Offer use code TICKETNEWS
Taylor Swift tickets at Vivid Seats
Taylor Swift The Eras Tour Dates
Friday, May 5 – Nashville, TN | Nissan Stadium $&
Saturday, May 6 – Nashville, TN | Nissan Stadium $&
Sunday, May 7 – Nashville, TN | Nissan Stadium $&
Friday, May 12 – Philadelphia, PA | Lincoln Financial Field $&
Saturday, May 13 – Philadelphia, PA | Lincoln Financial Field $&
Sunday, May 14 – Philadelphia, PA | Lincoln Financial Field $&
Friday, May 19 – Foxborough, MA | Gillette Stadium $&
Saturday, May 20 – Foxborough, MA | Gillette Stadium $&
Sunday, May 21 – Foxborough, MA | Gillette Stadium $&
Friday, May 26 – E. Rutherford, NJ | MetLife Stadium $&
Saturday, May 27 – E. Rutherford, NJ | MetLife Stadium $+
Sunday, May 28 – E. Rutherford, NJ | MetLife Stadium $+
Friday, June 2 – Chicago, IL | Soldier Field #?
Saturday, June 3 – Chicago, IL | Soldier Field #?
Sunday, June 4 – Chicago, IL | Soldier Field #?
Friday, June 9 – Detroit, MI | Ford Field #?
Saturday, June 10 – Detroit, MI | Ford Field #?
Friday, June 16 – Pittsburgh, PA | Acrisure Stadium #?
Saturday, June 17 – Pittsburgh, PA | Acrisure Stadium #?
Friday, June 23 – Minneapolis, MN | U.S. Bank Stadium #?
Saturday, June 24 – Minneapolis, MN | U.S. Bank Stadium #?
Friday, June 30 – Cincinnati, OH | Paycor Stadium ^+
Saturday, July 1 – Cincinnati, OH | Paycor Stadium ^+
Friday, July 7 – Kansas City, MO | Arrowhead Stadium ^+
Saturday, July 8 – Kansas City, MO | Arrowhead Stadium ^+
Friday, July 14 – Denver, CO | Empower Field at Mile High ^+
Saturday, July 15 – Denver, CO | Empower Field at Mile High ^+
Saturday, July 22 – Seattle, WA | Lumen Field *+
Sunday, July 23 – Seattle, WA | Lumen Field *+
Friday, July 28 – Santa Clara, CA | Levi's Stadium *+
Saturday, July 29 – Santa Clara, CA | Levi's Stadium *+
Thursday, August 3 – Inglewood, CA | SoFi Stadium *?
Friday, August 04 – Inglewood, CA | SoFi Stadium *?
Saturday, August 5 – Inglewood, CA | SoFi Stadium *&
Tuesday, August 8 – Inglewood, CA | SoFi Stadium *&
Wednesday, August 9 – Inglewood, CA | SoFi Stadium *&
Last Updated on May 1, 2023 by Dave Clark