The Gorge Amphitheater in Washington is one of many operated by Live Nation and ticketed by Ticketmaster. (Daniel from Calgary, Canada, CC BY 2.0 via Wikimedia Commons)
In a report issued in June, the American Economic Liberties Project provided a number of answers to questions posed by lawmakers at January's Senate Judiciary Hearing on the live entertainment industry and Live Nation Entertainment's market share. While the company provided half-answers and blamed others for what many have characterized as problems brought by the California corporation's outsized market share and anti-competitive behavior (which drew rebuke from Sens. Amy Klobuchar and Mike Lee), the AELP's analysis provides meaningful data to help understand "The Depth of Live Nation's Dominance" – which just happens to be the title of the report.
What is the depth of Live Nation's dominance of live entertainment and ticketing? Astronomical.
"This analysis leaves no room for doubt: Live Nation-Ticketmaster maintains monopoly control over concert venues," said Krista Brown, Senior Policy Analyst at the American Economic Liberties Project. "Live Nation-Ticketmaster has exploited the lack of public data to mislead lawmakers and disrupt efforts to hold the corporation accountable. Today, we can see Live Nation-Ticketmaster's claims of meaningful competition are anything but honest. We encourage the Department of Justice, Congress, and state attorneys general to review this data and use it to accelerate efforts to break up this monopoly."
According to the research, Live Nation and its ticketing subsidiary Ticketmaster control every segment of entertainment in overwhelming fashion.
The findings are staggering:
Amphitheaters
Per Pollstar data, 88 of the Top 100 amphitheaters are in the U.S. and Live nation operates 56 of them.
No other company operates more than four.
Ticketmaster is the sole ticketing provider for 77% of the Top 100 amphitheaters worldwide
Ticketmaster is the sole ticketing provider for  82% of the Top 100 amphitheaters in the U.S.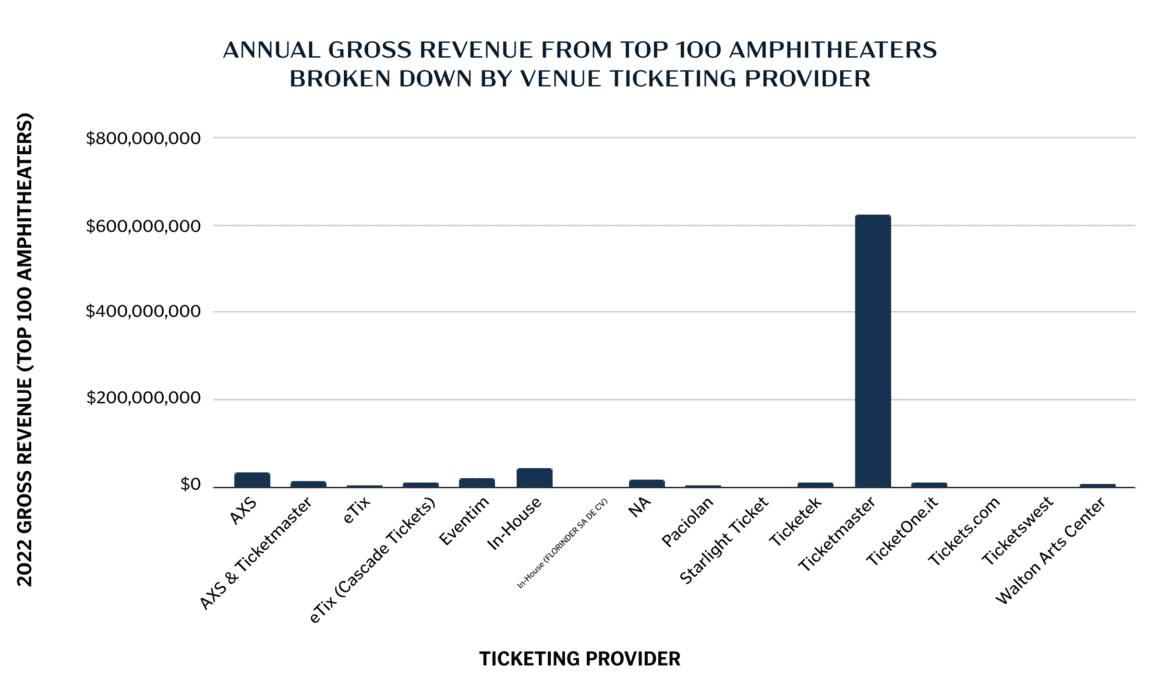 Arenas

Of the Top 100 arenas worldwide, 68 are located in the U.S. and 53 of them are serviced by Ticketmaster
Three others are serviced by a combination of AXS/Ticketmaster (that is down to two now that Ticketmaster locked up Wells Fargo Center in Philadelphia with an exclusive contract)
AXS is second with six arenas serviced.
At the arena level, Ticketmaster-serviced arenas generate 83% of the gross revenue among the Top 100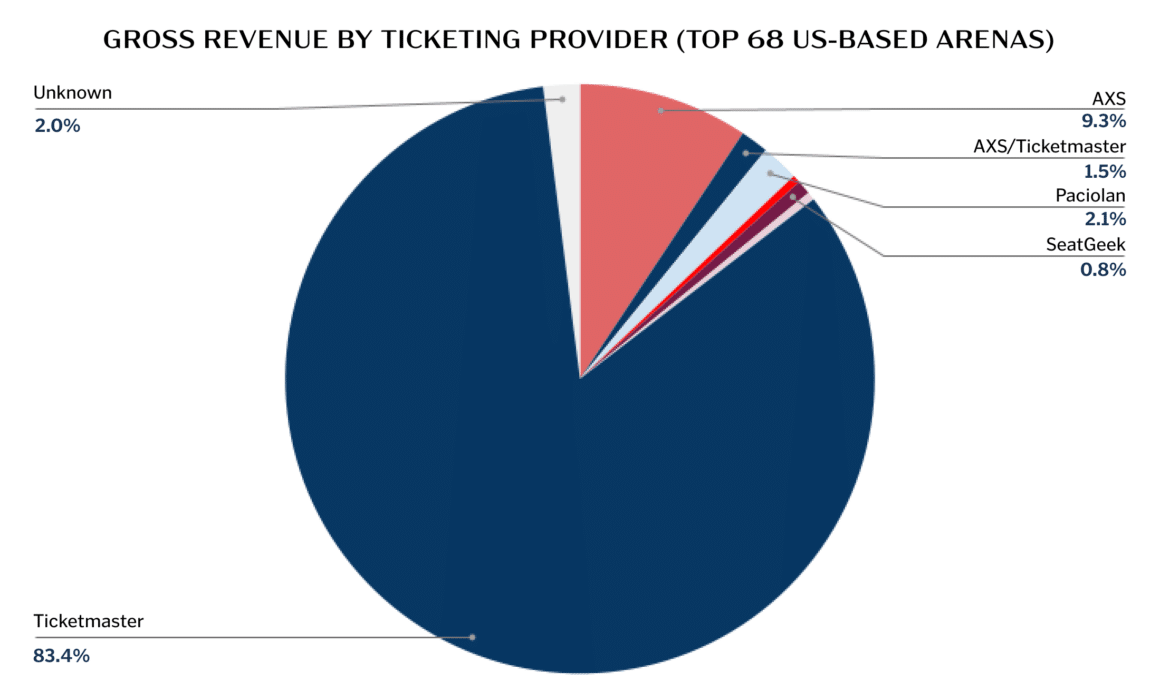 The data does not cover stadium-level venues, which are also overwhelmingly ticketed by Ticketmaster.
"Live Nation/Ticketmaster is the largest entertainment company in the world, dominating almost every corner of the live events, and more specifically, live music industry," Brown writes in the report. "This includes concert promotion, ticketing, artist management, and venue operations. This integrated market power gives Live Nation a significant advantage in the industry, where it can leverage one business line to maintain dominance and stifle competition in another."
"By collecting data on the top concert amphitheaters and arenas worldwide, along with their corresponding ticket sales, geographic location, ticketing provider and venue operator, Economic Liberties provides granular insight into Live Nation's true power over the live music industry," Brown says in the report.
"There are other concert venues, such as theaters, stadiums, and clubs, but capturing the top arenas and amphitheaters alone is meaningful. These 300 venues alone made up almost 50% of the total concert sales in 2022, with the top 100 amphitheaters bringing in $814,044,679 from ticket sales, and the top 200 arenas bringing in an astounding $4,489,393,043 from ticket sales.[1] And as the data shows, Live Nation/Ticketmaster dominates each venue market, making it the exclusive backbone for the majority of the concert business."
The full report is available here (PDF opens in new tab/window)
The raw data is available here
Last Updated on July 18, 2023