TicketNews.com Kelly Clarkson, the original darling of American Idol, suffered a major setback today with the announcement that she's postponed her upcoming summer tour...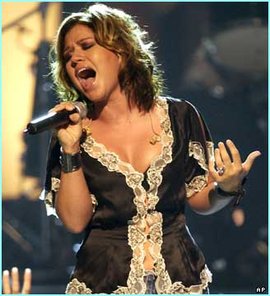 TicketNews.com
Kelly Clarkson, the original darling of American Idol, suffered a major setback today with the announcement that she's postponed her upcoming summer tour due to lagging ticket sales (See the story in TicketNews.com's Daily Buzz). Published reports said the maturing Clarkson has taken on more responsibility in her career, which recently led to her parting ways with her former manager. She also butted heads with her record label RCA over the dark direction of her latest album, entitled My December.
2004–2006
Distancing herself from her American Idol image, Clarkson took more creative control with her second studio album Breakaway, and through considerable experimentation, developed a rock-oriented image. Her second album (2004), yielded five U.S. top ten singles and won two Grammy Awards. The album released by RCA Records on November 30, 2004. Unlike her previous effort, it debuted within the U.S. top five and Canadian top ten, and sales were initially low in comparison to Thankful. . . .


However, the single releases from Breakaway proved very successful, and allowed it to become only the fourth album in history to stay in the Billboard 200 Top 20 for a consecutive year, as well as, being certified five-times platinum in the U.S. on January 18, 2006 and 5x platinum in Canada in May, 2006. With Clarkson's wins at the American Music Awards, RCA announced Breakaway was certified 5x Platinum by the RIAA.
In Australia, the album reached number two and spent 52 weeks in the top 10 and was certified 6x Platinum; however, it experienced a delayed release in the UK. Clarkson co-wrote six of the songs with several songwriters, such as former Evanescence band members Ben Moody and David Hodges, and producer Max Martin. Breakaway received different responses from critics; Rolling Stone commented that "on Kelly Clarkson's second album, she embraces her rock side rather than the pop pageantry that put her on top of the American Idol heap". TeenInk noted the strength of her vocals on Breakaway, and praised the change from pop music to contemporary rock: "[Clarkson] retains the incredible power and beauty of her voice while switching to rock". Stylus magazine also enjoyed Clarkson's foray into rock music, however, she was called out because of her American Idol image, which reviewer Charles Merwin believed she had yet to lose. He praised the non-singles and wrote that they "maintain a quality high". All Music Guide called the album "a nice, low-key relief".
Clarkson appeared on numerous television programs during the promotional tour for Breakaway, some of which included Saturday Night Live, The Oprah Winfrey Show and The View; she performed the first two singles "Breakaway" and "Since U Been Gone" on Saturday Night Live, which became her first major telecast appearance in order to support the album. "Breakaway", co-written by Avril Lavigne, served as the original song for The Princess Diaries 2: Royal Engagement (2004) and achieved considerable success across the world; it became Clarkson's third top-ten single in the U.S. and fourth top-ten single in Canada. It reached number ten in Australia, and number 22 in the UK. The song's contemporary pop-rock ambience was one of the several tracks including a stronger rock-influenced sound that had not been heard on Thankful.
Thanks to www.Wikipedia.org and www.TicketLiquidator.com