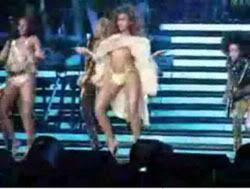 Beyonce's Recent Stage Performance Was Anything But a Flop
by Seth D. Olson – TicketNews.com
Beyonce Knowles is not having much luck on the road these days. Seen recently in TicketNews for taking a tumble down a flight of stairs, Beyonce gave fans at a Toronto concert last week a sweet surprise when she accidentally flashed her breasts to the crowd.
During an energetic dance routine, the singer's top was blown up, revealing her Bootylicious boobies to hundreds of fans.
Visibly embarrassed, Beyonce quickly pulled her flowing dress back down, stepped backwards, continuing on to finish her song and dance routine.
Knowles has recently embarked on her lengthy 'The Beyoncé Experience' concert tour which has sold out various shows worldwide. She is expected to have Katy Shotter (UK and U.S. only), Robin Thicke (U.S. only), Lemar (Europe only), and Chris Brown (Australia only) as her opening acts. She is touring from the beginning of the spring of 2007 to the end of the summer/fall autumn of 2007. . .


On July 25, 2007, it was reported that Knowles had tripped down twelve stairs while performing "Ring the Alarm" on tour in Orlando, Florida on July 24. Home video shot at the night of the concert captured her stepping on her trench coat and then tumbling head-first down twelve steps at the Amway Arena.
At the conclusion of the concert, Knowles requested that her fans not put the video up on YouTube and other Internet video sharing websites. However, a woman who did not want to be identified offered the video to WKMG-TV. "We saw that she was pumping her hair around and really into [it] with her trench coat and high heels and as she proceeded to come down the stairs, she tripped on her coat and it seems like she fell on her collarbone and face, sliding down about 12 stairs", the woman said.
Another fan told entertainment site www.MediaTakeOut.com that the singer was bleeding after the fall. Video showed the singer getting up after the fall and continuing her performance. Despite the reported bleeding after the fall, Knowles was not seriously injured. There were some videos posted on YouTube. However, they were taken down due to a copyright claim by Sony BMG.
Some videos still remain on the video site. The AOL Video Blog also has posted the video and (as of late) is still available for viewing. During an August performance at the Dereon in Toronto, Canada to promote her new clothing line, Beyonce accidently revealed her exposed breasts while performing Déjà Vu.
In an interview, Beyonce stated that she's going to studio in December to begin work on her third album.
You can also watch the video by clicking on the link below.
http://www.thesun.co.uk/article/0,,11021-2006410749,00.html?channel=Celebs%20Exposed&clipID=1347_SUN3243
Special thanks to: www.MediaTakeOut.com, www.Wikipedia.org, and www.TheSun.co.uk