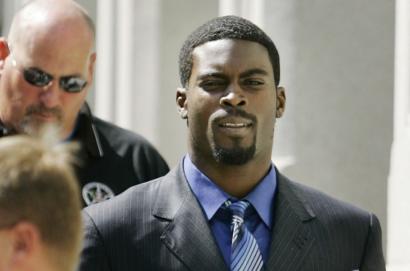 Vick Consults Family and Opts to Plead Guilty; NFL Star Begins to Fade
Image by Haraz N. Ghanbari/AFP/Getty Images
By Alfred Branch, Jr. – TicketNews.com
Michael Vick, the Atlanta Falcons quarterback accused of allegedly operating a dogfighting ring with other associates, accepted a deal Monday to plead guilty to federal conspiracy charges involving the illegal blood sport.
Vick, 27, once a rising star in the NFL and an electrifying offensive force for Virginia Tech, could receive up to 36 months in prison, according to published reports. Federal prosecutors were recommending jail time of between 18 and 36 months for a guilty plea, but Vick's legal team was trying to negotiate less time. . .

In a prepared statement, Vick's attorney Billy Martin said that his client "wishes to apologize again to everyone who has been hurt by this matter."
"After consulting with his family over the weekend, Michael Vick asks that I announce today that he has reached an agreement with federal prosecutors regarding the charges pending against him," Martin stated. "Mr. Vick has agreed to enter a plea of guilty to those charges and to accept full responsibility for his action and the mistakes he has made."
Vick's plea agreement was all but inevitable following the deals his codefendants had struck last week, and the possibility that those individuals and others were slated to testify against him. In addition, the football star stood to be charged with more crimes if a grand jury had been convened.
According to CNN, Vick is scheduled appear Monday in federal court in Richmond, VA, to enter the guilty plea. The charges were originally filed in Virginia where the alleged dogfighting operation was housed. CNN also reported that Vick's attorneys had hoped to hear back from Commissioner Roger Goodell, new head of the National Football League, before entering the plea. Vick was seeking information on whether he would still have an NFL career if he pleaded guilty.
More on this story can be found at CNN.com
Last Updated on August 21, 2007