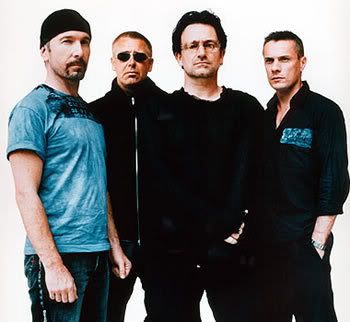 By Laurie A. Trotta
"U2 3D," a filmed version of Irish rock band U2's global Vertigo tour that creators are billing as capturing "the excitement of a U2 stadium show in a way never before experienced," will premiere Jan. 18 at the Sundance Film Festival. The film was shot at seven different concerts throughout South America and will hit REAL D, IMAX 3-D and other digital 3-D theaters worldwide in select cities Jan. 23, according to National Geographic Cinema Ventures (NGCV), which distributes the film.

Directed by Catherine Owens and Mark Pellington, "U2 3D" transforms a series of live concerts by the band "into a completely new entertainment experience," NGCV boasts. Owens has been U2's visual content director for more than 15 years, and Pellington directed the band's "One" video. "We wanted to use this technology to make viewers feel like they were actually at the concert and sometimes even onstage," Owens said in a statement. The film was screened as a work-in-progress during the 2007 Cannes Film Festival in May.
Culled from more than 100 hours of footage and shot with "the largest collection of 3D camera technology ever used on a single project," according to NGCV, "U2 3D" features the band performing hits such as "Pride," "New Year's Day," "Sunday Bloody Sunday," "Streets," "Sometimes You Can't Make It On Your Own" and "Vertigo."
Last Updated on March 17, 2009 by Alfred Branch Jr.