Months after the company was brought to its knees by a massive case of fraud, FirstDIBZ remains "in transition" and dozens, if not hundreds, of customers have not been able to withdraw money from their marketplace accounts.
The company, which bills itself as a ticket forward market, is on the hook for tens of thousands of dollars (earlier in the year, company officials put the amount at seven figures) as a result of a scam involving the sale and re-sale of "DIBZ" on Super Bowl tickets. But, many of the aggrieved customers are still waiting for payment as of this month, despite the company's goal of trying to address the situation by the spring.

TicketNews has been contacted by customers wondering what's going on with the company as their emails go unanswered, and they wait for their withdrawals to be processed. TicketNews's attempt to reach FirstDIBZ officials was unsuccessful, and there has been unsubstantiated speculation that the fraud situation contributed to the layoff of some employees.
Visitors to the FirstDIBZ Web site are greeted by a splash page where the company's parent, TTR Productions, is trying to license the software for technological backbone for the marketplace. "While the current FirstDIBZ markets are in transition, market trading has been halted," the disclaimer reads at the bottom of the splash page.
One customer, a 31-year-old Georgia IT worker who has been waiting to withdraw more than $3,700 since April (see the image below; click on it to expand it), said he is frustrated at the lack of responses he has received from the company, echoing the sentiments of other customers. He spoke to TicketNews on a condition of anonymity because he was still trying to obtain his money.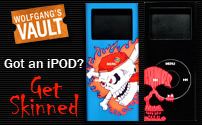 "As I bought and sold, the money started to build up in my online 'wallet,'" he said, adding he began trading DIBZ in the fall of 2008. "While I could not withdraw until the event was played, I had no problem placing more money in my account to use for other transactions as I figured the money in my wallet was a certainty to receive in the future."
Like many customers, he used FirstDIBZ as an investment tool to make money. He has considered legal action against the company and was not offered the company's agreement to sign in order to receive reparations because he made a profit from his DIBZ transactions. He was offered site credits.
In the meantime, he has filed complaints with his credit card company and received some of his money back, but he still awaits the processing of his FirstDIBZ withdrawal.
"Had I known what was to come, or had this situation happened a year earlier, FirstDibz would never have seen a dime from me," he said.
Click on the image to expand it


Last Updated on August 5, 2009