August 10th, 2016 By Tammy Whaley EVENTS — With a new album available August 26, Celine Dion grabs the No. 6 spot. According to...
August 10th, 2016 By Tammy Whaley
EVENTS — With a new album available August 26, Celine Dion grabs the No. 6 spot.
According to TicketNews' exclusive event rankings, Garth Brooks and his wife Trisha Yearwood traded places with British songstress Adele for this week's top two spots, but Celine Dion made her way into rankings top 10 listings by grabbing the No. 6 position.
The Canadian born singer recently announced a new album, "Encore un Sior" which will be available in stores on August 26, and also has an updated residency show at Colosseum at Caesars Palace in Las Vegas. She will mark her return to the stage there on September 20th.
Barbara Streisand showed her legendary star power with a huge jump from the No. 10 spot last week to the No 4. Spot this week. The iconic singer has new album, "ENCORE: Movie Partners Sing Broadway," and a tour which started in Los Angeles on August 2nd and wraps up In Toronto on August 23rd. Other upcoming tour stops will include: two in Brooklyn at the Barclays Center, Boston at the TD Garden, Washington DC at the Verizon Center, Philadelphia at the Wells Fargo Center.
Hip-hop duo's, Drake and Future and Snoop Dog and Wiz Khalifa's, who both have summer tours continue to dominate the charts' rankings with the No. 3 and No. 8 position, respectively and Coldplay moved up into the 7th spot from last week's 8th position.
The wildly popular smash Broadway hit, 'Hamilton,' still continues to sit atop the venues top listings in the No. 5 spot, down from the No. 4 position in last week's rankings and ever popular Broadway favorites 'The Lion King,' and 'Wicked' rounded out the last two spots in this week's rankings in the No. 9 and 10 spots.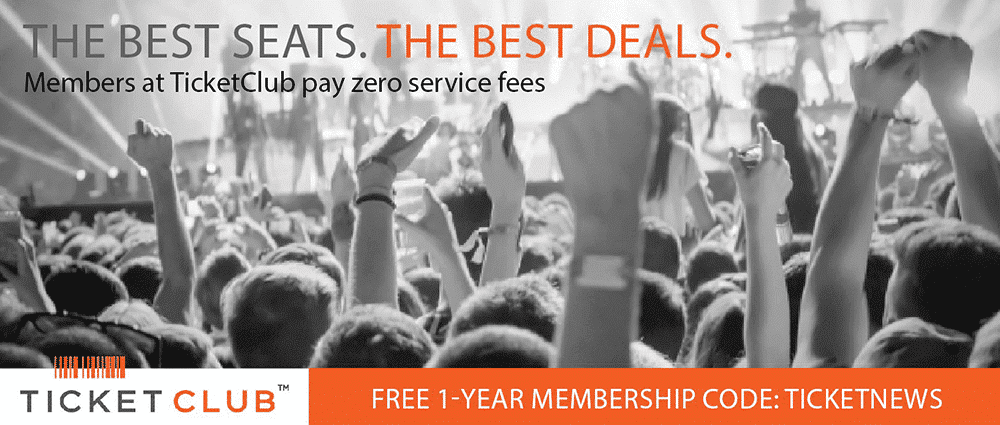 VENUES — Fresno's Save Mart Center lands in the No. 1 Spot with a little help from Garth Brooks
Although many sports arenas and stadiums continue to dominate TicketNews' top venue rankings listings, country crooner, Garth Brooks helped the Save Mart Center land onto the rankings this week.
The multi-purpose arena, which is located on the campus of the California State University, will host the singer and his wife Trisha Yearwood for 4 concerts from September 23-25. These recently announced tour dates will mark the singers return to the venue in 19 years.
Other upcoming events being held at the arena are concerts by Gwen Stefani and Eve, Juan Gabriel, Mana, Blink 182, Twenty One Pilots, and 6 performances by Cirque du Soleil –Toruk.
Madison Square Garden, held into its No. 2 position in the rankings this week. The indoor arena, home to the New York Knicks and The New York Rangers, kept a hold of its spot with upcoming shows being held there by Twenty One Pilots, Adele, Louis C.K., Shawn Mendes and AC/DC.
The Staples Center, located in downtown Los Angeles, was also was able to maintain its second week in the No. 3 position in this week's rankings with upcoming shows featuring Adele, Daddy Yankee & Don Omar and Drake & Future.
Baseball stadiums were ever present in this week's listings with the, Fenway Park, the Rogers Centre and Yankee Stadium coming in the No. 5, 7 and 10th spots.
NFL continue to help their favorite teams land onto the ranking with New York home teams New York Jets and New York Giants, MetLife Stadium on the No 4 position and the Dallas Cowboys' AT&T Stadium moved up into the No. 6 spot from last week's No. 9 position.
The T-Mobile Arena in Las Vegas, landed in the rankings this week in the No. 9 slot with upcoming shows from Gwen Stefani & Eve, Skipknot, Marylin Manson & Of Mice and Men, Coldplay, George Straight & Kasey Musgraves, Drake & Future and The two-day iHeartRadio Music Festival.
TicketNews Exclusive Rankings and Power Scores are based on ticket sales from the TicketNetwork Exchange™. Two factors are used to calculate a power score: total ticket sales from the given event and total ticket sales within the category. Since the sum of all events' power scores equals 100 in any given category, an individual event's Power Score represents its category-specific significance. Top Event Power Scores should only be used to compare events within a particular category, and not across categories.
Last Updated on July 25, 2017 by Darnell Goldson