Frightened Rabbit singer Scott Hutchison, 36, was found dead Thursday near South Queensberry, Scotland around 8:30 p.m. local time, Edinburgh Police confirmed in a...
Frightened Rabbit singer Scott Hutchison, 36, was found dead Thursday near South Queensberry, Scotland around 8:30 p.m. local time, Edinburgh Police confirmed in a statement provided to NPR.
The singer, known for writing rock songs that dealt with depression and anxiety, sent out a slew of cryptic tweets Tuesday night before disappearing. The first tweet read: "Be so good to everyone you love. It's not a given. I'm so annoyed that it's not. I didn't live by that standard and it kills me. Please, hug your loved ones." Then, 20 minutes later, he sent out another one: "I'm away now. Thanks."
His bandmates took to Twitter the next morning, concerned about Hutchison and his mental state. They urged fans to be on the lookout, and even posted two blog posts on their website. The first post noted that Hutchison "might be in a fragile state and may not be making the best decisions for himself right now." They urged anyone with information to contact the police. The second post followed the next morning:

"If you see this Scott, please call this confidential number (116 000) to talk to someone. We just want you to feel better and safe and fully understand if you need time to yourself right now. We are worried and we love you so so much."
The post also included a missing person poster.
The cause of death has been assumed as suicide.
Just last week, Hutchison had an interview with Vice's Noisey, where he openly described his current feelings.
"Pretty fine. Middling. On a day-to-day basis, I'm a solid six out of 10," he said. "I don't know how often I can hope for much more than that. I'm drawn to negatives in life, and I dwell on them, and they consume me. I don't think I'm unique in that sense. I'm all right with a six. If I get a couple of days a week at a seven … it's great."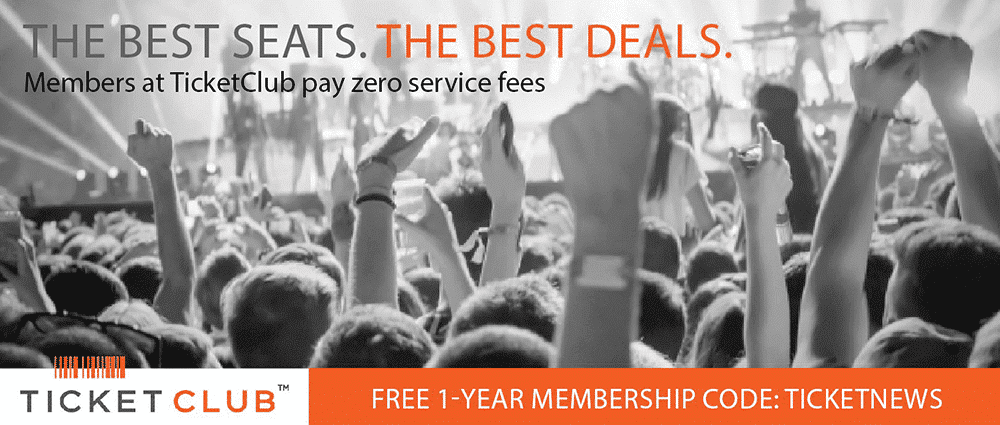 Hutchison was described by his family as someone who "wore his heart on his sleeve" and was a passionate, charismatic person who had a "brilliant sense of humor." However, he often expressed his struggles through his music; in the song "Floating in the Forth," he sings, "Am I ready to leap / Is there peace beneath the roar of the Forth Road Bridge?," ending the track with the heartbreaking line: "I think I'll save suicide for another year."
His family released the following statement:
"Depression is a horrendous illness that does not give you any alert or indication as to when it will take hold of you. Scott battled bravely with his own issues for many years and we are immensely proud of him for being so open with his struggles. His willingness to discuss these matters in the public domain undoubtedly raised awareness of mental health issues and gave others confidence and belief to discuss their own issues."
Just this morning, the bandmates sent out a third blogpost: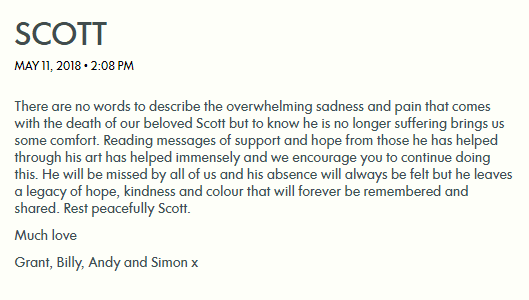 Frightened Rabbit had been busy throughout the last few months; the band tourned North America and the U.K. to celebrate the 10th anniversary of their record The Midnight Organ Fight, released in 2008. According to NPR, Hutchison had also begun to write songs for the band's sixth studio album, in-between working with his second group Mastersystem on an EP released last month.
The band was scheduled to perform later this month and through June in the U.K., starting in Halifax, and hitting Glasgow, London, and Cheltenham.
Last Updated on May 11, 2018 by Olivia Perreault