With the laws in the Emprie State surrounding ticketing set to change if, as expected, Gov. Andrew Cuomo signs the bill that passed the state legislature on Wednesday, it's time to assess what will be different for consumers and businesses in ticketing once the new measures come into effect in New York ticket laws.
Reaction from representatives of businesses in both the primary and secondary ticketing world was generally positive surrounding the passage of the bill, which came in bipartisan fashion, 52-8 in the Senate and 105-1 in the Assembly. S8501B was sponsored by Senator Terrence Murphy (R-C-I-Yorktown).
"Overall I'm very pleased that after so many years we have a bipartisan solution," said Assemblyman Daniel O'Donnell of Manhattan, who had been a strong supporter of increased regulation on the industry, particularly ticket resale. "I believe this bill is a good compromise between all parties and is a good consumer protection bill."
"We applaud Senator [Terrence] Murphy and Assembly Member O'Donnell for passing a very good consumer protection bill that helps make the market even more transparent for consumers," says Jason Berger, CEO of AllShows.com and one of the leaders of the Coalition for Ticket Fairness.
"Getting a 3 year extension to the free market for the first time in its history is a very special milestone for our industry," added CTF's Scott Klansky of the longer term of the agreement. Since 2007 when New York removed its ban on ticket resale, the act has only been extended on a year-to-year basis. "The CTF is committed to making certain that this market stays transparent to the benefit of consumers."
The elephant in the room for many paying attention is the fact that the updates to New York's ticket resale laws do nothing to address transparency for consumers related to holdbacks. No such language was included in the bill – despite the recommendations of both AG Schneiderman's office and Gov. Cuomo's – that stipulated any requirements for the disclosure of how many tickets for any event are available to the general public vs. held back for a myriad of reasons (on a spectrum ranging from the innocuous (credit card presales) to the troubling (widely rumored artist and promoter practices of directly moving held back tickets to resale markets for additional profit).
As with the updates to ticket law in Ontario, it would appear that legislators opted not to fight the strong headwind of industry pressure against such disclosures, even though they would likely provide far greater understanding of why some performances are nearly immediately unavailable to the general public than the familiar straw man blame on "bots" or ticket brokers snatching up all the inventory.
We asked Assemblyman O'Donnell why no transparency measures were included despite the requests by both the Governor and Attorney General's office. His response:
"We did have holdback language in the bill previously, but after holding a roundtable and speaking with many members of the primary market, it was clear that it wouldn't be practical in large arena settings. We believe that there is no meaningful way to convey at every moment in time how many tickets there are to any event.
"Tickets to big shows are sold so quickly and the number of holdbacks can change just as rapidly. It's just a reality given the digital nature of the market. At the end of the day, we felt we would be doing more of a disservice to the public to create the impression that there was some way to determine how many tickets are available in real time all the time."
He also indicated that Live Nation – America's largest concert promoter and owner of Ticketmaster, which had spearheaded the fight that saw holdback language removed in Ontario's updated laws – was heard from on the issue "no more or no less than any other entity."
That said, it would be fair to say that both sides of the debate were generally pleased with how things turned out – or at least opted to say so when asked following the bill's passage. But what will actually change?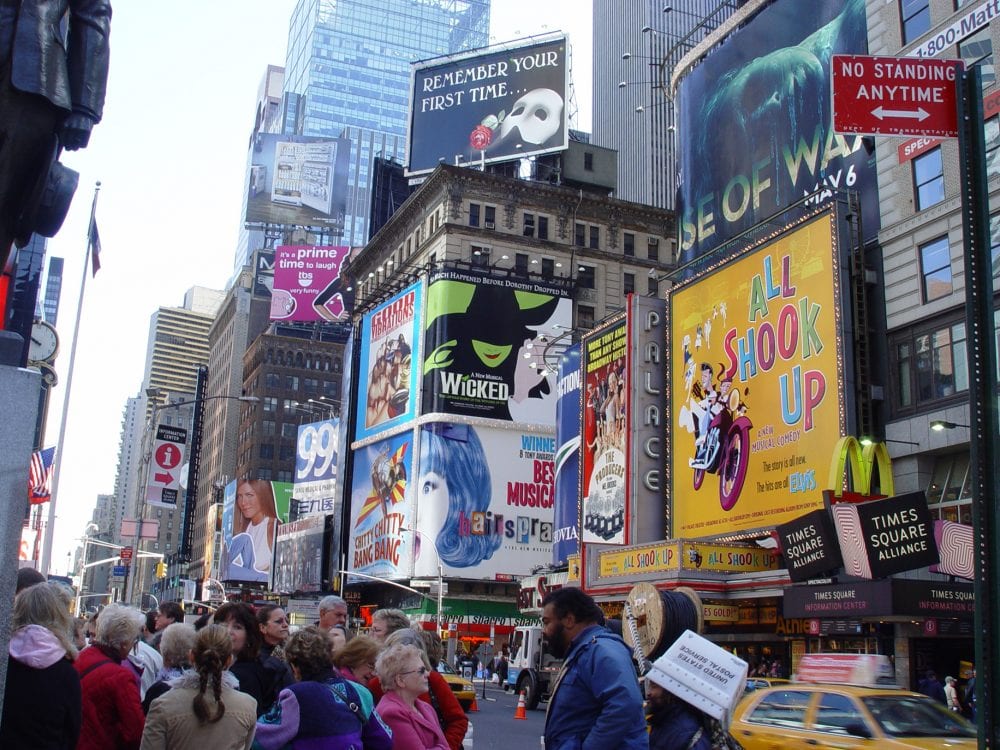 S8051B Changes to New York Ticket Laws and Quick Analysis
The succinct descriptions of the changes to existing New York law (italicized) are cribbed from the New York State Senate's press release surrounding its passage. The full language of the bill can be found on Wednesday's TicketNews post surrounding the bill having passed.
Category 1: Disclosures
Requiring online ticket resale marketplaces to post a clear and conspicuous notice on their website stating that it is being used for the secondary sale of tickets.
TN's Take: Something that is already in place on any legitimate ticket resale operator, due to rules put on such websites by Google earlier this year in order to use its popular Ad Words search engine marketing program.
---
Requiring operators or their agents and ticket resellers to disclose in a clear and conspicuous manner all fees and surcharges associated with the purchase of tickets.
TN's Take: This will likely be defined mostly by how it is enforced. Any ticketing platform right now discloses fees and surcharges, but some hide the specific itemized breakdown below a "click more" type of accordion on the final confirmation page before a ticket is purchased. Will it spur a move to "all-in" pricing, where the display of prices on a secondary website includes all fees from the start? Both StubHub and Ticketmaster have come under fire for so-called "drip pricing" of late, so it's conceivable that having to disclose itemized fees in a conspicuous manner rather than hiding them unless a button is clicked would make the all-in price a more attractive option – a move which would favor secondary marketplaces which charge lower markup percentages.
---
Requiring that consumers expressly confirm that they understand what they are purchasing before a transaction can occur, and that resellers provide refunds to consumers who have not yet received a ticket or received a different ticket than was advertised.
TN's Take: This is something that is already in place at any reputable resale operation. There's sales confirmation pages with ticket details, and guarantees that refunds will be in order should an event be cancelled. The language regarding a different ticket than advertised may prove tricky – most marketplaces have existing language where if a purchased ticket is no longer available, a "better" option will be provided. That is both on the primary and the secondary, given that productions occasionally change around late in the game, necessitating relocation of patrons from one area to another. How strictly will this refund provision be enforced if a better ticket than the originally purchased one is provided the consumer?
---
Requiring ticket resellers to provide their license number on any online ticket purchasing platform on which they sell tickets
TN's Take: This one could prove tricky for resale marketplace operators. If a person who operates as a licensed ticket broker in New York has a website dedicated only to their own inventory, adding proof of their license is a simple step. But for large marketplaces with both professional resellers and consumers posting extra tickets they can't use for resale mixed together, this could be almost impossible to police.
Will every individual listing a ticket for resale to an event in New York be forced to become a licensed ticket broker, at a cost of $5,000 and a $25,000 bond? Currently, consumers who purchase tickets without the intention of resale have no need to register as a reseller. If not, how will there be any method of quality control related to the proof of licensure? The implementation of such a system alone is likely to be a major project for all of the bigger marketplace operators like StubHub, Vivid Seats, TicketNetwork, Seat Geek and beyond.
An interesting twist will be how far down the rabbit hole one has to go in terms of procuring and disclosing licensure. The Schubert Organization is itself in the secondary ticketing business, through its ownership interest in Entertainment Benefits Group as well as TicketMonster. Will they need to pony up for a license as well?
---
Requiring operators to provide a clear and conspicuous disclosure to purchasers if such purchasers are transferred to a ticket seller in the secondary market.
TN's Take: A burr in the side of primary operators who have taken to offering both primary and resale tickets in the same ecosystem – Ticketmaster obviously being the most prominent among them. Will this make the display of primary and resale tickets on the same seatmap a violation of New York law? Will there be an expectation that any website doing so now track IP addresses and display separate seat maps for primary and resale tickets rather than the blended map if the IP is from New York? What about users with VPN settings that imply different states of origin?
We don't envy the people in charge of trying to sort this one out.
Category 2: Paperless Ticketing and Resale Restrictions
Authorizing professional sports organizations to offer membership passes to a specific number of events in a specified period of time at discounted prices.
TN's Take: The devil is in the details here. This provision allows venues with above 30,000 capacity to restrict the resale for up to 5% of the tickets in the building by bundling them in some sort of subscription package. This was reportedly added at the insistence of the New York Yankees (confirmed in the Senate debate over the pending bill).
Previously all paperless tickets that restricted resale rights were expressly forbidden by New York law, so this is a crack in the façade of consumer rights. The Yankees attempted to cancel the season tickets of one ticket broker prior to this season, only to get hit with a lawsuit that they eventually settled (with the restoration of the seized tickets). Is this the first step in a move to open the floodgates against New York consumer rights?
Assemblyman O'Donnell threw water on those thoughts with his comments following the bill's passage Wednesday, saying "The bill has a strict limit on the percentage of paperless tickets available, and this type of ticket selling is widely used around the country to help smaller franchises fill larger stadiums. The membership passes specifically exclude season/subscription tickets, and tickets within a membership pass have to be discounted so they will arguably be offered for less popular games."
Category 3: "Bots"
Providing that any ticket reseller who knowingly uses bots or other ticket purchasing software, or owns or controls ticket purchasing software may lose their license and be barred from licensure as a ticket reseller for up to three years
TN's Take: This seems like it just adds a redundant layer to protections already existing for New York consumers. "Bots" are already expressly forbidden by both New York state law (since 2016) and the Federal BOTS act (also since 2016). Ticket brokers found to be in violation of this law have already been prosecuted in the Empire State (disgraced former Attorney General Eric Schneiderman reached settlements with several operators in 2017 related to this law). This mostly just adds the removal of licensure to the mix of penalties.
The tricky thing is how one defines "bot" these days. Almost everything involves some sort of scripted automation software, including how Ticketmaster itself helps professional resellers immediately flip inventory from purchase on the primary to listings on its own secondary websites. The potential for a too-wide net does exist.
Final Thoughts
On the whole, we'd agree with the reactions we've seen that there are good and bad parts to this bill that will likely need some coloring on the margins by how they will be enforced, but the three year extension of what were some of the strongest protections of the right to resale for the consumer in the U.S. is a generally solid one.
The ultimate X-factor is enforcement. While ex-AG Schneiderman's feelings on ticket resale were fairly well established, the new leader of the office in charge of enforcement, Attorney General Barbara Underwood is a bit of a question mark. Underwood succeeded Schneiderman in May after his sudden resignation after allegations of sexual impropriety surfaced. She has already announced that she will not run for a full term, meaning she will only be leading the office through December. How she dictates enforcement on this new law (or how her successor does) will make all the difference in how the ticketing world in New York will evolve coming out of these new changes.
The big loss, in our opinion, is in the repeated failure of lawmakers to address the black hole of opacity in how many tickets are ever available to the public. Everything else is just window dressing and enables the primary world to operate however it cares to while blaming the ills of the industry on anyone else.
---
If you've made it through these 2,000+ words, feel free to lob your opinions in the comments below!
Last Updated on July 14, 2019 by Sean Burns