The British DJ duo Disclosure will head out on their first North American tour in three years this spring following the release of their 2018 EP.
Ahead of the tour, Disclosure will perform at Lightning In A Bottle Festival in Bakersfield, California before kicking-off the trek in Atlanta, Georgia on May 16. From there, they'll play shows in Miami, Brooklyn, Washington, D.C., and Lakewood, Pennsylvania before wrapping-up in Morrison, Colorado at the legendary Red Rocks Amphitheatre. Throughout the tour, they'll be joined by DJ Seinfield, Carl Craig, and Jay Daniel, varying per date. They can also be found playing festivals Elements and Movement.
The tour follows 2018's EP Moonlight, as well as their last full-length record, 2015's Caracal. They are best-known for tracks "White Noise," "Grab Her!" and the smash-hit "Latch" featuring Sam Smith off 2013's Settle, along with singles "Omen" featuring Smith, the Flume remix of "You & Me," and "Where Angels Fear To Tread." Last month, they dropped the song "Talk" with Khalid.
Check out the duo's full list of upcoming tour dates below.
Visit Ticket Club to find tickets to see Disclosure on tour this year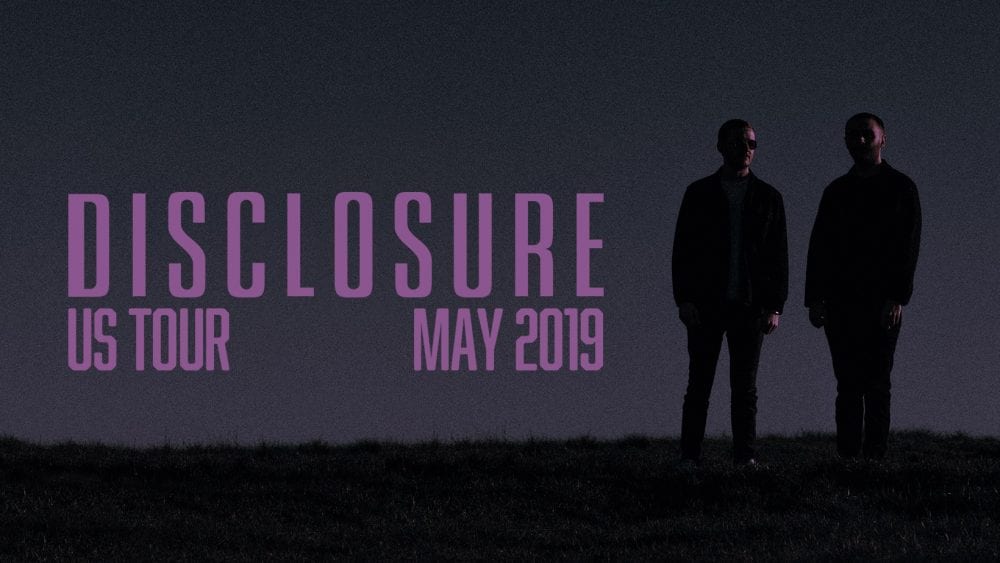 Disclosure Tour Dates 2019
May 12 – Bakersfield, CA @ Lightning In A Bottle Festival
May 16 – Atlanta, GA @ Ravine (with DJ Seinfeld)
May 17 – Miami, FL @ Club Space (with DJ Seinfeld)
May 18 – Brooklyn, NY @ Mirage (with Carl Craig, DJ Seinfeld, Ja Daniel)
May 23 – Washington, DC @ Echostage (with Jay Daniel)
May 24 – Lakewood, PA @ Elements Lakewood Festival
May 25 – Detroit, MI, @ Movement Festival
May 27 – Morrison, CO @ Red Rocks Ampitheate (with Four Tet, DJ Seinfeld, Leon Vynehall b2b Axel Boman)
Last Updated on March 15, 2019 by Olivia Perreault