The popular streaming service Pandora has announced its new partnership with ticketing giant Ticketmaster, proving to be very similar to its integration with Eventbrite last year.
"In our ongoing effort to provide a comprehensive and seamless artist marketing experience, Pandora has partnered with Ticketmaster to transform live event promotion," the company revealed in a blog post. "To that end, we are thrilled to announce that Ticketmaster events are now integrated into Pandora AMP!"
Pandora explained that the partnership will make it easier to communicate with fans, since they will be notified of upcoming shows and on-sale ticket alerts based on their location, as well as their listener history, through Ticketmaster's real-time touring data. According to the blog, listeners have already clicked on links to Ticketmaster events over 700,000 times because of the new integration.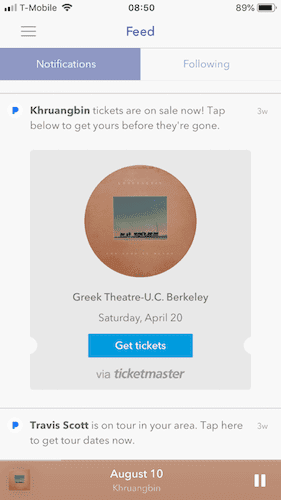 This integration follows Pandora's partnership with Eventbrite in 2018 – a year after it sold Ticketfly to the company for $200 million. The partnership was meant to "transform live event promotion" and help Eventbrite promote live events on Pandora.
The streaming service originally purchased Ticketfly back in 2015 for $450 million in cash and stock, which was later reduced to $335 million, however, it sold Ticketfly in late 2017 ahead of SiriusXM's acquisition of the company for $3.5 billion. The Ticketmaster partnership seems undeniable, since Liberty Media owns a 64 percent stake in SiriusXM and a 34 percent stake in Ticketmaster's parent company Live Nation.
Last Updated on April 30, 2019 by Olivia Perreault