UPDATE – February 3, 2020 – My Chemical Romance's North American tour reportedly sold-out in under six hours. — Emo-rock group My Chemical Romance...
UPDATE – February 3, 2020 – My Chemical Romance's North American tour reportedly sold-out in under six hours.
—
Emo-rock group My Chemical Romance sent fans into a frenzy when they announced a reunion tour this week. However, when tickets went on sale Friday afternoon, thousands were left empty handed.

Tickets for the reunion tour, which is set to kick-off this summer, went on sale at 12 p.m. EST. Pit tickets were priced at $200, followed by further back seats at $129, $99, $79, and $59. Unlike most A-list artists, MCR didn't hold a Fanclub or Verified Fan presale ahead of the general public onsale – leaving everyone to vie for tickets at the same time. Fans, who complained about waiting in an online queue for over an hour, were shocked to see the prices when they finally reached the page to select seats.
The general admission tickets were no longer available for the price as advertised — fans now had to pay upwards $1,000 to see the Gerard Way-led band up-close. The expensive seats were listed on Ticketmaster as "Official Platinum" tickets, which were marked-up as a part of their "Dynamic Pricing" system, which lets the ticketing giant increase prices based on demand. Then, when prospective concertgoers tried to purchase tickets, many were left with an error message that read "another fan beat you to those seats!"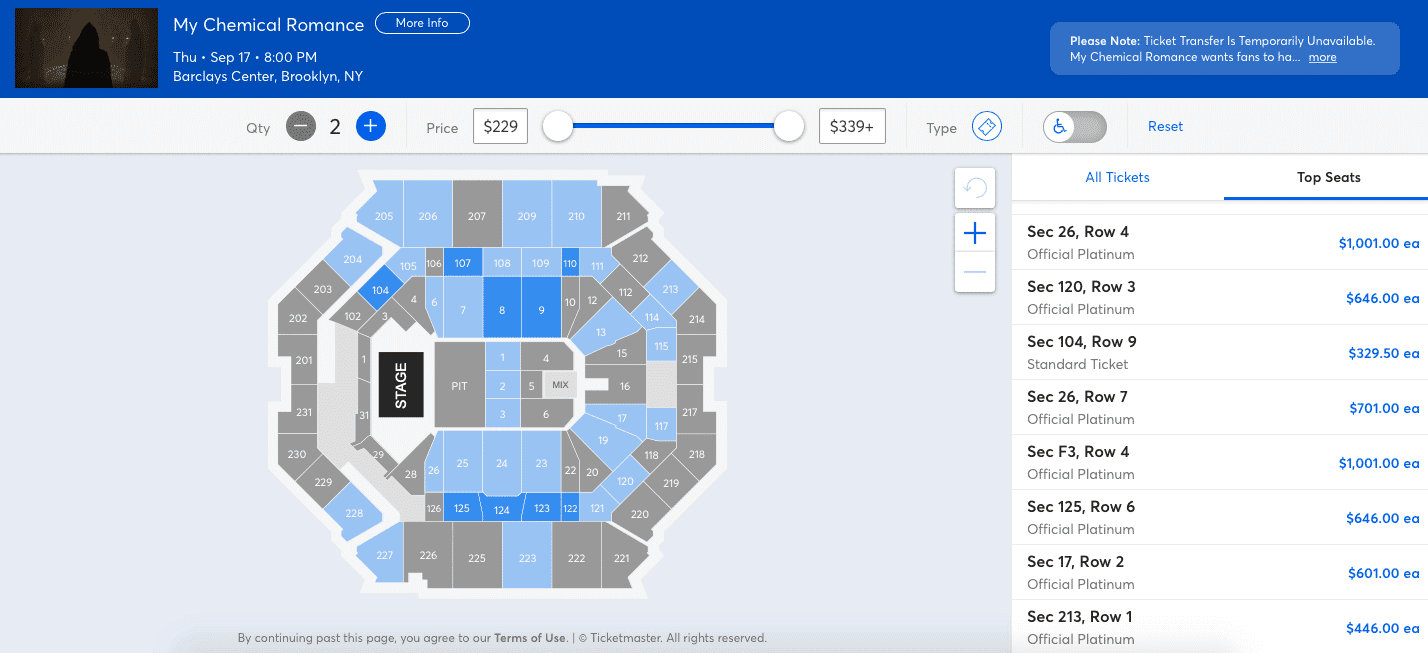 Fans took to Twitter to express their frustration with the entire process:
Ticketmaster: Oops! Sorry, another fan beat you to those tickets.
Also Ticketmaster: *doesnt remove those tickets from the list of available seats*#mychemicalromance

— Maggie @AMKE (@maggie_barney) January 31, 2020
@MCRofficial how could you guys let @Ticketmaster do this to your fans? I'm devastated. pic.twitter.com/Ht5zMoZqdP

— Cloe Wilson (@Cloface16) January 31, 2020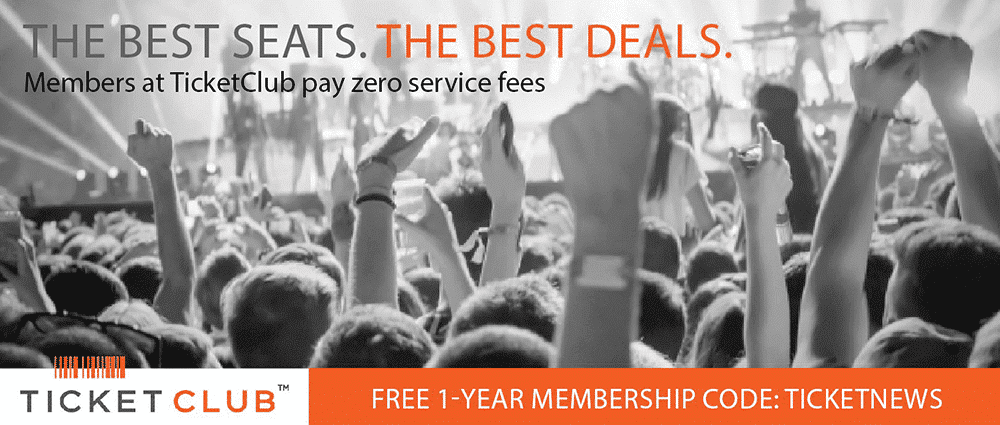 Just out of curiosity, I went on Ticketmaster to check out the prices on #mychemicalromance tickets.

It's jarring to see how having a virtual monopoly on ticket sales wasn't enough for Ticketmaster, so now they're allowed to promote "legalized" scalping, too.

This is a cartel. pic.twitter.com/z4ZyZTeB8O

— Mike Beauvais (@MikeBeauvais) January 31, 2020
Nope. This ain't it chief.#Ticketmaster #MyChemicalRomance pic.twitter.com/pb8eThPhEB

— Note To Scene (@NoteToScene) January 31, 2020
i take comfort in knowing that i'm suffering with hundreds of other emos who woke up only to be disappointed by ticketmaster #mychemicalromance

— andrew (@armourforpetals) January 31, 2020
#mychemicalromance
I literally bought a ticket and then ticketmaster said they couldn't verify my card (which has never had a problem before and had enough money on it) then they cancelled my order.
So yeah, I'd say ticketmaster is a fucking scam

— the house of unrecognized talent (@Abbiewsorell) January 31, 2020
for everyone wondering. this was the original price range. but because of ticketmaster doing a thing called dynamic pricing, since demand went up, prices went up. which is ridiculous. why even have the price range listed if it's going to change. makes no sense. pic.twitter.com/dBOKk6oXOi

— hope | 22 🖤 (@Hope_elizabetth) January 31, 2020
Really though… I was willing to pay $200 per ticket to see @MCRofficial in Denver (since no Utah show). Waited 30 mins in queue. Then every time I clicked on tickets to buy, I was told it was already sold out. Whole show sold out. This is some serious bullshit @Ticketmaster

— Justin Roedel (@djvladek62) January 31, 2020
Friendly reminder that @Ticketmaster sucks for price gouging the @MCRofficial tickets. All venues that use their own ticketing platform are far more reasonable with prices. Fuck you Ticketmaster, can't wait to see you fall.

— Le Wren ローレン (@beclaurela) January 31, 2020
My Chemical Romance, who just announced their reunion on Halloween last year, haven't released new music since 2010's Danger Days: The True Lives of Fabulous Killjoys or toured North America in nine years. The group garnered a cult-like following through the early 2000's with smash-hits like 2004's "I'm Not Okay (I Promise)" and "Helena" from Three Cheers For Sweet Revenge and "Dead," "Teenagers," "Welcome To The Black Parade," and "Famous Last Words" from The Black Parade in 2006. On the upcoming trek, they're slated to make stops in cities like New York City, Boston, Chicago, Denver, and Los Angeles.
See the full list of dates here.
Last Updated on February 4, 2020 by Olivia Perreault