Tickets to an upcoming Bruce Springsteen concert at BOK Center in Tulsa, Oklahoma clearly aren't selling well. Less than one week from the show...

Tickets to an upcoming Bruce Springsteen concert at BOK Center in Tulsa, Oklahoma clearly aren't selling well. Less than one week from the show on Tuesday, February 21, huge numbers of tickets remain available, both from the box office, and on resale sites. But there's a drastic pricing difference greeting consumers shopping for tickets on the "official" Ticketmaster page vs. competing marketplaces – on the "official" partner page, tickets are about ten times more expensive after fees than the competition.
The reason? It appears that either the venue, the artist, or the ticketing vendor has chosen to put a price floor on the event, meaning that people listing tickets for resale cannot price tickets below a minimum value set on the marketplace. The least expensive tickets for Tuesday's concert as of Thursday afternoon were $59.50 plus fees on Ticketmaster, coming in at $73.70 after fees are added. Tickets available in the exact same section (322) and row (L) as one group of tickets among the many priced at the floor for resale at MEGASeats.com could be had for a grand total of $7.
While the complaints were loud during the initial onsales period for tickets to the tour when Bruce Springsteen allowed the use of price surging "dynamic" ticket systems to be used, the institution of price floors is arguably just as harmful for consumers, and many consider it to be openly discriminatory against lower-income individuals.
"Resale price floors harm consumers twice-over," says John Breyault of the National Consumers League. "First, they keep discounted tickets from being available to fans who would otherwise be unable to attend a show. Second, they harm sellers who simply want to recoup at least a portion of their ticket investment when they are unable to attend an event. Fans should not be the ones to pay the price when Live Nation and its clients fail to anticipate lower-than-expected demand for an event."
Browsing available ticket listings on MEGASeats, there are more than 70 tickets that can be purchased for $20 or less – a fraction of what the box office charged at the point of purchase even when face value prices were available for Springsteen tour dates when they went on sale. There are similar or even greater numbers on numerous other ticket resale marketplaces that aren't subject to the price floors that artists or venues sometimes require when the primary box office also allows ticket resale.
In practice, price floors are designed to keep those who bought tickets and cannot attend an event from being able to price their tickets for resale at below what the box office is charging. In this instance, "standard" tickets available on Ticketmaster for Tuesday's show are priced at the same $59.50 point that the resale tickets are locked to as a minimum. There appear to be higher floors in other sections of the stadium, including floor seats that appear to be prevented from being listed for below $299.95 plus fees, while standard seats are priced at $229 from the box office – plus fees. On other resale sites, floor seats are available inclusive of fees for less than $200.
Notably, the $229 plus fees floor seats available in F1 mentioned in the last paragraph are actually adjacent to seats that were specifically complained about during the surge pricing phase of the initial onsale date for Tulsa – a consumer screenshot posted to twitter showed two seats in that section and row priced at $3,435.65 for a pair. Seems like a good thing that they passed on the tickets, considering the current state of the ticket market and ability to buy essentially the same seats at more than 90 percent off the original asking price.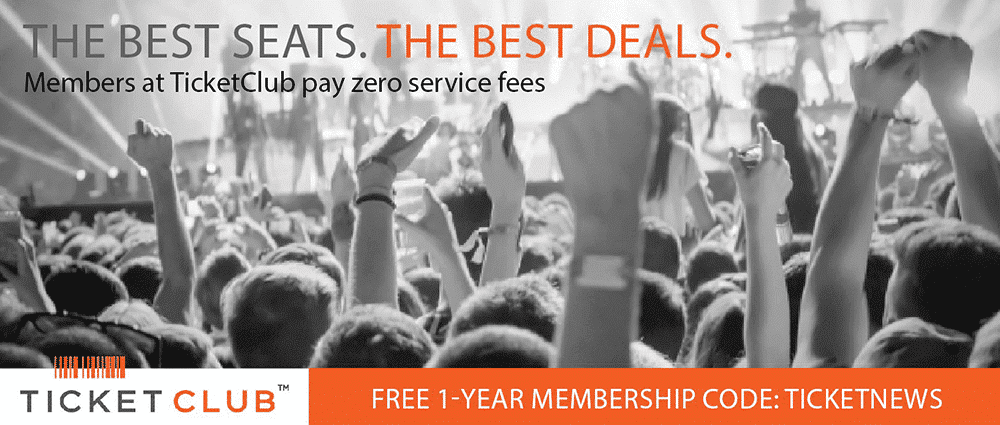 We contacted the BOK Center box office as well as Ticketmaster to ask who was responsible for the decision to put the price floors in place for the Tuesday show, but neither company has returned any email, short of a kind employee at BOK Center redirecting our query to the individual responsible for media relations efforts, who did not reply.
The office of Tulsa mayor G.T. Bynum also directed us to the BOK Center when contacted for his thoughts on whether or not price floors were discriminating against lower income Tulsa residents who otherwise might want to see the show for less than the price of a 3-finger chicken combo from their local Raising Cane's franchise.
Price floors have already faced legal scrutiny for their use in the past. The National Football League agreed to scrap a league-wide price floor that was put in place for resale tickets on their "official" marketplace (also powered by Ticketmaster's system,) after multiple state Attorney Generals went after them for the practice more than five years ago.
"No sports fan should be forced to buy, or sell, a ticket at an artificially inflated price," said then-New York Attorney General Eric Schneiderman. "Under the NFL's price floor scheme, fans were forced to pay inflated prices for even the least desirable NFL games. That is a slap to both sports fans and free markets. My office will continue to fight for the rights of sports fans and concertgoers by ensuring that secondary markets are free and competitive. In the meantime, I encourage every NFL team—and every team in professional sports—to heed the call of all sports fans and remove price floors from every team-authorized secondary ticket market."
That Springsteen's tour dates have now been caught inflating prices at both moments of high demand (the previously mentioned surge pricing during the initial onsale period) and low demand (here in Tulsa) is obviously another potential major black eye for The Boss, whose own fans have shown furious anger over feelings that they are being treated like cash registers by the band. Based on surge pricing that saw tickets listed for as much as $5,000 for a single seat on some dates when they went on sale and floor pricing that says fans should pay ten times the true market value of tickets as the show date approaches, it's hard to argue that the working-class persona embraced by the New Jersey legend's career is merely an afterthought at this point.
It's also a fairly good warning for consumers who are looking to shop for tickets when the second North American leg of shows goes on sale later this month – it may be far better to wait things out and buy tickets on resale marketplaces for a discount.
Ticket Links
Bruce Springsteen tickets at MEGAseats| 10% off use code TICKETNEWS
Bruce Springsteen tickets at ScoreBig
Bruce Springsteen tickets at SeatGeek
Bruce Springsteen tickets at StubHub
Bruce Springsteen tickets at Ticket Club | Free membership using code TICKETNEWS
Bruce Springsteen tickets at Ticketmaster UK
Bruce Springsteen tickets at Vivid Seats
Bruce Springsteen and the E Street Band Tour Dates – 2023
North America – Leg 1

Feb. 18 – Kansas City, MO | T-Mobile Center
Feb. 21 – Tulsa, OK | BOK Center
Feb. 25 – Portland, OR | Moda Center
Feb. 27 – Seattle, WA | Climate Pledge Arena
Mar. 2 – Denver, CO | Ball Arena
Mar. 5 – St. Paul, MN | Xcel Energy Center
Mar. 7 – Milwaukee, WI | Fiserv Forum
Mar. 9 – Columbus, OH | Nationwide Arena
Mar. 12 – Uncasville, CT | Mohegan Sun
Mar. 14 – Albany, NY | MVP Arena
Mar. 16 – Philadelphia, PA | Wells Fargo Center
Mar. 18 – State College, PA | Bryce Jordan Center
Mar. 20 – Boston, MA | TD Garden
Mar. 23 – Buffalo, NY | KeyBank Center
Mar. 25 – Greensboro, NC | Greensboro Coliseum
Mar. 27 – Washington, D.C. | Capital One Arena
Mar. 29 – Detroit, MI | Little Caesars Arena
Apr. 1 – New York, NY | Madison Square Garden
Apr. 3 – Brooklyn, NY | Barclays Center
Apr. 5 – Cleveland, OH | Rocket Mortgage FieldHouse
Apr. 7 – Baltimore, MD | Baltimore Arena
Apr. 9 – Belmont Park, NY | UBS Arena
Apr. 11 – Belmont Park, NY | UBS Arena
Apr. 14 – Newark, NJ | Prudential Center
Europe and the UK
April 28, 2023 – Barcelona, Spain | Estadi Olímpic
April 30, 2023 – Barcelona, Spain | Estadi Olímpic
May 5, 2023 – Dublin, Ireland | RDS Arena
May 7, 2023 – Dublin, Ireland | RDS Arena
May 9, 2023 – Dublin, Ireland | RDS Arena
May 13, 2023 – Paris, France | La Défense Arena
May 15, 2023 – Paris, France | La Défense Arena
May 18, 2023 – Ferrara, Italy | Parco Urbano G. Bassani
May 21, 2023 – Rome, Italy | Circo Massimo
May 25, 2023 – Amsterdam, The Netherlands | Johan Cruijff Arena
May 27, 2023 – Amsterdam, The Netherlands | Johan Cruijff Arena
May 30 – Edinburgh | BT Murrayfield Stadium
June 11, 2023 – Landgraaf, The Netherlands | Megaland
June 13, 2023 – Zurich, Switzerland | Stadion Letzigrund
June 16 – Birmingham | Villa Park
June 18, 2023 – Werchter, Belgium | Festivalpark Werchter
June 21, 2023 – Düsseldorf, Germany | Merkur Spiel Arena
June 24, 2023 – Gothenburg, Sweden | Ullevi
June 26, 2023 – Gothenburg, Sweden | Ullevi
June 28, 2023 – Gothenburg, Sweden | Ullevi
June 30, 2023 – Oslo, Norway | Voldsløkka
July 2, 2023 – Oslo, Norway | Voldsløkka
July 6 – London | BST Hyde Park
July 8 – London | BST Hyde Park
July 11, 2023 – Copenhagen, Denmark | Parken
July 13, 2023 – Copenhagen, Denmark | Parken
July 15, 2023 – Hamburg, Germany | Volksparkstadion
July 18, 2023 – Vienna, Austria | Ernst Happel Stadion
July 21, 2023 – Hockenheim, Germany | Hockenheimring
July 23, 2023 – Munich, Germany | Olympiastadion
July 25, 2023 – Monza, Italy | Prato della Gerascia, Autodromo di Monza
North America – Leg 2
August 9 – Chicago, IL @ Wrigley Field – Onsale: Friday, February 17 at 10:00 AM CT
August 16 – Philadelphia, PA @ Citizens Bank Park – Onsale: 2/28
August 18 – Philadelphia, PA @ Citizens Bank Park – Onsale: 2/28
August 24 – Foxborough, MA @ Gillette Stadium – Verified Fan Onsale: 2/27
August 28 – Washington, DC @ Nationals Park – Verified Fan Onsale: 2/28
August 30 – East Rutherford, NJ @ MetLife Stadium – Verified Fan Onsale: 2/24
September 1 – East Rutherford, NJ @ MetLife Stadium – Verified Fan Onsale: 2/24
September 7 – Syracuse, NY @ JMA Wireless Dome – Verified Fan Onsale: 2/24
September 9 – Baltimore, MD @ Oriole Park at Camden Yards – Verified Fan Onsale: 2/28
September 12 – Pittsburgh, PA @ PPG Paints Arena – Verified Fan Onsale: 2/23
November 3 – Vancouver, BC @ Rogers Arena – Verified Fan Onsale: 2/22
November 6 – Edmonton, AB @ Rogers Place – Verified Fan Onsale: 2/23
November 8 – Calgary, AB @ Scotiabank Saddledome – Verified Fan Onsale: 2/23
November 10 – Winnipeg, MB @ Canada Life Centre – Verified Fan Onsale: 2/22
November 14 – Toronto, ON @ Scotiabank Arena – Verified Fan Onsale: 2/22
November 16 – Toronto, ON @ Scotiabank Arena – Verified Fan Onsale: 2/22
November 18 – Ottawa, ON @ Canadian Tire Centre – Verified Fan Onsale: 2/22
November 20 – Montreal, QC @ Centre Bell – Verified Fan Onsale: 2/23
November 30 – Phoenix, AZ @ Footprint Center – Verified Fan Onsale: 2/22
December 4 – Inglewood, CA @ Kia Forum – Verified Fan Onsale: 2/23
December 6 – Inglewood, CA @ Kia Forum – Verified Fan Onsale: 2/23
December 8 – San Francisco, CA @ Chase Center – Verified Fan Onsale: 2/23
Last Updated on February 16, 2023 by Dave Clark