If reports coming out of Virginia are accurate, Zach Bryan and AEG could be on the hook for as nearly $100 million in fines over their decision to disregard the state's Ticket Resale Rights Act, a law passed in 2017. The country singer's Burn, Burn, Burn tour made headlines when it was first put on sale after the singer ripped Ticketmaster, then announced he would bar all ticket resale or transfer for tickets sold for the run of shows.
It had been assumed that shows in states like Virginia, Colorado, and New York – which have state laws on the books making such consumer restrictions on tickets they've purchased against the law – would not feature such a policy for fear of massive potential fines. But TicketNews has received many reports from impacted consumers who say that ticket transfer was never activated for the show, which seems to be supported by the messaging from the artist and venue leading up to Wednesday's performance at John Paul Jones Arena in Charlottesville.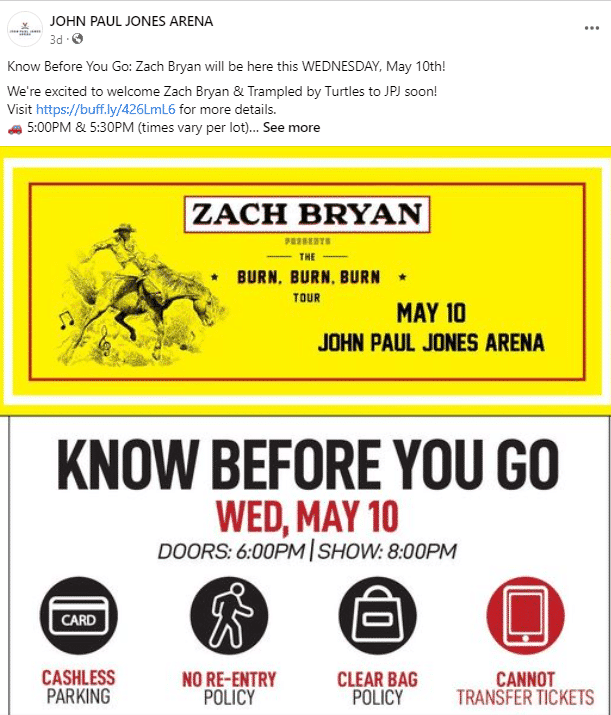 A "Know Before You Go" post on the John Paul Jones Arena facebook page prior to the May 10 show indicated that consumers cannot transfer tickets, which would be in line with the overall tour policy – requiring those who couldn't attend a show after purchasing tickets to use the AXS platform alone for trying to recoup their price paid.
The show page on the venue website also spelled it out:
"The transfer of tickets to these shows will not be possible unless required by law. If a fan can no longer attend a show, tickets can be resold on the Zach Bryan AXS Marketplace for face value to another fan."

The problem is that the transfer of tickets is required by law in Virginia. Passed in 2017, the Ticket Resale Rights Act states in plain language:
"No person that issues tickets for admission to an event shall issue any such ticket solely through a delivery method that substantially prevents the purchaser of the ticket from lawfully reselling the ticket on the internet ticketing platform of the ticket purchaser's choice."
Penalties for disregarding this state law are fairly significant: $1,000-$5,000 for each violation. John Paul Jones Arena has a listed capacity of 14,593 (for basketball). That means that the fines related to the issuance of that number of tickets in violation of the state law could theoretically range from $14.5 to $72.9 million. (Note: A prior version of this story had based numbers off of an early draft of the law that had penalties ranging from $5-15,000 per violation. It has since been updated).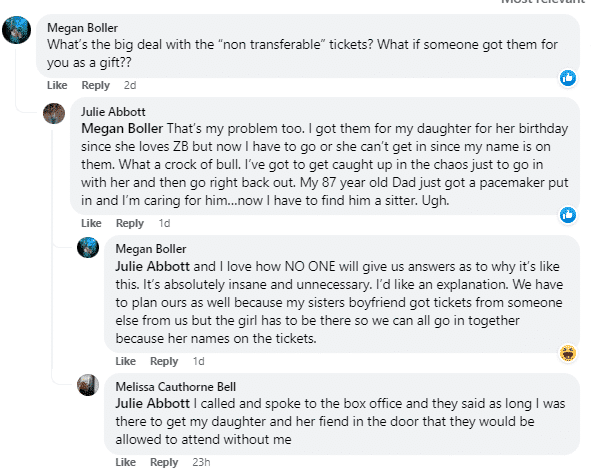 Some fans complained about the transfer restrictions on the Facebook post shown above, indicating that they were being forced to attend the show themselves by the policy when they had purchased tickets or friends or children, but were now stuck having to go due to the inability to transfer to those close friends or relatives. Other consumers saw ticket sales on resale platforms fulfilled through the seller allowing access to the account where the tickets were purchased.
We have contacted Zach Bryan's management as well as representatives from tour promoter AEG, ticketing agent AXS, and the arena itself to clarify whether or not ticket transfer was in fact shut of for the concert Wednesday. We have also contacted the office of the State Attorney General to determine if consumer complaints have been received.
The tour stop Wednesday was the first on Bryan's Burn, Burn, Burn touring run. He next performs on Friday at the DCU Center in Worcester, Massachusetts. Upcoming dates include other states where ticket transfer restrictions are illegal, including Colorado and New York.
sun's gonna rise tomorrow, let it be then let it go

Leaving on a bus tomorrow for the American run. Never been more excited for anything and I'm so honored I get to see y'all soon

Here's to a great summer and
prayers up to everyone's health and happiness always pic.twitter.com/byMRexjSDp

— Zach Bryan (@zachlanebryan) May 7, 2023
We will update this story with additional details or responses if they are received.
Ticket Links
Zach Bryan tickets at AXS
Zach Bryan tickets at MEGASeats | – 10% Off Using Code TICKETNEWS
Zach Bryan tickets at ScoreBig
Zach Bryan tickets at SeatGeek
Zach Bryan tickets at StubHub
Zach Bryan tickets at Ticket Club | Free Membership Offer
Zach Bryan tickets at Vivid Seats
Zach Bryan Tour Dates
* Festival Date
May 12 – Worcester, MA | DCU Center
May 13 – Wilkes-Barre, PA | Mohegan Sun Arena at Casey Plaza
May 15 – Duluth, GA | Gas South Arena
May 16 – Duluth, GA | Gas South Arena
May 19 – Houston, TX | Toyota Center
May 20 – New Orleans, LA | Smoothie King Center
May 23 – Jacksonville, FL | VyStar Veterans Memorial Arena
May 24 – N Charleston, SC | North Charleston Coliseum
May 26 – Albany, NY | MVP Arena
May 28 – London, ON | Budweiser Gardens
May 30 – Philadelphia, PA | Wells Fargo Center
May 31 – Philadelphia, PA | Wells Fargo Center
June 02 – Cleveland, OH | Rocket Mortgage Fieldhouse
*June 03 – Lexington, KY | Railbird Festival
June 23 – New York, NY | Forest Hills Stadium
June 24 – New York, NY | Forest Hills Stadium
June 26 – Denver, CO | Red Rocks Amphitheatre
June 27 – Denver, CO | Red Rocks Amphitheatre
*July 07 – Milwaukee, WI | Summerfest
*July 13 – Chicago, IL | Windy City Smokeout
*July 14-16 – Whitefish, MT | Under The Big Sky Festival
*July 20-July 22 – Cullman, AL | Rock The South
*July 23 – Cheyenne, WY | Cheyenne Frontier Days
*Aug 05 – St. Charles, IA | Hinterland Music Festival
Aug 07 – Grand Rapids, MI | Van Andel Arena
Aug 09 – Minneapolis, MN | Target Center
Aug 11 – Tulsa, OK | BOK Center
Aug 12 – Tulsa, OK | BOK Center
Aug 14 – Sioux Falls, SD | Denny Sanford PREMIER Center
Aug 17 – Nampa, ID | Ford Idaho Center
Aug 19 – Las Vegas, NV | T-Mobile Arena
Aug 20 – Bakersfield, CA | Mechanics Bank Arena
Aug 21 – Oakland, CA | Oakland Arena
Aug 23 – Los Angeles, CA | Crypto.com Arena
Aug 25 – Glendale, AZ | Desert Diamond Arena
Aug 27 – Wichita, KS | INTRUST Bank Arena
Aug 29 – Lincoln, NE | Pinnacle Bank Arena
Aug 30 – Kansas City, MO | T-Mobile Center
October 7 – Opelika, AL | Auburn Rodeo
Last Updated on May 11, 2023 by Dave Clark