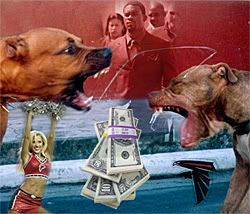 Star NFL quarterback Michael Vick filed a guilty plea today in his federal dogfighting case, but he didn't admit to killing dogs or gambling on dogfights, according to reports from ESPN and the Associated Press.
In addition, Vick's estranged father, Michael Boddie, said in an interview with the The Atlanta Journal-Constitution that he urged his son to stop participating in dogfights and step away from that underground lifestyle.
According to ESPN, Vick is not admitting to killing dogs or gambling on dogfights, but that dogs were killed at the Bad Newz Kennels he funded. He also knew that dogs would be killed and were killed at the facility. He is scheduled to officially enter the guilty plea in a Richmond, VA; the football player's legal representatives met with federal attorneys Thursday afternoon to determine the exact list of charges Vick would admit to. . .

Vick maintains he never killed dogs, nor gambled on dog fights, and ESPN reports he did not keep any proceeds from the gambling done on dog fights at the facility. He pleded guilty to the charge of interstate commerce for the purpose of dogfighting. He could face up to five years in prison, and he could still face state charges in connection with the alleged dogfighting ring he may have funded.
Boddie reportedly told the Atlanta newspaper that Vick was staging dogfights in the family's garage by 2001, and said he wishes "people would stop sugarcoating it," alleging Vick was dragged into the lifestyle by unsavory friends.
"This is Mike's thing. And he knows it … likes it, and he has the capital to have a set up like that," Boddie told the newspaper. Boddie, 45, lives in an apartment his son has paid the rent on for the last three years, according to the newspaper, and receives additional financial support.