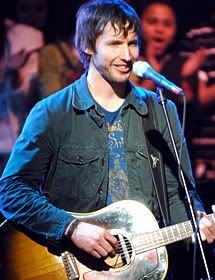 By Jane Cohen and Bob Grossweiner
Cable music channel VH1 is off and running in preparation for the second year of its "You Oughta Know" (YOK) tour, which showcases up-and-coming artists. However, for the first time, a YOK alum is headlining with a new YOK artist — Grammy nominated British singer/songwriter James Blunt will headline theaters Feb. 4 – March 4 as part of his 2008 "Lost Souls" tour, in support of his new CD.

Sara Bareilles, a 27-year-old singer/songwriter from Eureka, CA, joins in the "special guest" slot.
Last spring, VH1 expanded its successful "You Oughta Know" new music promotion franchise to concert venues across the country with its first-ever YOK tour featuring Mat Kearney and special guests The Feeling and Rocco DeLuca & The Burden. Since then the tour has gone on to feature Brandi Carlile with special guest A Fine Frenzy.
YOK launched originally on VH1.com in late 2004, and introduced up-and-coming artists via VH1, VH1.com and off-air marketing campaigns. This strategy worked and has helped break many artists such as Blunt, Amy Winehouse, The Fray, KT Tunstall and Corinne Bailey Rae and has proven to have an impact on their record sales. In addition to Bareilles, current YOK artists include Colbie Caillat, Feist, Chrisette Michele and Ingrid Michaelson.
Bareilles released her debut album, "Little Voice," back in July, and immediately became the #1 best selling album at the iTunes music store. The hit single "Love Song" is currently climbing the radio charts and has already been featured in such hit TV shows as MTV's "The Hills" and ABC-TV's "Men In Trees." Bareilles has over 500 shows under her belt including tours with Maroon 5, Aqualung and Mika, and has performed live on various TV shows.
Tour information is available on the VH1 website, and tickets go on sale Nov. 17 in select cities through Ticketmaster.
YOK Tour intinerary:
February 2008:
4 Seattle, WA The Moore Theater
6 San Francisco, CA The Warfield
7 Los Angeles, CA The Wiltern
8 Las Vegas, NV The Pear
12 Denver, CO Ogden Theatre
22 Chicago, IL Vic Theatre
23 Ann Arbor Michigan Theater
27 Boston, MA Orpheum Theatre
29 New York, NY Beacon Theatre
March 2008:
1 Philadelphia, PA Keswick Theatre
4 Atlanta, GA The Tabernacle
(The image accompanying this story is from AskMen.com)
Last Updated on March 17, 2009 by Alfred Branch Jr.