Broadway Ticket Sales Report Week Ending November 11, 2007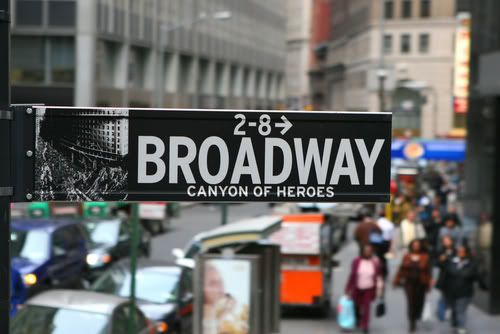 By Carol-Ann Rudy
With no end to The International Alliance of Theatrical Stage Employees' (IATSE) strike in sight, last week's prediction in this column of a glittering holiday theater season seems thoroughly tarnished. The strike by the stagehands' Local One of the union was the second of the week by members of IATSE, preceded in Hollywood by a separate film and writers' strike. Tellingly, no new negotiations have been scheduled between Local One and the League of American Theatres and Producers. While feeling sympathy for disappointed theatergoers, there has been plenty of warning since the talks failed back in June.

How has this affected this past week's ticket sales? The full financial impact of the strike won't be seen in the figures until next week's report. However, looking at the overall figures, the last reporting period ending Nov. 4 showed a healthy $16,754,158; this past week's sales report showed an anemic $11,070,673. What a difference a couple of days make: this drop of $5,683,485 represents just the loss of two days of sales from the 28 or so shuttered productions.
The one production still in the million-dollar club was Mary Poppins with $1,070,494 in box office revenues and almost 97% attendance. The smallest box office draw was Is He Dead? at $34,151 with under 44% attendance in its first week, previewing last Thursday night.
Dr. Seuss' How The Grinch Stole Christmas opened on Friday, Nov. 9 and was shut down the next day, earning the dubious honor of being the first production struck by the union.
Broadway Gross Reports, November 11, 2007
All data provided by The League of American Theatres and Producers
Production
(Theatre)
Weekly Gross
Total Atten.
Prev.
Perf.
Total Capacity
Avg. Ticket Price
Atten. %
A Bronx Tale
(Walter Kerr)
$142,169
2,310
0
4
947
$61.55
61.0%
A Chorus Line
(Schoenfeld)
$187,880
2,834
0
5
1,069
$66.29
53.0%
August: Osage County
(Imperial)
$128,401
3,191
5
0
1,439
$40.24
44.4%
Avenue Q
(Golden)
$156,342
2,554
0
4
796
$61.21
80.2%
Chicago
(Ambassador)
$257,693
3,819
0
4
1,080
$67.48
88.4%
Curtains
(Hirschfeld)
$374,507
5,101
0
5
1,422
$73.42
71.7%
Cymbeline
(Beaumont)
$231,017
5,636
8
0
1,047
$40.99
67.3%
Cyrano de Bergerac
(Rogers)
$518,554
5,672
0
5
1,347
$91.42
84.2%
Dr. Seuss'…Christmas
(St. James)
$163,298
3,765
4
1
1,706
$43.37
44.1%
Grease
(Atkinson)
$430,562
4,653
0
5
1,072
$92.53
86.8%
Hairspray
(Neil Simon)
$401,203
6,241
0
5
1,428
$64.29
87.4%
Is He Dead?
(Lyceum)
$34,151
806
2
0
922
$42.37
43.7%
Jersey Boys
(August Wilson)
$732,840
6,157
0
5
1,222
$119.03
100.8%
Legally Blonde
(Palace)
$334,025
4,488
0
4
1,691
$74.43
66.4%
Les Miserables
(Broadhurst)
$183,854
2,844
0
5
1,122
$64.65
50.7%
Mamma Mia!
(Cadillac Winter Garden)
$413,926
5,637
0
4
1,498
$73.43
94.1%
Mary Poppins
(New Amsterdam)
$1,070,494
13,858
0
8
1,791
$77.25
96.7%
Mauritius
(Biltmore)
$222,865
3,966
0
8
650
$56.19
76.3%
Pygmalion
(American Airlines)
$300,214
5,614
0
8
740
$53.48
94.8%
Rent
(Nederlander)
$116,317
2,428
0
4
1,181
$47.91
51.4%
Rock 'n' Roll
(Jacobs)
$267,411
4,358
0
5
1,074
$61.36
81.2%
Spamalot
(Shubert)
$271,308
3,918
0
4
1,441
$69.25
68.0%
Spring Awakening
(O'Neill)
$288,368
3,610
0
4
1,090
$79.88
82.8%
The 25th…Bee
(Circle in Square)
$275,240
4,230
0
8
684
$65.07
77.3%
The Color Purple
(Broadway)
$345,244
5,717
0
4
1,718
$60.39
83.2%
The Drowsy Chaperone
(Marquis)
$190,529
4,168
0
4
1,611
$45.71
64.7%
The Farnsworth Invention
(Music Box)
$216,407
4,217
6
0
1,005
$51.32
69.9%
The Lion King
(Minskoff)
$507,570
6,219
0
4
1,654
$81.62
94.0%
The Little Mermaid
(Lunt-Fontanne)
$375,925
4,505
3
0
1,503
$83.45
99.9%
The Phantom of the Opera
(Majestic)
$400,888
6,696
0
6
1,607
$59.87
69.4%
The Ritz
(Studio 54)
$296,209
6,521
0
8
1,006
$45.42
81.0%
The Seafarer
(Booth)
$62,157
1,404
4
0
780
$44.27
45.0%
Wicked
(Gershwin)
$852,843
8,942
0
5
1,809
$95.37
98.9%
Xanadu
(Hayes)
$320,262
3,599
0
8
596
$88.99
75.5%
Last Updated on March 17, 2009