Wicked takes the top spot in TicketNews's Weekly Top Events rankings for the week ending May 31, beating previous number one American Idols Live...
Wicked takes the top spot in TicketNews's Weekly Top Events rankings for the week ending May 31, beating previous number one American Idols Live (three, 3.56). In number two is the NHL Stanley Cup Finals with the Detroit Red Wings (3.96). Seats were packed for the NBA Conference Finals with the Orlando Magic in the East and the Denver Nuggets in the West; those events are numbers four and five, respectively. Baseball's top ticket sellers the New York Yankees and the Boston Red Sox are six and seven. Making an appearance in the top ten and leaping from number nineteen to number eight is George Strait (2.08). Fellow country star Kenny Chesney pulls ahead of Jersey Boys (ten, 1.72) for number the number nine spot (1.76).
The Top Sports Events rankings show basketball and hockey playoffs on top; the NHL Stanley Cup Finals: Pittsburgh Penguins comes in at number seven (3.44) behind the Red Wings at number two (9.30). The Chicago Cubs follow the Yankees and Red Sox at number six (4.15) and the Philadelphia Phillies follow all three at number nine (1.79). Chelsea FC is eight (1.90) and the WWE is ten (1.77).

The Jonas Brothers still have a top selling concert, as they rank at number four (3.35) in the concert rankings, behind American Idols Live, Strait, and Chesney. The Dave Matthews Band is back in the concert top ten at number five (3.23). Blink 182 are gearing up for their reunion tour and dates with Weezer (six, 3.18) and Fall Out Boy (nine, 2.97) make these rankings. Taylor Swift & Kellie Pickler tickets slip to number seven (3.09), down from number two. Elton John and Billy Joel are still selling tickets, enough to give them the number eight spot (3.02). Aerosmith & ZZ Top close out the concert top ten with a 2.71 power score.
The Theater rankings of course show "Wicked" on top (38.90), with "Jersey Boys" (10.55) and Billy Elliot (6.13) trailing behind. West Side Story stays at number four (4.77) for another week. Mary Poppins (five, 3.92) and Lion King (six, 3.68) still seem to be favorites among theatergoers.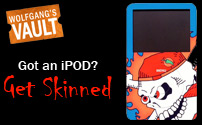 The Broadway top four matches the theater top four. South Pacific is moving more tickets on Broadway than in theater, as that show is number five (4.65) in the Broadway top ten. Classics Phantom of the Opera (seven, 3.14) and Mamma Mia! (eight, 2.80) are still doing well, as is Andrea Bocelli (nine, 2.41). Newcomer God of Carnage is number ten, power score 2.24.
Bette Midler is number for a second week in a row with a 60.22 power score. Cher follows with a 16.06 power score, as does Cirque du Soleil – O (three, 4.89). Criss Angel: Believe makes number four (4.11) and Penn & Teller number five (1.60). Donny & Marie Osmond (seven, 1.53) edge ahead of David Copperfield (eight, 1.38) and Cirque du Soleil – The Beatles: Love (nine, 1.19). Perennial favorites the Blue Man Group are number ten with a 1.11 power score.
TicketNews Exclusive Rankings and Power Scores are based on ticket sales from the TicketNetwork Exchange™, the world's largest secondary market exchange. A Power Score illustrates a given event's category-specific significance. Two factors are used to calculate a power score: total ticket sales from the given event and total ticket sales within the category. As such, power scores should only be used to compare events within a particular category.
Last Updated on June 2, 2009 by By Petrina Crockford