The market for the August 26 Floyd Mayweather Jr.-Conor McGregor fight in Las Vegas took another step down, as the price to get a seat dropped to $1,500.
Ticket Club has a pair of seats in Section 208, Row Q that have fallen to precisely that point, and a total of 20 tickets between that point and $1,600 each as of Friday morning. On Monday, members of the no-fee ticketing marketplace could get tickets starting at a minimum price of $1,632, with a next-lowest price point of over $1,800 per ticket.
In other marketplaces, fees are still keeping the price well above Ticket Club, but are also dropping as the event approaches. VividSeats has the lowest base price ticket available at this point, having dropped to $1,380 for Section 208, Row Q. After $345 in fees, those tickets have a final price of $1,725 – $245 less than the same row in Section 225 was going for on Monday on the same website. StubHub's lowest "all-in" ticket is in Section 213, Row Q, standing at $1,716 after $290 in fees.

Ticketmaster's resale website is the lone marketplace with a minimum price above $2,000, as a Section 216, Row Q ticket is available for $2,109 ($1,715+$394 in fees).
Perhaps the most telling fact is that there are still apparently hundreds of tickets available for sale from Ticketmaster in the primary market. While an exact figure is difficult to figure given the company's shutting off of individual seat selection maps, there are 78 rows in various sections throughout the arena where one can purchase six tickets together on Ticketmaster.com. The minimum price per ticket in the primary market is $2,500, with $218 per ticket in fees making a sextet "all in" a $16,313.41 hit to one's wallet.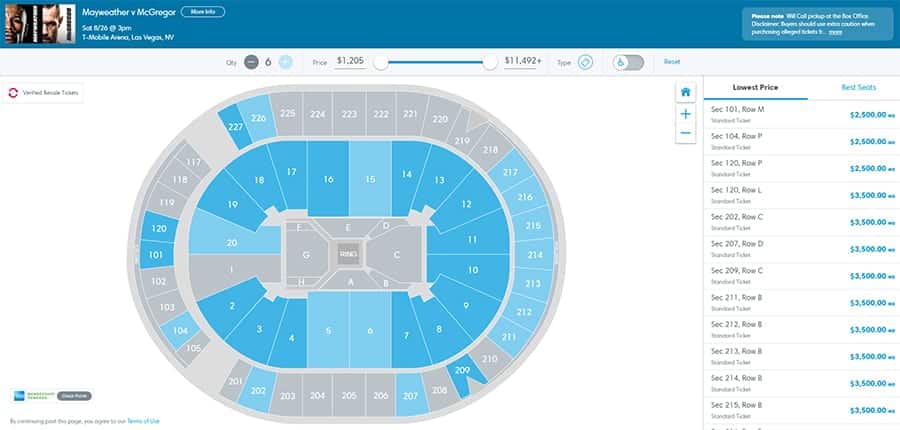 Despite assurances from fight promoters that this fight is selling in numbers that match its hype, it would appear that the asking price may have to come down even further before the house even approaches full for next Saturday night.
Mayweather-McGregor Pricing Update: August 18
Stubhub

Section
Row
Base
Fee
All In
213
Q
$1,426
$290
$1,716
213
N
$1,454
$296
$1,750
203
N
$1,454
$296
$1,750

VividSeats

Section
Row
Base
Fee
All In
208
Q
$1,380
$345
$1,725
226
L
$1,380
$345
$1,725
209
P
$1,392
$348
$1,740

Ticketmaster

Section
Row
Base
Fee
All In
216
Q
$1,715
$394
$2,109
201
R
$1,869
$430
$2,299
212
Q
$1,904
$438
$2,342

Ticket Club

Section
Row
Base
Fee
All In
208
Q
$1,500
$0
$1,500
209
P
$1,573
$0
$1,573
208
L
$1,577
$0
$1,577
Last Updated on August 18, 2017