"Scalpers and bots" is always the knee-jerk response when a scapegoat is needed for an angry consumer in the ticketing space. But a detailed...

"Scalpers and bots" is always the knee-jerk response when a scapegoat is needed for an angry consumer in the ticketing space. But a detailed look at a recent news story covering a consumer's woe after purchasing Garth Brooks tickets on a resale site shows that, as usual, it was as much about the artist's ticket sales strategy that tripped her up than anything else.
Brooks, one of the best-selling solo artists of all time, has sold over six million tickets on his recent tour. His general sales technique is brilliant in its simplicity: Announce a single show in a market, which sells out rapidly and immediately sees big chunks land on the secondary for much more. When fans think they have just one chance to see an artist, they're willing to shell out more to be there – so they break out the credit card and plan to budget for a few less dinners out that month.
Within days, a number of additional shows will be added by the artist, flooding the market with face value availability for tickets just like he did in California this summer, or announce additional shows on consecutive nights to follow, like he did last month at Pinnacle Bank Arena in Lincoln, Nebraska. The market for the original show becomes overwhelmed by the new supply and collapses, with face value (or modestly marked-up) tickets are readily available. It's a smart move by the artist, but it's not favorable to die-hards who jump on the secondary once the "one-night-only" show sells out.
Such was the case with Brenda Young, who went as far as to call the Better Business Bureau and make enough noise to make the local paper with her complaint. Young reported to Lincoln, Nebrasks's WOWT that her excitement for Brooks tickets subsided "after discovering who sold them and the cost".
"The tickets her family thought they purchased through the official Pinnacle Bank Arena website — actually came from a lookalike reseller site," the story reads. The Pinnacle Bank Arena website does not sell tickets, but redirects a customer to Ticketmaster. The website shown at one point of the story is pinnaclebank.arenalincoln.com, a resale site which focuses on events at that arena. Her actual purchase, shown later in the story, was on boxofficeticket.center.
Both resale websites have prominent notices that they are not affiliated with the venue or artist, and that tickets may be above or below face value. Below is a screenshot of both Ticketmaster.com's event page and the boxofficeticket.center event page.
Ticketmaster Garth Brooks page for tonight's show:

Box Office Ticket Center page for tonight's show:
Subjectively, it's a stretch to call the website in question a "lookalike" – and it also contains multiple disclaimers that it is a resale marketplace, not an official artist or venue page, and that tickets may be above or below face value. And here's a close-up of the disclaimer atop the page (which is also on the home page) showing it to be an independent secondary site: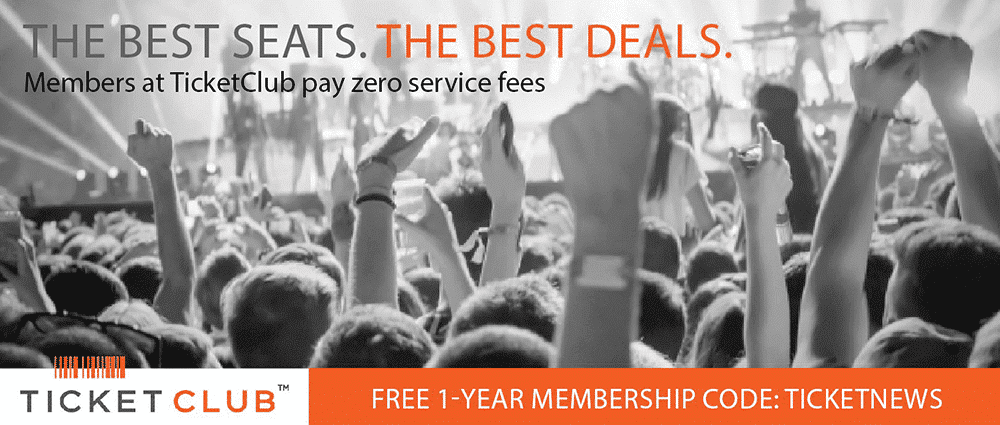 The customer also told WOWT that "the real surprise came with the credit card bill," implying that surprise fees came after the fact. Once again, a little digging shows that the service fees were clearly listed right on the transaction page prior to purchase: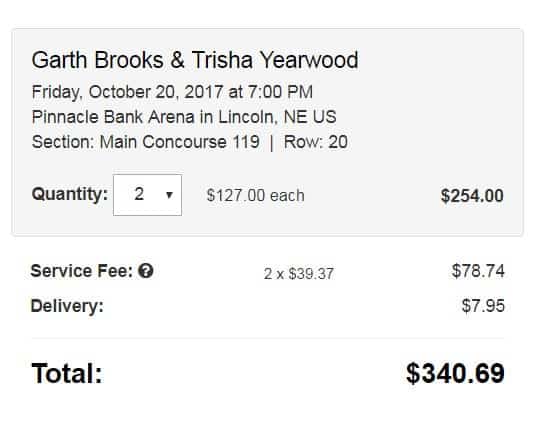 WOWT interviewed the general manager of Pinnacle Bank Arena, who claimed that "the venue's official website doesn't point anyone to scalper sites". The arena's website does, however, link to Ticketmaster. The ticketing giant doesn't have "verified resale" ticket options turned on for the Brooks show(s), but does have them available for its next three concerts. Pink dots on the Ticketmaster screenshot from an upcoming Pinnacle Bank Arena stop by Jay-Z indicate secondary tickets.
Call Ticketmaster resale what you like, but it's misleading at best to say that a clearly marked resale website is any more consumer-confusing than being able to see "primary" and "secondary" tickets on the same page, like Ticketmaster does when its resale tickets are enabled:
All in all, this customer's story doesn't exactly check out. While it's unfortunate that an impulse purchase that cost over a grand could have been made a day later for less than $200, it's disengenuous at best to claim it to be the fault of ticket resale, bots, or market deceit. This is a case of music industry sales tactics leading to a fan desperate to see a show later experiencing a classic case of buyer's remorse. When the bill came, the consumer cried wolf. In this instance, however, the wolf may have been Garth Brooks (in metaphorical sheep's clothing, to stretch the point to its absurd but logical conclusion.)
At the close of the interview, Young said of her thousand-plus dollar purchase, "I'm going to sit in terrible seats for an outrageous price, but I love Garth Brooks and I know he'll make it somewhat worth it."
Multiple calls for comment or clarification to the management of Pinnacle Bank Arena were not returned as of Friday afternoon.
Last Updated on October 20, 2017 by Katie Gainer