Usually the NFL season brings a cacaphony of headlines about great games, on-field drama, and highlight performances.
In 2017, however, there has been a heavy undercurrent of worry in addition to the usual Hank Williams-led fanfare of America's most popular sport. Sales are down and fans are upset.
Protest of the national anthem by a large number of players has been a headline-grabbing factor. Citing the violence against African-American citizens by law enforcement and other tangible social injustices, the protests were initiated by then-San Francisco 49ers quarterback Colin Kaepernick, who sat, and then kneeled, last year during the anthem. A year later, the 29 year-old athlete with one of the best touchdowns-to-interceptions ratio in the league's history is unemployed, but his protest has spread throughout the league, particularly since the start of the 2017-18 season.
The president had some unsavory words about this display and in turn, dozens of players knelt in solidarity with Kaepernick and his cause. Jerseys were burned and boycotts were promised. Fast-forward to nearing the end of the season, and nearly every major news source has reported on the protests' effect on NFL sales in one way or another. But, is the cause of the NFL's slipping sales really that simple?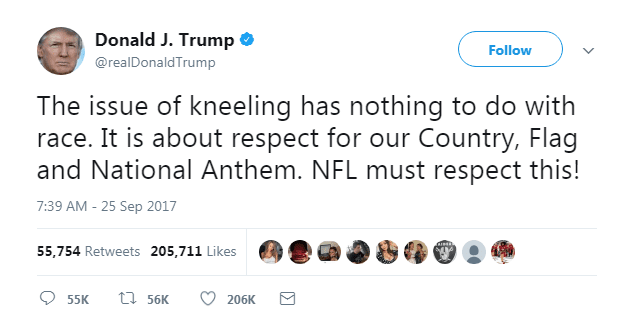 Sports Business Journal recently reported that the sale of NFL-licensed products is experiencing the softest market since the economic recession of 2008, with some licensees reporting dips of 20 percent or more. Some merchandise licensees were quick to blame the protests for the decline in business; others pointed to other factors.
"That's the only reason I see for declining NFL sales," said one hard-good licensee.
"I'd be crazy to blame it on one thing," said another.
"NFL is a bit of a challenge", Rico Industries President Cary Schack compromised. "Certainly, the [protest] issues aren't helping, but other things are contributing," he added, citing head-injury concerns, injuries to star players, and media oversaturation. Other sellers noted the state of the retail industry as a whole.
TV ratings are down, but that's not easily pinned to one reason, either. Firstly, the NFL has driven its own numbers down by hugely skewing the ratio of their supply-and-demand model. They added and continue to increase the number of Thursday night games in addition to Sunday and Monday. More games are played every year in London which, with the time difference, makes for an 11-hour straight football window on those Sundays. NFL increased the number of games partner CBS would air, and added NBC as an additional partner, on top of their own strictly NFL network.
Then there's the problem of those pesky millennials who want to do everything online. Many living on their own dime forgo cable, preferring streaming services that allow them to watch from computers, tablets, and smartphones on their own time over traditional TV. A digital streaming deal with Verizon only opened its contract to allow subscribers to watch on any screen larger than their phones, and to allow subscribers of other services like DirecTV Now and Sling TV to stream on their phones, early last month.
Finally, there's plain old-fashioned ticket sales to attend the games themselves, which have dropped 30% in the secondary ticket market since October (year-over-year). As for the primary market, no definitive numbers have been released, but plenty of fans have pointed out the glaring emptiness in stadiums all season. Protests have angered some, of course, but have inspired others. It captivated us all, dominating headlines and sports news networks for weeks and becoming the easy target for blame regarding all of the NFL's financial woes. However, there are a few other factors that could have definitely aided in the decline.
When it comes to tickets, the landscape of the market has been evolving drastically in recent years. Maybe the most intense change is an increasingly mobile ticketing system, with some teams or venues going 100 percent paperless as a rule. Ticketmaster, the official ticket partner of the NFL, has also made a strong push for mobile, stressing – if not outright requiring – mobile tickets for all purchases.
But with technology come both convenience and difficultly: inadequate or slow service (especially in an area as concentrated as a stadium), loss of battery, account log-in issues, or even venue-wide or system-wide blackouts. In Ausgust, a Ticketmaster outage delayed fans' entry at Kansas City's Arrowhead Stadium and Atlanta's Mercedez Benz Stadium in addition to Sun Devil Stadium at Arizona State University, and the U.S. Open tennis tournament in New York.  At a September Kid Rock show in Michigan, about 1,500 fans using digital tickets had to leave the main entry line to wait in another line – to print out physical tickets – when the mobile ticket readers failed.
One unnamed source from an NFL team tells Ticket News that they were so upset with a mobile ticketing push that they printed hard copies of thousands of tickets for their partners to distribute.
There's also the matter of ticket price, and rules and regulations surrounding season tickets, for those able to obtain and afford them. The average ticket price for an NFL game in the 2015-2016 season was $93 – that's three times the price of an average MLB ticket the same year. The best performing teams, and the most exciting match-ups, can cost fans hundreds or thousands of dollars for decent seats, often pricing out lower-income fans (and perhaps proving another reason for decreased merch sales).

As the NFL and Ticketmaster pull out all the stops to stifle the secondary ticket market, where seats for less popular games can often be bought for far below face value, they are also placing more and more rules on season ticket holders' ability to resell. One pair of Broncos fans had their season tickets revoked after being on the waiting list for 6 years. The year they finally obtain season tickets, they also had their first child. They resold tickets to most games to be with their newborn- using the team's designated and official resale platform- and had their right to buy season tickets revoked for it. For a franchise that is counting on customer loyalty now more than ever, you'd think it would be a little more fan-friendly.
All in all, the NFL's sales decline cannot be attributed fully to the anthem controversy; between high prices and strict resale rules, changing viewing and shopping habits, and mobile ticketing anxieties, the franchise could stand to take a look at its own business before placing blame on its players.
Last Updated on December 7, 2017 by Sean Burns