The first thing we thought of when we heard word a while back that tickets for Pearl Jam's 2018 summer tour would be distributed using Ticketmaster much touted "Verified Fan" system was pretty simple: This probably won't end well.
It would appear that our prediction wasn't far off, as the process for the band's die-hards went off on Friday, and some went berserk on social media, complaining about the process and its many shortcomings. Alternative Nation has a recap of angry fans taking to the Pearl Jam page on Reddit.com, running under the headline "Pearl Jam Fans Get 'F*cked' By Ticketmaster: 'This Was A Disaster'" – which serves as a fairly strong spoiler alert for the content below.
At the vociferous request of Ticketmaster Executive Vice President David Marcus – who oversees the Verified Fan program as the company's Head of Music, we are obliged to point out that Ticketmaster did not handle the actual ticket sales for the Wrigley Field, Fenway Park, or Montana stops of the tour. Their Verified Fan system acted as gatekeeper for the presale codes, but purchases were made through Tickets.com (Fenway and Wrigley) or Grizztix (Mizzoula).
This was a disaster. I had tickets reserved for the Wrigley show 8/18 twice, but it wanted my username and login for tickets.com and I could not enter it correctly in time. Now I cant get two seats together. I created a tickets.com account yesterday, but on my PC, my link came via phone and I couldnt get logged in on time.

-EmptyNyets

Just got into my Wrigley Presale. Immediately tried to get two tickets, best available seat. Nope, none available at that combination. Tried to get one ticket, it wants to sell it to me at the top of the upper bowl for $128.00.

No thanks, fuck this shit. If I am going to a show with that shitty seat for that price, I at least want to go with a friend

How the hell did you even get a turf seat as an option? Mine was straight up P1 bowl or P2 bowl.

-FrankPapageorgio

My problem is why give it so many codes, if you don't have tickets to cover it. My slot was at 11:30 today. Tickets gone before 11:00.

If you have 3,000 (just an example) tickets and allow people to buy up to 4 tickets, don't give out 3,000 codes.

         -Blackagar-Boltagon
Reactions pulled off replies to the band's posts about the presale on Twitter followed a number of similar threads: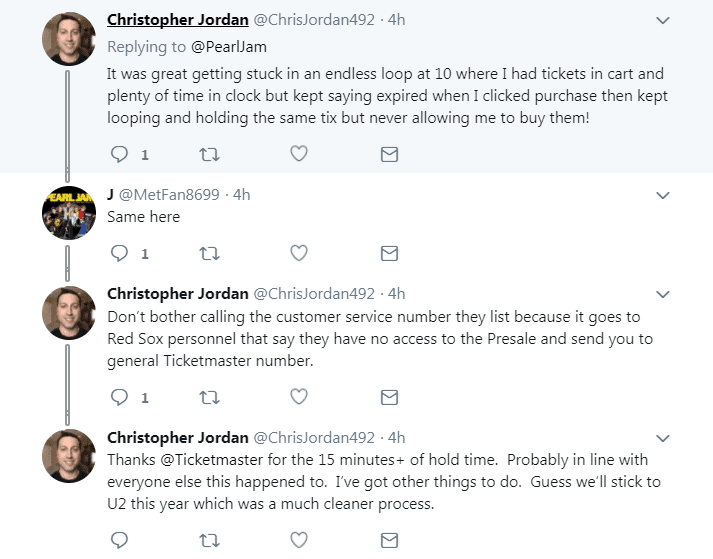 None of this should have come as any surprise to anyone – while Ticketmaster and some friendly industry reporters flog the unceasing success of Verified Fan at every opportunity, fan reaction to just about every high profile use of the system has followed this same pattern. Elton John fans felt the burn not long ago. U2 fans did too. Taylor Swift fans got burned twice – getting ripped off on the front end in having to dump time and money to get to the front of the 'verified' line, and then seeing the process fall apart on them.
Frankly, we were a bit surprised to even see Pearl Jam dip its toe in the Verified Fan waters to begin with. The band had a legendary feud with the ticketing giant back in the 1990s, making an attempt to avoid using the vendor altogether due to its aggressive fee structures. That fell apart once it became clear that it was practically impossible to mount a tour without playing Ticketmaster's game, given the companies vice-like grip on a huge roster of venues via exclusive ticketing contracts. That grip has only strengthened in the ensuing 20 years, particularly since it was gobbled up by promotional behemoth Live Nation a decade ago. But, here we are.
Undoubtedly, thousands of fans got what they were looking for on Friday – tickets to catch the immensely popular band on its upcoming summer tour. But, it would appear that plenty didn't, and there doesn't appear to be any major shortage of inventory already made it through to the secondary marketplaces (which is ostensibly the entire reason that Verified Fan exists – or at least how it is marketed to both fans and artists.)
Pearl Jam fans can always hold out hope – there's a regular sale for the upcoming shows this week, where some undetermined number of tickets may be available (naturally, due to opacity in the market, we'll never know how many tickets were earmarked for the presale, or for the regular sale, or holdbacks, or anything else.)
So, good luck to everyone!
Last Updated on February 21, 2018