Liam Gallagher, the mercurial former lead singer of Oasis, had to halt a performance mid-show at Lollapalooza this week due to a chest infection, leaving fans wanting more. After just four songs, Gallagher cut the show short, apologizing to the crowd but admitting that he couldn't sing anymore.
"My voice is absolutely smashed," he said. "I'm not just going to stand here all night screaming out for everybody sounding f*****g horrific. I'm very sorry I can't sing the tunes."
According to the Evening Standard, the star walked off stage, only to hear boos from the crowd. He turned around once again to say: "If you ain't gonna have fun, I'm wasting my time."

He then took to Twitter, posting a text that explained how Gallagher had been diagnosed with a sinus, ear and nose infection after a European show a few weeks ago, which led to a chest infection. Although he tried to battle it out onstage, he found it hard to breathe.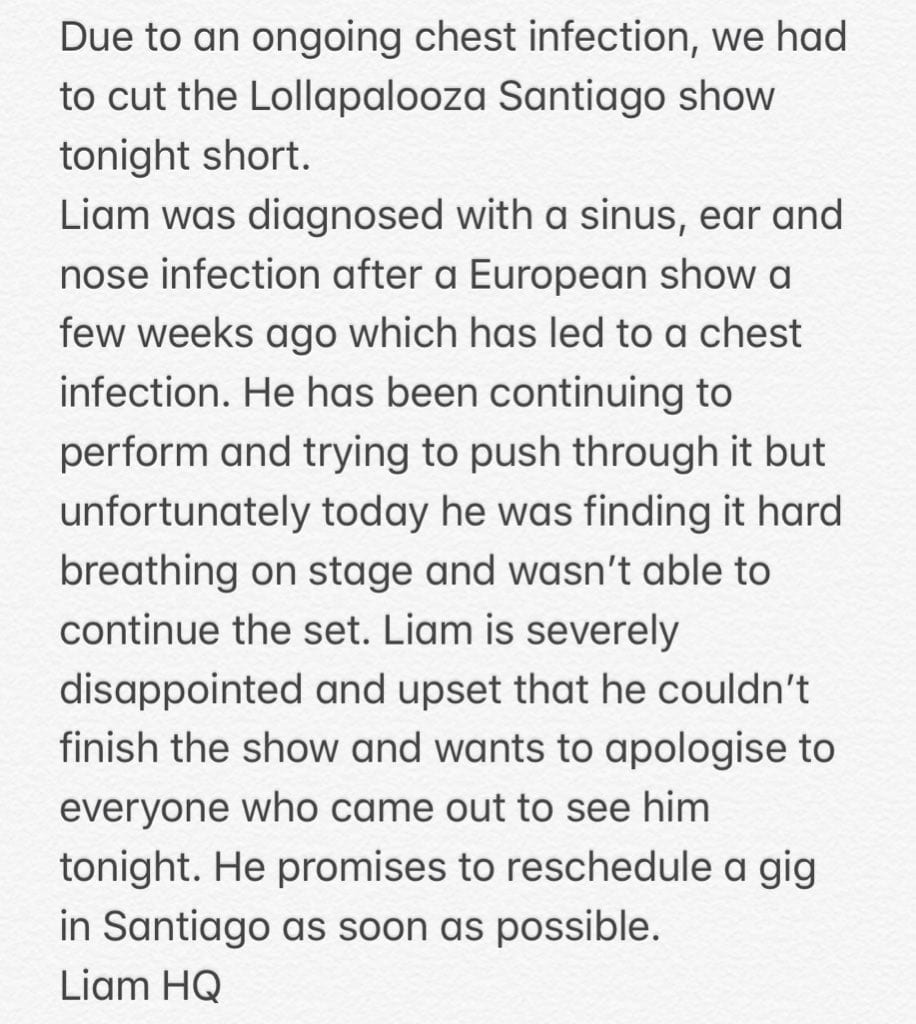 Fans watched Gallagher and his band leave the stage in disbelief. Instead of wishing the star well, many fans took to Twitter with unforgiving comments, including some that wanted their money back.
Later on in the night, The Killers paid a tribute to the band while playing Oasis's hit tune, "Wonderwall."
"Before I sing this song I would like to say Liam Gallagher is my king," lead singer Brandon Flowers said. "This is no way meant to disparage anything that he did."
Gallagher is set to perform next in Sao Paulo, Brazil on March 21. He continues his tour with additional shows throughout Central America, South America, and Europe, including a few more dates with Lollapalooza.
Last Updated on March 20, 2018