In Australia, a little girl named Grace is suffering from a brain tumor and couldn't attend Katy Perry's concert anymore — so, the pop-star brought the concert to her.
Last week, Tiana Moores posted a tweet, urging her followers to share. Her sister, Grace, had tickets to attend Perry's concert in Adelaide but was diagnosed with a 6cm brain tumor. Tiana explained that her sister has been battling the tumor all year and is not able to see Perry, her favorite musician, in concert anymore.
RETWEET PLEASE! my baby sister is meant to attend @katyperry concert in Adelaide this year but was diagnosed with a 6cm Brain tumour and has been battling all year, grace has love been Katy's biggest fan since she was 3, please help us try and get in contact with @katyperry xx pic.twitter.com/5C9Xuccmu4

— Tiana is trash (@tianamoores_) July 25, 2018

After the tweet went viral with over 21,000 retweets, Perry's crew heard of the news and decided to set up something special.
In an Instagram video called "The Power of The Internet," Perry showcases her journey to meet Grace.
"Today is one of those days where I actually feel like a unicorn," she says at the beginning of the video, adorned with a pink leather jacket with a unicorn on the back. "That's because I get to use my powers for good and meet someone named Grace who wasn't able to come to the show. So I just figured since she wasn't able to come to the show because of her situation, we'd bring the show to her."
In the video, Perry is seen performing one of her earlier hits, "Firework," while meeting and hanging out with Grace's family.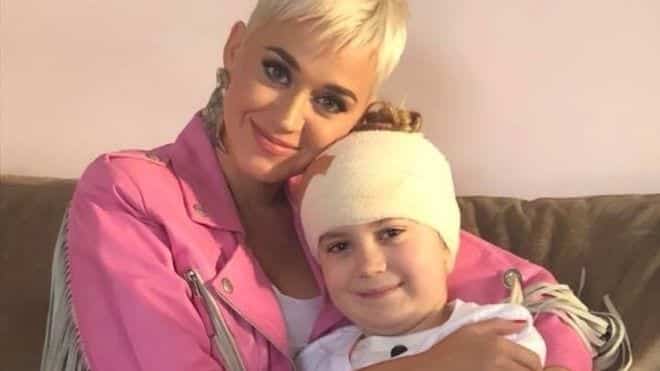 "That's the power of Twitter," Perry says of the ability to hear about Grace's story.
"And the power of beautiful people," Grace's mom chips in.
Perry went on to play Adelaide earlier this week, and is slated to perform in Melbourne, Brisbane, Sydney, and Auckland through the end of the month to finish up her 2018 Witness World Tour. Later this year, she is scheduled to perform at San Diego, California's Kaaboo Festival.
Witness is the singer's fourth studio album which features hit singles "Swish Swish," "Chained to the Rhythm," and "Bon Appétite."
Visit Ticket Club to find tickets to see Perry on tour this year. 
Last Updated on August 3, 2018