While Vans Warped Tour announced its final cross-country run in 2018, the festival will be returning to three select cities this year for shows...
While Vans Warped Tour announced its final cross-country run in 2018, the festival will be returning to three select cities this year for shows in honor of its 25th anniversary.
This morning, the lineup was announce for The Rock & Roll Hall of Fame show in Cleveland on June 8 as well as the two-day events in Mountain View, California on July 20 and 21 and Atlantic City, New Jersey on June 29 and 30.
"Through the years the Vans Warped tour has always tried to bring you something extra, this year we have gone through the past archives and dug up many of our old friends to join us for these special events." producer Kevin Lyman said of the announcement. "The curated art experience will showcase our favorite moments over the last 25 years. So, dust off the old Vans and lace em' up since you won't want to miss a thing!"
The Cleveland show will include performances from We The Kings, Simple Plan, and Hawthorne Heights, as well as Chali 2NA & Cut Chemist and Emery. The day will begin with a special opening concert featuring performances from bands across the tour's 24-year history. Fans will also have the ability to see artifacts from Warped bands and items from the first tour in 1995.
New Jersey's two-day shows will feature Warped punk-rock veterans A Day To Remember, who just announced a tour in support of potential new music. Rock icons like Anti-Flag, Good Charlotte, Less Than Jake, The Offspring, Reel Big Fish, Taking Back Sunday, We The Kings, and Simple Plan will also take the stage, along with favorites like Dirty Heads and Gym Class Heroes.
The All-American Rejects – who haven't released a record since 2012's Kids In The Street – will return to the music scene to headline California's show. Anti-Flag, August Burns Red, Four Year Strong, Good Charlotte, Sleeping With Sirens, and The Story So Far are also among the performers of the weekend, as well as The Used, We The Kings, and Dance Gavin Dance.
Two-day tickets went on sale last week, and the festival explained they will release single day tickets if they don't completely sell out.
Forever Warped: 25 Years of Warped Tour will also feature motocross sports alike skateboarding and motocross, and "an exhibit of art that has come out of the tour's history." A press release notes that while the tour will still hold true to the original Warped Tour experience, these shows will be "on a much larger scale over two full days."
"The Vans Warped Tour holds a very special place in our hearts and in our history," Steve Van Doren, vice president of global events and promotions at Vans, said in a statement. "It was through the annual tour that we were able to bring music and action sports to youth across the globe for over two decades. We are really excited to partner with Kevin and the Warped team to put on a once in a lifetime experience to celebrate the tour's final year."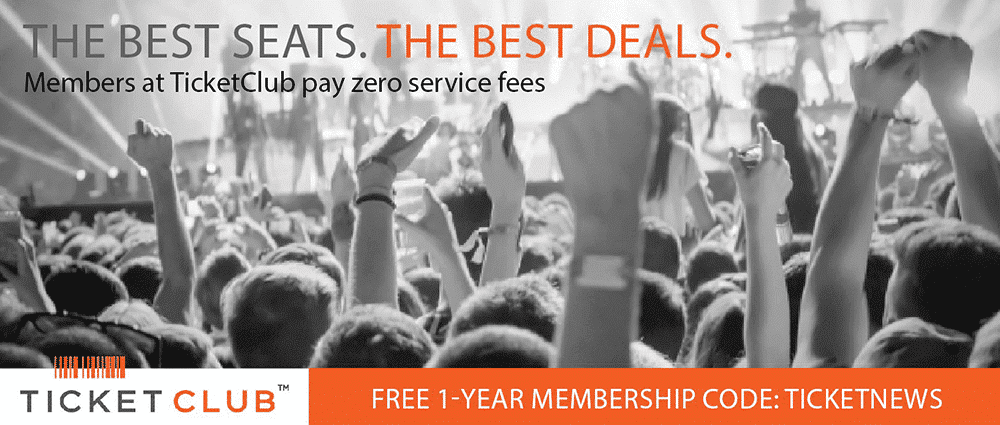 Visit Ticket Club to find tickets to the anniversary shows and check out our review of the 2018 festival when it stopped in Hartford, Connecticut here.
View the full list of artists per day below: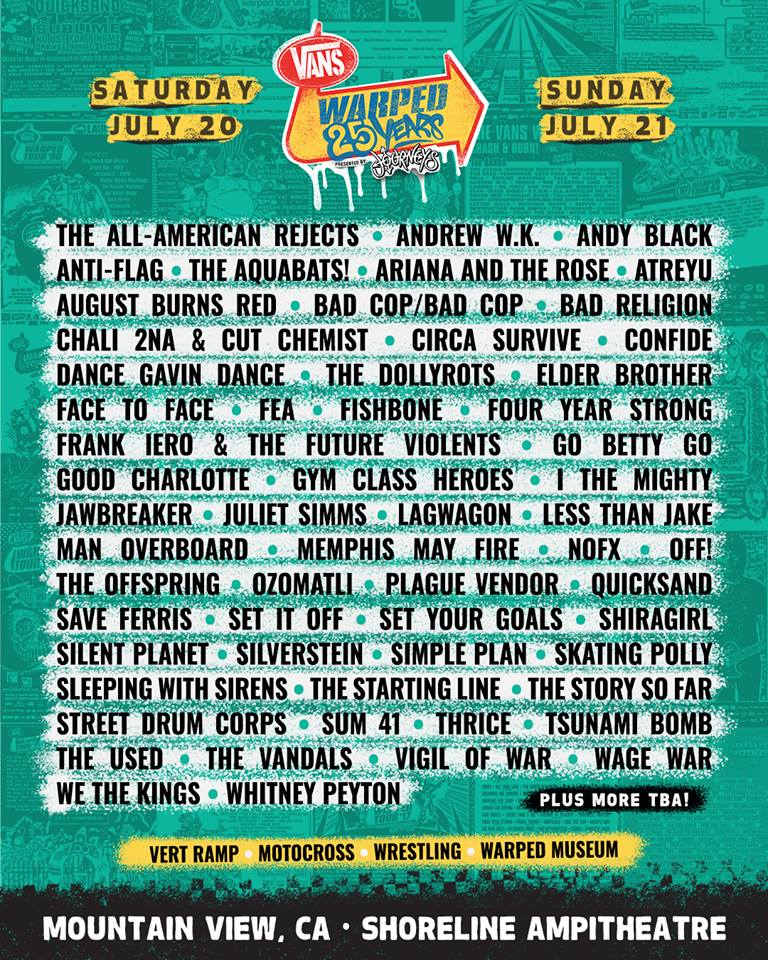 Vans Warped Tour 25th Anniversary Shows
June 8 — Cleveland, OH @ Rock & Roll Hall of Fame
June 29 & 30 — Atlantic City, New Jersey @ Atlantic City Beach
July 20 & 21 — Mountain View, CA @ Shoreline Amphitheatre
Last Updated on March 1, 2019 by Olivia Perreault