A who's who of hip hop is poised to take the stage in Atlanta on April 24th, as the Feed the Streetz Tour's "Living Legends" show heads to State Farm Arena. Rick Ross, Jeezy, TI, 2 Chainz, Yo Gotti, Lil' Kim and Boosie Badazz are all on the bill, with DJ Drama set to join.
The show, presented by We Are Live Entertainment, has tickets go on sale on Friday at Ticketmaster.com.
Ross, who's 10th album Port of Miami 2 made it to No. 2 on the Billboard Hot 200 chart and topped the publication's Top R&B/Hip Hop rankings after its release in August, is the headliner for the blockbuster show. Since his debut single "Hustlin" exploded on the scene – it was the first mastertone ever certified platinum by the RIAA before the album it was on had been released, according to Ross' website – the rapper and impresario has seen five Billboard Top 200 #1 debuts and three #2 debuts, four Grammy Award® nominations, and made the cover of Rolling Stone twice.
Jeezy and T.I. both share connections with Atlanta, as well as having won BET Viewers Choice Awards for collaborations with Rihanna – Jeezy for 2008's I'm So Hood and T.I. a year later for Live Your Life. Those are far from the only honors they have won – T.I. has been nominated for Grammy Awards 19 times, taking home three. 2 Chainz is also tied to Atlanta, and has a Grammy of his own, having captured the 2017 award for Best Rap Performance with No Problem aside Chance the Rapper and Lil Wayne.
Ticket prices for the Feed the Streetz Tour 2020 have not yet been announced.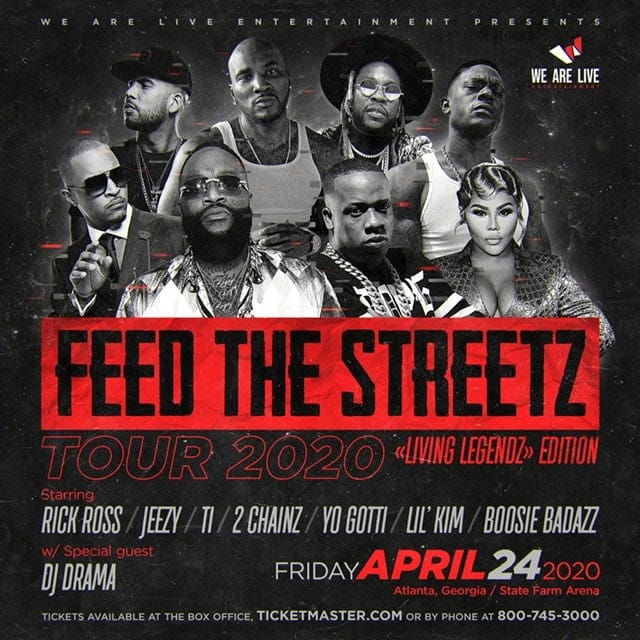 Last Updated on January 28, 2020 by Dave Clark