With her Renaissance World Tour set to make its way to North America beginning this weekend, Beyoncé announced the cancellation of one show, and the postponement of two others. The cancelled show, at Pittsburgh's Acrisure Stadium, was scheduled for August 3. Shows in Seattle and Kansas City were also pushed back, with all citing "production logistics and scheduling issues" as the reason.
Fans, however, are openly questioning whether or not poor sales are the real reason for the shows being moved around. More on that in a bit…
"Due to production logistics and scheduling issues, unfortunately the August 3rd Pittsburgh stop of the RENAISSANCEWORLD Tour will not be taking place," reads the announcement of the cancellation posted to Acrisure Stadium's social media channels (screenshot below). "Refunds will automatically be issued at the point of purchase. If you have any questions regarding your ticket order, please contact your point of purchase."

— Acrisure Stadium (@AcrisureStadium) July 5, 2023
Pittsburgh mayor Ed Gainey posted a statement to social media expressing that he was "deeply disappointed" in the news of the cancellation, and that the city is working with tour promoter (Live Nation) to determine why it was cancelled and what can be done to secure a new show in the city.
Pittsburgh — we are deeply disappointed in the news that Beyoncé has canceled her performance on August 3. We were fully prepared to welcome her to Pittsburgh and honor her with an official day recognizing her visit and accomplishments. pic.twitter.com/MIgiJJh5u1

— Mayor Ed Gainey (@MayorEdGainey) July 5, 2023
Fans were quick to vent their frustrations about the cancelled show on social media as well.
BEYONCE CANCELLED HER SHOW IN PITTSBURGH IM GONNA FUCKING CRY

— and i said ma'am… (@lo_veme3) July 5, 2023

Why ticket master said my Beyoncé tickets were cancelled pic.twitter.com/cj9v5Ezw29

— Naomi O (@Nay_Omi_) July 5, 2023
Heinz Field would've NEVER cancelled a @Beyonce show. pic.twitter.com/JZw2I3ZM9y

— Sugapablo (@sugapablo) July 5, 2023
I rly hope Beyoncé puts out a statement or does something for those ppl who's show got cancelled I feel so bad for them. If I was them I would be broken rn. pic.twitter.com/P9iv7lxXr3

— Dean 🐝🇬🇧🍷 (@Igorthecreeator) July 6, 2023
my beyoncé concert just got cancelled i'm fucking pissed the fuck off. WHAT THE FUCK pic.twitter.com/6XIlQPAuO0

— ᴍᴀᴛᴛʜᴇᴡ (@meltttawayyy) July 5, 2023
As far as the "why" for the show being cancelled, there are quite a few people speculating on that as well. The Renaissance World Tour, just like Bruce Springsteen's tour before it and Drake's, or The Weeknd's before that, saw major complaints when tickets went on sale over the pricing strategy. Screenshots at the time of the sale, which went live in early February for North American Beyoncé shows, revealed VIP seats priced as high as $5,000 in some markets, with even the worst seats in stadiums being listed for well over $100 each and premium seats far higher.
It wasn't long before the ticket pricing strategy seemed to backfire, as huge chunks of the stadium seatmaps appeared to be available well after the initial sales dates. And this is before even taking into account the standard practice of holding back big percentages of the venue's available seats for sale down the road in order to prop up prices via the implied scarcity.
Shortly after Wednesday's announcement of the Pittsburgh cancellation and other postponements, screenshots of the seat maps reportedly taken recently showed the same story – and included showing large sections of tickets available for as low as $50 each – far below the initial asking price for the same locations:
This is the map of Renaissance tour, Pittsburgh (Aug 3rd 2023) and The blue seats signifies the "available" seats.

The real reason why Beyoncé cancelled the show is because she WASN'T able to sell those tickets‼️

This is so cheap and unethical. https://t.co/wTuDwRzW4e pic.twitter.com/hfTBjzrqki

— Dhanush (@reputanush) July 5, 2023
Beyoncé show cancelled for not selling? Lmao pic.twitter.com/9H7sWUBZHa

— Felix |🤍PFRR🤍| (@PinkRomanFriday) July 6, 2023
Other reports have indicated that the stadium in Pittsburgh did not have the ability to house the stage setup for the Renaissance World Tour, but it is difficult to fathom that would not have been identified by Live Nation or the singer's team ages ago, rather than a month to show date.
Regardless, Beyoncé is set to launch her North American run of shows this weekend in Toronto, taking the stage Saturday and Sunday at Rogers Centre. There appear to be fairly substantial numbers of available tickets for those shows as well, though none are in the "affordable" areas of the stadium, but rather the lower level seats that are seeing an asking price of over $500 CAD after fees. Even resale tickets on Ticketmaster are going for a minimum of $200 before fees, which raises the question of whether or not there is a price floor on, similar to Bruce Springsteen's show in Tulsa that tanked. On resale marketplaces, the "get-in" price is far lower, with 500-level seats available at Ticket Club for under $200.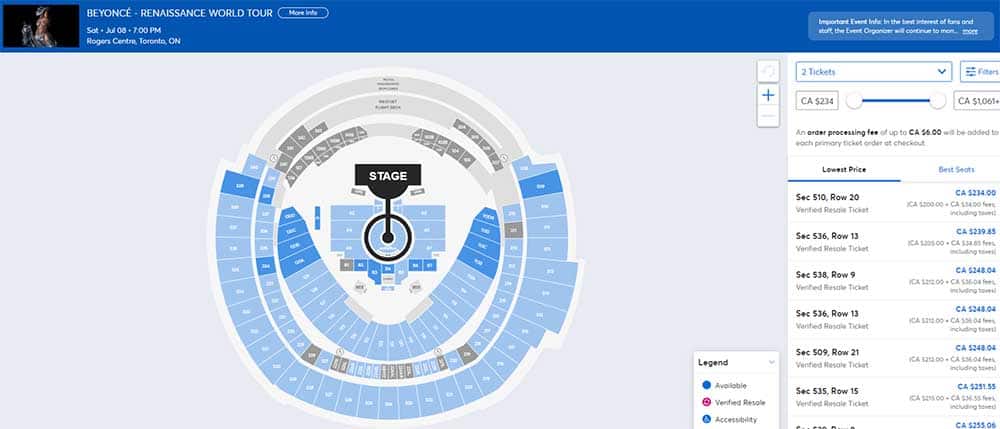 The full run of dates, including the rescheduled ones, is below, as are links to ticket resale marketplaces.
Ticket Links
Beyonce Tickets at MEGASeats | 10% off for TicketNews readers
Beyonce Tickets at ScoreBig
Beyonce Tickets at SeatGeek
Beyonce Tickets at StubHub
Beyonce Tickets at Ticket Club | Free membership for TicketNews readers
Beyonce Tickets at Vivid Seats
Beyoncé Renaissance Tour Dates
North America Dates
July 8 – Toronto, CA | Rogers Centre
July 9 – Toronto, CA | Rogers Centre
July 12 – Philadelphia, PA | Lincoln Financial Field
July 15 – Nashville, TN | Nissan Stadium
July 17 – Louisville, KY | Cardinal Stadium
July 20 – Minneapolis, MN | Huntington Bank Stadium
July 22 – Chicago, IL | Soldier Field
July 23 – Chicago, IL | Soldier Field
July 26 – Detroit, MI | Ford Field
July 29 – East Rutherford, NJ | Metlife Stadium
July 30 – East Rutherford, NJ | Metlife Stadium
August 1 – Boston, MA | Gillette Stadium
August 3 – Pittsburgh, PA | Heinz Field (CANCELLED)
August 5 – Washington, DC | Fedex Field
August 6 – Washington, DC | Fedex Field
August 9 – Charlotte, NC | Bank Of America Stadium
August 11 – Atlanta, GA | Mercedes Benz Stadium
August 12 – Atlanta, GA | Mercedes Benz Stadium
August 16 – Tampa, FL | Raymond James Stadium
August 18 – Miami, FL | Hard Rock Stadium
August 21 – St. Louis, MI | Dome at America's Center
August 24 – Phoenix, AZ | State Farm Stadium
August 26 – Las Vegas, NV | Allegiant Stadium
August 30 – San Francisco, CA | Levi's Stadium
September 2 – Los Angeles, CA | SoFi Stadium
September 3 – Los Angeles, CA | SoFi Stadium
September 4 – Los Angeles, CA | SoFi Stadium
September 11 – Vancouver, CA | BC Place
September 14 – Seattle, WA | Lumen Field (Originally scheduled for September 13)
September 21 – Dallas, TX | AT&T Stadium
September 23 – Houston, TX | NRG Stadium
September 24 – Houston, TX | NRG Stadium
September 27 – New Orleans, LA | Caesars Superdome
October 1 – Kansas City, KS | Arrowhead Stadium (Originally scheduled for September 18)
Last Updated on July 6, 2023