Louis Tomlinson performs on stage in Glasgow. Photo by Fiona McKinlay via Wikimedia Commons (CC-by-SA-2.0)
Louis Tomlinson is on tour now, and fans are turning out to see the onetime One Direction star across North America in 2023. But there's a way to find cheap Louis Tomlinson tickets, and it's not from the box office: MEGASeats. For fans shopping for tickets to see Louis Tomlinson's Faith in the Future World Tour on July 11 at St. Augustine Amphitheatre, MEGASeats has options as low as $6 – nearly 10x cheaper than the minimum ticket price currently available at the venue box office, which is $51.97.
The least expensive ticket for that July 11 Louis Tomlinson show in Florida is in Section 301, and there are several options. There are seats available for less than $10 in that section, plus Section 303, and 302. There are 200-level tickets available in multiple locations for below $20, and there are even some 100-level seats available at MEGASeats with an all-in price of below $50, which would get you a seat in the lower level for less than a general admission ticket in the upper corner of the venue, which is what the box office has at that price level.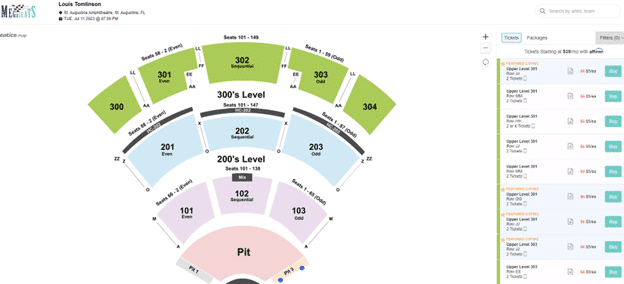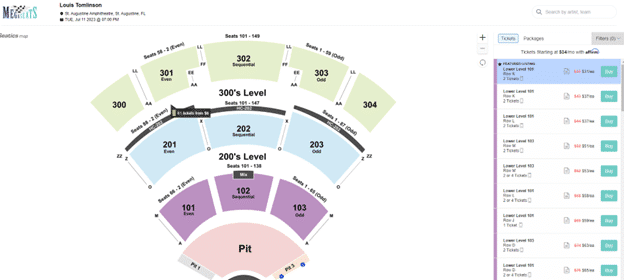 There are several other stops on the Faith in the Future World Tour with tickets available for less than face value at MEGASeats. Louis Tomlinson tickets on July 6 (Irving, TX), July 7 (Austin, TX), July 8 (Spring, TX), July 13 (Seminole, FL), July 14 (Tampa, FL), and July 15 (Atlanta, GA) all have below face value deals to be found.
Upcoming Louis Tomlinson tour dates include stops in Vancouver, California (Monday), Troutdale, Oregon (Tuesday), Berkley, California (Thursday), Los Angeles, California (Friday), and Las Vegas (Saturday). His current North American touring plans run through a July 29 concert at Forest Hills Stadium in Queens, New York.
Odds are, there are deals to be found on our app for every show, just enter the artists name in the search box and browse – remember, MEGASeats doesn't have any hidden fees, so the price you see is the price you get.
Last Updated on July 5, 2023