Unlike most musicians who rose to fame in the 1980s, Jon Bon Jovi and his eponymous band Bon Jovi have remained one of the most popular acts on the concert circuit. With a wide and varied array of music in the band's catalog, Bon Jovi concerts are often high-energy.
In addition to featuring regularly on TicketNews's exclusive top events rankings, Bon Jovi concerts also rank highly in year-end reports for the concert industry as a whole. The band and its namesake frontman perform live regularly, usually booking and filling arenas and stadiums on lengthy North American tours.
In recent years, Bon Jovi has become increasingly politically active, often performing benefit concerts for social and political causes.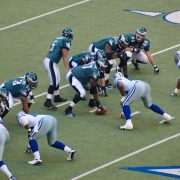 As the countdown to Super Bowl LII continues, football fans fuel sales for the remaining games of the post-season. Sunday's NFC Championship showdown between the Eagles and Vikings in Philly claimed the No. 1 spot, with the AFC decider between New England and Jacksonville following closely at No. 3....
Read more