Steve Martin is best known as an American actor; however he is also a comedian, writer, playwright, producer, musician and composer. He has earned Emmy, Grammy and American Comedy awards. He was also honored with a Disney Legend award, for his early career at Disneyland and his connections with The Walt Disney Company throughout his career.
He has been in 51 films, his 52nd film being Cheaper by the Dozen 3 which will be released in 2011. He has out five albums, starting in 1977, his most recent, "The Crow: New Songs for the 5-String Banjo" was released in 2009.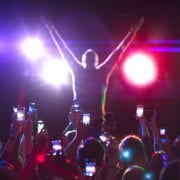 The red-hot summer concert market makes a big impression on Friday with several dozen shows heading on sale. Leading the pack is Wiz Khalifa, who announced his Decent Exposure Tour during his Coachella set last weekend. Co-headlining treks for Social Distortion & Flogging Molly and Skillet & Sevendust also...
Read more