Foo Fighters frontman Dave Grohl: 'I nearly gave up music after Kurt Cobain died' by Seth D. Olson – TicketNews.com Nirvana drummer Dave Grohl...
Foo Fighters frontman Dave Grohl: 'I nearly gave up music after Kurt Cobain died'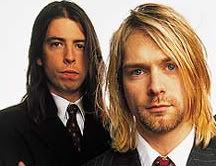 by Seth D. Olson – TicketNews.com
Nirvana drummer Dave Grohl has recently spoken on Virgin Radio of the moment he nearly gave up music after the death of close friend and Nirvana lead singer Kurt Cobain.
"When Nirvana was finished I didn't really know what to do. Our lives and our world were turned upside down", he explained. "It's hard to imagine playing music after something like that. It was hard for me. I had always written and recorded songs by myself. I wouldn't really play them for anyone."
Grohl went on to speak of the moment he returned to the studio once again.
"After Nirvana was finished I spent a lot of time just travelling around and thinking, and then I thought 'I know what I will do, I'll book 6 days in the studio down the street from my house and I'll record my favorite 12/13 songs I've ever written'," he said. "I never thought I'd still be here doing this, never."
Dave Grohl spent four years as the drummer for Nirvana. Unbeknownst to most of Nirvana's fanbase, Grohl had gradually written a stockpile of songs that he had largely held back from the band for fear of ruining their chemistry. Instead, Grohl occasionally booked studio time to record demos, and even issued a cassette of some of those songs called Pocketwatch under the pseudonym "Late!" in 1992. . .
Six months after Kurt Cobain's death in 1994, Grohl entered Robert Lang's Studio in Seattle with friend/producer Barrett Jones. With the exception of a guitar part on "X-Static" by Greg Dulli of the Afghan Whigs, Grohl played every instrument and sang every vocal on the tracks. Lured to Capitol Records by former Nirvana A&R (and then-Capitol president) Gary Gersh, Grohl had the demo recordings professionally mixed, with the results eventually becoming the Foo Fighters' self-titled debut album.
The band has earned a worldwide following, and have scored a number of hit songs, including "This Is a Call", "Everlong", "Learn to Fly", "All My Life", "Times Like These", "Best of You", "DOA", and "The Pretender". Two of their albums, There Is Nothing Left to Lose and One by One, won Grammy Awards for Best Rock Album. On top of their six studio albums, they have also contributed to several movie soundtracks, including the song "The One" on the 2002 Orange County soundtrack.
The new album, titled Echoes, Silence, Patience & Grace, will be released on September 25, 2007. The album's first single, "The Pretender", was issued to radio in early August. The entire album was played, with commercials, on the night of September 23, 2007 in several rock radio stations in place of what normally was played.
Not long after completing the recording sessions for the album, the band participated in Live Earth at Wembley Stadium in London, England, performing the penultimate set of the night. Later that summer, the band headlined V Festival 2007, including a surprise acoustic set on the Channel 4 stage under the name 606. (Grohl considers 606 his favorite number, and named both of the band's studios Studio 606.)
U.S. Foo Fighter tour dates:
October 2007
2nd, New Orleans, LA – House of Blues
4th, Atlanta, GA – The Tabernacle
5th, Charlotte, NC – Cricket Arena
6th, Atlantic City, NJ – The Borgata
8th, Wilkes-Barre, PA – Wachovia Arena
9th, Glen Falls, NY – Glen Falls Civic Center
Thanks to FooFighters.com and Wikipedia.org