Big Bucks for New Stadium Personal Seat Licenses By Alfred Branch, Jr. Fans will have to shell out some serious cash for the right...
Big Bucks for New Stadium Personal Seat Licenses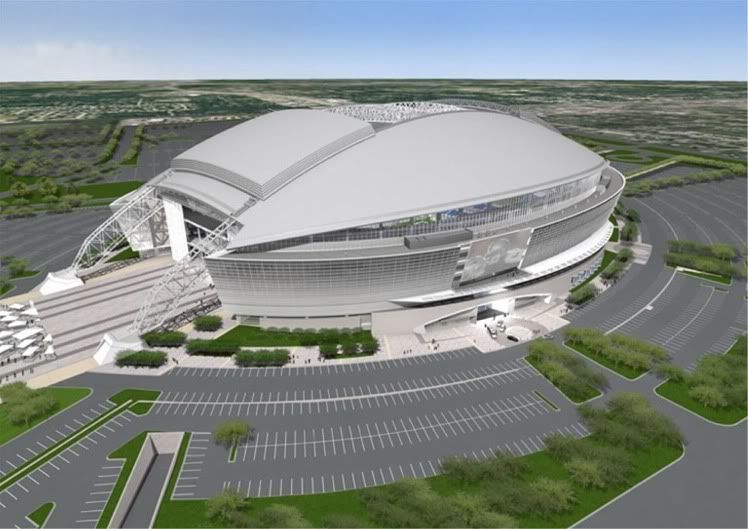 By Alfred Branch, Jr.
Fans will have to shell out some serious cash for the right to purchase premium seats for the Dallas Cowboys when the team starts playing in its new stadium 2009.

According to the team, personal seat licenses (PSLs) for Club seats in the new $1 billion, state-of-the-art stadium will start at $16,000 and reach $150,000. For each seat. Just for the right to then buy tickets that will start at $340 a piece, or $3,400 for eight home games and two preseason matches. The PSLs give fans the right to purchase a ticket for that seat for 30 years. The breakdown, depending on where the seat is located, is $16,000, $35,000, $50,000, $100,000 and $150,000, based on a chart published by the Dallas News.
The team expects to sell about 15,000 PSLs for Club seats, all of which are located in the lower levels between the endzones PSLs for the remaining 65,000 seats in the stadium will go on sale in 2008, but prices for those PSLs have not been announced.
The fees for these licenses are considered the most expensive in the history of the NFL, according to published reports, and will help pay for the new stadium. Cowboys tickets consistently rank among top-selling sports events in TicketNews' listings.
"They're not going to get that much," said Texas ticket broker Doug Goodman, who was shocked by the prices. "It's still two years away, so those prices will probably drop."
Another Texas broker, who wished to remain anonymous because he plans to purchase seat licenses to the new stadium, said brokers will have a tough time making money on the Club seats when they carry a face value of $340 a piece. The equivalent of Club seats in the Cowboys current home cost between $100 and $150 each, which he then can regularly resell for more than $300.
"The way they're pricing it, the best seats in the house have been eliminated from everybody except the very wealthy," he said about the exorbitant PSLs. "They're basically financing the stadium before they even sell a ticket. It's a great business plan."
(The image accompanying this story is from Kohm.org)