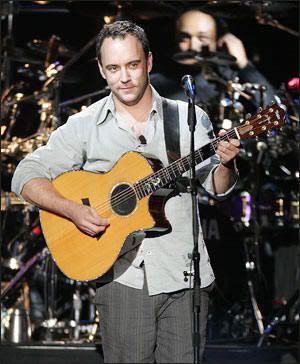 For the past two years, the Dave Matthews Band has proven to be one of the more consistent bands on the road. In 2007, the group's ticket sales grossed $41.1 million, placing the band eleventh in the year-end touring charts. In 2006, DMB grossed $39 million.

The band performed mostly in amphitheaters; in 2000, proving their drawing power, they were playing numerous stadiums and some with multiple nights in each, including three nights at Giants Stadium in East Rutherford, NJ and two nights each at Soldiers Field in Chicago, IL and Foxboro Stadium in Foxboro, MA.
Over the years, the Dave Matthews Band has been considered a people band, like the Grateful Dead and Bruce Springsteen and the E Street Band, and has kept ticket prices moderately low and under market value. Although there were some very high VIP tickets in 2007, including $340 at Shoreline Amphitheatre in Mountain View, CA, and $240 at Coors Amphitheatre in Chula Vista, CA, the average ticket price to a DMB concert was $47.80, according to Pollstar, which was the lowest average ticket price for any act in the top 20.
Last Updated on March 17, 2009