by Romy Oltuski
Every April, football fans across the county have their eyes glued to their computer screens, waiting for the NFL schedule to be released. In the aftermath of draft pick mania, it's the final bit of bedlam until preseason kickoff.
But for Roger Jones, CEO of Alliance Tickets and VegasTickets.com, that's when multitasking season begins. Part of that, of course, is due to the impending mad dash to ticket exchanges like his. But as committee co-chair of NATB Gives Back — the philanthropic arm of the National Association for Ticket Brokers — Jones also considers April the unofficial kickoff of charity season, specifically of NATB's annual 32 for 32 initiative.
"There's a gorgeous picture of a mother with her child, who was recently released from oncology, laying on the NFL logo in the middle of the field in Seattle after the game. There's countless stories like that."
The program, which began in 2009, works with NATB ticket brokers to donate 32 tickets to each NFL preseason game in each of the league's 32 cities — a total of 2098 seats per year. The tickets go directly to seriously ill children and the families caring for them at Ronald McDonald House chapters across the country.
"We thought, how can we immediately get involved and make a difference in the communities we live and work with?" says Jones, explaining how the initiative was born. To do so, he and his committee co-members tapped into their own industry's business model to come up with 32 for 32: "We identified preseason NFL football games as typically distressed inventory that brokers need to move and realized, 'Hey, we could give some of them to families who otherwise would not have an opportunity to see an NFL game.'"
Many families that benefit from the Ronald McDonald House Charity, says Jones, are singularly focused on health, hospital visits, and medical bills — there's not a lot of levity in their lives. An afternoon of football can mean the world to them, he says, and NATB members are perfectly positioned to offer that to them. The association estimates that it has given away 18,000 NFL tickets to Ronald McDonald House patients and families since it launched eight years ago.
"We get so many thank you cards and letters," says Jones. "There's a gorgeous picture of a mother with her child, who was recently released from oncology, laying on the NFL logo in the middle of the field in Seattle after the game. There's countless stories like that."
The Ronald McDonald House is a natural fit for 32 for 32, says Jones, not just because of shared values — or because Jones worked for McDonald's for 15 years before breaking into the ticket business — but because the charity too has its roots in the NFL.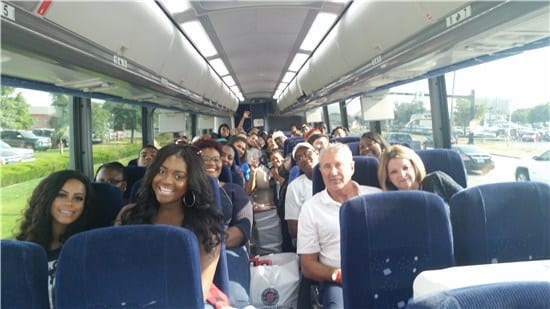 The first Ronald McDonald House chapter was founded in Philadelphia in 1974, a collaborative effort between Philadelphia Eagles general manager Jim Murray, tight end Fred Hill, and local pediatric oncologist Audrey Evans, after Hill's daughter Kim fell ill with Leukemia. Hill and his wife spent every waking (and sometimes sleeping) moment by their daughter's side in the hospital and wanted to create a home away from home for other families with similar experiences.
So, Ronald McDonald House was an eager partner in helping the NATB design this unique program with the NATB, says Jones. "The great thing is that right away, we were able to help get families out together, without facing a lot of red tape."
In addition to 32 for 32, NATB Gives Back raises funds for Ronald McDonald House Charity at the company's annual Awards of Excellence Gala in Chicago. "We get members and non-members to donate unique packages—tickets to Masters' golf, the Rose Parade, NASCAR—to raise money," says Jones, adding proudly, "Generally our items place in the top ten."
Jones and his committee are also working on launching a new initiative called Home Runs for Heroes that, similarly to 32 for 32, would donate MLB tickets to veterans in baseball's 30 major cities. "We're trying to get it off the ground," says Jones excitedly.
Most imminently, though, Jones says, the committee is working on automating the donation process on the NATB's website so that more people can get involved in 32 for 32 — and more easily. Most of the people who donate tickets, time, and money to the cause are NATB member brokers, he explains. "But we have non-members who donate. We even have fans who have heard about the program and have called in to donate tickets." Anyone interested can do so by visiting NATB.org.
Last Updated on June 2, 2017