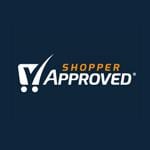 Imagine Your Reviews EVERYWHERE with Shopper Approved Customer Ratings and Reviews, trusted by more ticket sites than any other review company!
Shopper Approved collects valuable ratings and reviews from over 42% of your customers, and then automatically syndicates them to Google, Yahoo, Bing, Facebook, YouTube, Google+ and more, giving you the ability to display 5-Star ratings on all the major search engines and on your website, for the ultimate social proof and credibility.
When it comes to buying and selling tickets online, trust is everything.  It's time to take your online reputation to the next level with Shopper Approved.
Visit Shopper Approved at Ticket Summit Booth 112 or online at www.shopperapproved.com.
Visit the Ticket Summit website to learn about all of our 2017 exhibitors.
Ticket Summit will be held July 11-13, 2017 at The Venetian Las Vegas. All-Access Passes are just $799 and can be purchased on the Ticket Summit website. Ticket Summit will be jam-packed with keynotes, Workshops for Entrepreneurs, panels, the trade show, and much more.
Last Updated on June 30, 2017