It stands to reason that a ticket in a VIP area, purchased from the company that markets its "verified" product so robustly, might grant...
It stands to reason that a ticket in a VIP area, purchased from the company that markets its "verified" product so robustly, might grant one the rights and priveleges of the VIP area.
A complaint filed with the New York State Office of the Attorney General by a disgruntled consumer shows that isn't always the case.
In August of last year, a consumer purchased tickets to an October Blake Shelton concert at Barclays Center in Brooklyn, NY. At a cost of $512.30 each, the pair of tickets on the floor totaled a cool $1,024.60. The customer also thought that they were purchasing access to a VIP Meet & Greet with the artist.
It would appear, however, that they thought wrong. Despite purchasing through the official secondary platform of the official primary ticketer, the "verified resale" tickets didn't come with the VIP treatment, despite the hefty price tag. The customer wrote to NYSAG after seven unsuccessful attempts at resolution or even a partial refund from Ticketmaster customer service.
"If you see the tickets I originally purchased it doesn't say resale tickets on them nor did it say that resale tickets are not entitled to the meet and greet," they wrote. "I would never have spent over a thousand dollars for tickets".
When contacted for assistance with this issue, the customer allegedly "was told to sell [their] tickets" – with no promise that they would receive a similar amount to that which they paid.
A spin through twitter illustrates that the VIP sleight of hand isn't isolated to this one instance:
@Future_Beat @NewEdition – The VIP Meet and Greet tickets I bought for the show tonight were a resale and therefore invalid. Please help!

— Michelle Dolberry (@MYTDolberry) July 19, 2014
@ArianaGrande I was supposed to meet you today but my tickets were resale and apparently the meet and greet is voided if they are resale

— Hunter (@Hunt3rsWorld) March 26, 2015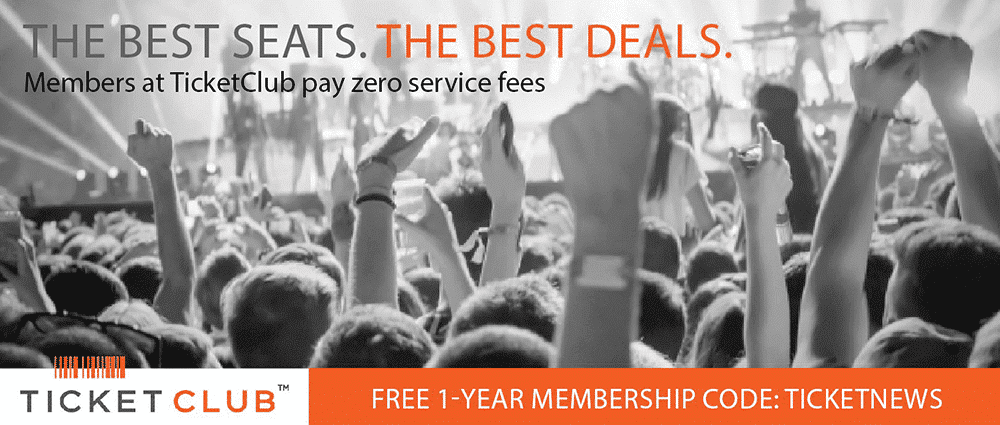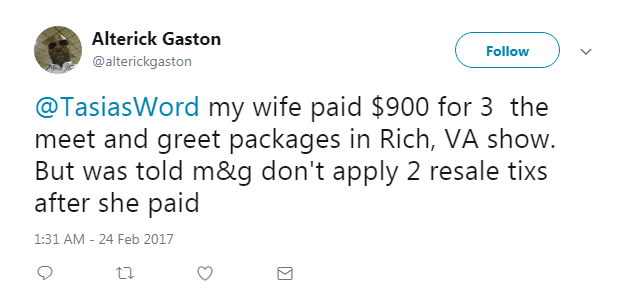 @Ticketmaster Bought resale tickets for Lynyrd Skynard for a ridiculous price and told meet/greet NOT included after I paid. That's BS.

— Hayley Foster (@Fostering101) May 17, 2016
Beyond the marketing jargon on the Ticketmaster Verified Resale page to "See tickets from the venue and other fans plus Premium Offers, VIP Packages, and Official Platinum Seats to find the perfect spot for your unforgettable experience," there is no explicit information regarding VIP and Meet & Greet resale restrictions.
The following rules for resale are on Ticketmaster's FAQ page:
Ticketmaster does not offer resale for all its events – the option is at the artist's discretion – but for those that it does, it makes very clear to customers that it claims to be the safest and most secure way to resell. Their site boasts that: "Other sites may offer a money back guarantee or "comparable" seats if something goes wrong. But with us, even tickets transferred or resold to you are 100% verified and issued in your name so they can't be counterfeited."
It would appear that, at least in some instances, things are not always what they seem, at least in terms of what a reasonable consumer might have expected vs. the product they were delivered.
Last Updated on November 2, 2017 by Katie Gainer